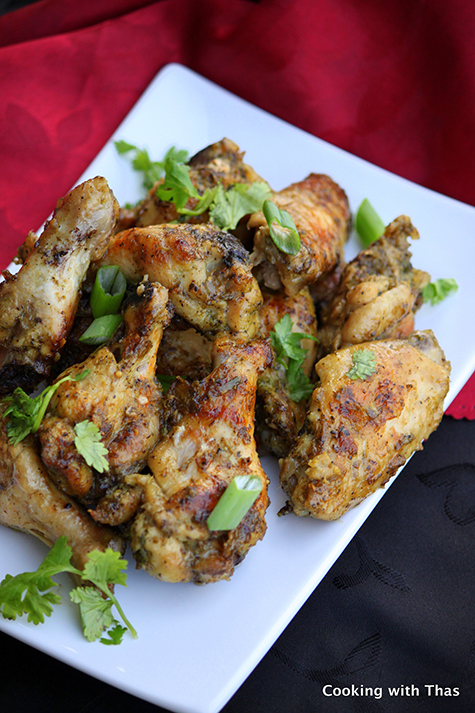 Chicken wings marinated in cilantro-mint marinade and baked to perfection, the best tasting chicken wings I've ever made…
Who can possibly resist chicken wings??? The wings are not fleshy, very less meat is attached to the bones yet it tastes delicious. That's the reason why we need a bucket full of chicken wings. Occasionally, my Man and I make sure to indulge in chicken wings and we would call it chicken wings night.
Last Thursday, we celebrated chicken wings night and I was found in a great mood to make the marinade from scratch. I made a cilantro-mint marinade, marinated the chicken wings in it for an hour and baked them to perfection. The marinade was amazing, the chicken wings turned out to be juicy, aromatic, flavorful and finger licking delicious.
I have already posted two other recipes for making chicken wings, but I would say this these chicken wings tasted phenomenal.
Other Chicken wings recipes, click here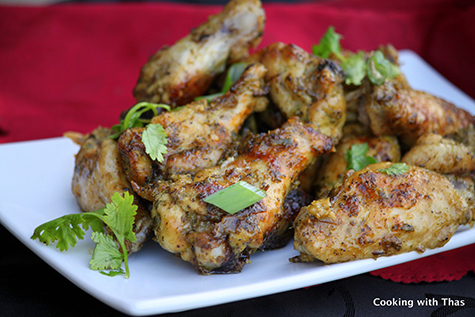 Preparation pictures
Marinated chicken wings
After baking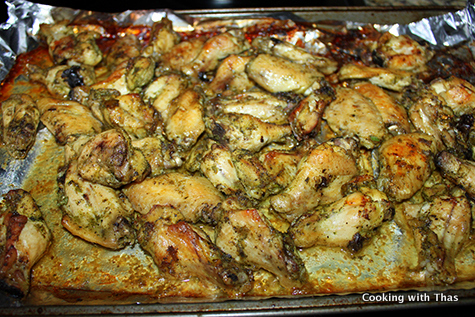 Asian Style Chicken Wings- Cilantro-Mint Chicken Wings
Ingredients
For making Marinade
Fresh Cilantro, roughly chopped- ½ cup
Fresh Mint leaves- 7 leaves
Spring onions, chopped- 3 stalks
Green chilies, chopped- 3
Ground pepper- ½ tsp
Ginger, chopped- 2 inch slice
Garlic- 4 cloves
Soy sauce, low-sodium- 2 tbsp
Salt- ½ tsp (make sure soy sauce is low-sodium)
Water- enough to make a smooth paste
Other Ingredients
Hot sauce- 2 tsp
Lemon juice- juice of ½ lemon, to drizzle over chicken wings while baking
Instructions
Use skin on chicken wings.
In a blender, blend all the above mentioned ingredients "for making marinade" along with enough water (1/4 cup) to make a smooth paste.
Pour the marinade over the chicken wings taken in a large bowl and combine well.
Add hot sauce over the chicken wings and combine well.
Cover the bowl with a plastic wrap and keep in the refrigerator for 2 hours or overnight the better.
Preheat the oven to 400 F or 200 degrees C.
Line a baking tray with aluminum foil. Spray non-stick cooking spray over the aluminum foil.
Spread the marinated chicken wings on the aluminum foil.
Place the baking tray on the middle rack and bake for 45 minutes.
After 45 minutes of baking, flip the chicken wings over and drizzle lemon juice over the wings.
Bake again for 15 to 20 minutes till the liquid oozed out from the wings has dried up and chicken wings have turned golden brown.
Remove the chicken wings from the oven, let cool down for a few minutes.
If you want the chicken wings to be spicy, just before serving you could drizzle some hot sauce over the baked wings and toss them.
Garnish the wings with chopped cilantro and spring onions.
Serve immediately and enjoy.