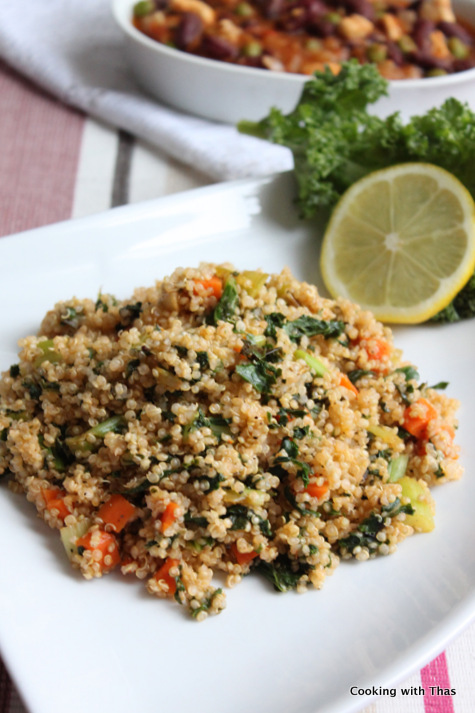 Two super foods: quinoa and kale in one dish. This is a healthy, protein rich and gluten free dish. This can be served as a side dish along with fish or chicken fillet…
I befriended quinoa only recently, since then have been including it in my diet regularly. Until last year we'd thought that my Man was gluten intolerant. In one way it was good, that gave me a chance to experiment with most of the gluten free ingredients. I tried so many gluten free grains or seeds like flax seeds, chia seeds, quinoa, buckwheat etc. Among these, quinoa is so dear to me as it can be made into variety of dishes. I'd already posted many recipes using quinoa, it doesn't have much taste by itself so you could add any kinds of spices and flavors to it and turn it into a delicious dish.
This dish is a very simple one, I had kale and quinoa so I combined them both and it turned to be a healthy yet delicious dish. I served it along with kidney beans, peas and chicken stew.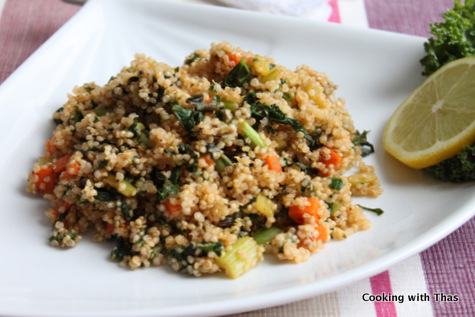 For more quinoa recipes, click here.

Kale Quinoa - Easy and Healthy Quinoa
Ingredients
For cooking quinoa
Quinoa- 1½ cups
Water- 3 cups
Salt- a few pinches
For cooking
Oil- 1½ tbsp
Cardamom, whole- 2
Cloves, whole- 2
Cumin seeds- 1 tsp
Spring onions, chopped- 2 stalk
Garlic, chopped- 1, large
Carrot, chopped small- 1
Celery chopped small- 2 stalks
Ground pepper- ½ tsp
Kale - 5 leaves, chopped small
Garam masala- ½ tsp
Lemon juice- 1 tbsp
Salt- to taste
Instructions
Place quinoa in a strainer, rinse under running water.
Boil water in a saucepan, season with salt. Add quinoa and cook till water has evaporated and cooked well. Keep aside.
Place a wok or non-stick pan over medium heat, add oil.
Add whole cardamom, cloves and cumin seeds, saute for a few seconds till aromatic.
Add spring onions, saute for a minute.
Add garlic, saute till light golden in color.
Add carrot and celery, season with salt and stir fry till veggies turn tender.
Add kale, saute till kale has cooked and turns slightly crispy.
Add quinoa, combine well.
Add ground pepper and salt, saute for a minute.
Add garam masala, saute for a few seconds.
Finally, drizzle with lemon juice, combine well, cook for a minute.
Remove the pan from the heat and serve the quinoa warm along with meat or fish.