Succulent & tender lamb loin chops with a golden crust, cooked in the Instant Pot…
Instant Pot pressure-cooked & air-fried lamb loin chops, ready in just 15 minutes. This has turned out to be the best-tasting lamb loin chops I've ever made. Lamb chops marinated with garlic & rosemary, have to be first pressure-cooked & then air fried. When air-fried, the chops will have a beautiful golden crust. The flavourful liquid that's left in the pot is turned into a delicious gravy. This will make a perfect meal for special occasions. Enjoy!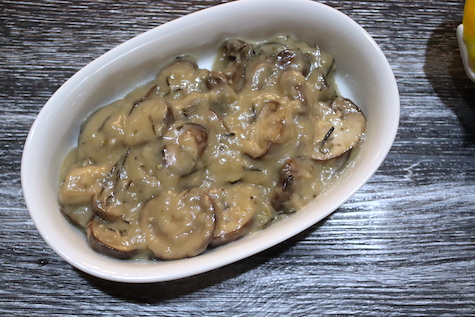 Cooking Video
Instant Pot Succulent Lamb Loin Chops | With Garlic & Rosemary | Easiest Recipe
Ingredients
For marinating lamb loin chops
Lamb loin chops- 6 to 8
Garlic, grated- 2 tbsp
Rosemary, fresh or dried- 3 stalks
Ground black pepper- 1 tsp
Lemon juice- 2 tbsp
Salt- 1½ tsp
For making gravy
Butter, unsalted- 1 tbsp
Mushrooms, halved- 10
Milk or cream- ½ cup
Cornstarch slurry- 1 tbsp cornstarch + 2 tbsp cold water
Instructions
To a bowl, add the lamb loin chops & all the ingredients mentioned for 'marinating the chops'.
Combine well. Cover the bowl with a cling wrap.
Let marinate for 3 hours or overnight.
After 3 hours of marination, place the lamb loin chops in the stainless steel pot.
Add the liquid that's in the bowl.
Rinse the bowl with ½ cup water, add that to the pot.
Close the pot with the lid.
Select Pressure cook setting, set time to 3 minutes at high pressure.
After 3 minutes of pressure cooking, let the pressure release naturally for 5 minutes & then do a quick pressure release.
Open the lid.
Succulent & tender lamb loin chops are ready.
Transfer the lamb chops to a plate.
Next, let's air fry the chops.
I've used Instant Pot duo crisp & air fryer.
Place the stainless steel pot in the main pot, place the air fryer basket & broil tray.
Grease the broil tray with 1 tbsp oil.
Place the pressure-cooked lamb chops on the tray.
Garnish with some rosemary & spread will oil.
Close the pot with the air fryer lid.
Select air fry, set temperature to 400 F & time to 10 minutes.
After 10 minutes of air frying, lamb loin chops will have a beautiful golden-brown crust.
Transfer to a plate & keep covered.
There will be some liquid left in the pot after pressure cooking.
Let's turn that into a delicious gravy.
Add butter & mushrooms to the liquid.
Adding mushrooms is optional.
Select Saute setting at medium temperature.
Cook the mushrooms for 2 to 3 minutes.
Add milk or cream, let the liquid come to a slight boil.
In a bowl, combine cornstarch & water, add to the liquid, combine well.
The gravy will thicken right away.
Remove the pot from the main pot. Keep it aside.
Serve the gravy in a bowl along with the lamb loin chops.
Aromatic lamb chops that taste incredible. YUM.