Creating a delicious and hearty ground beef chili is a breeze with the Instant Pot, thanks to this effortless 'dump and go' recipe. Simply toss all the ingredients into the Instant Pot, set it to pressure cook for 15 minutes, and once the time's up, perform a quick pressure release. In no time at all, you'll have a scrumptious chili ready to savor.
Pair it with pita chips or tortilla chips for a delightful meal.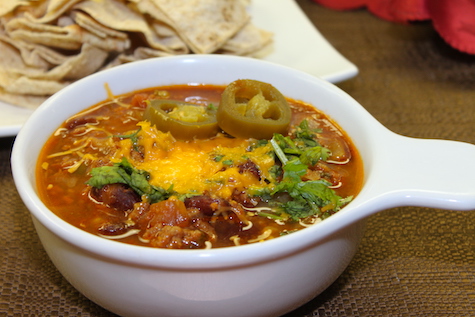 Cooking Video
Dump And Go Instant Pot Chili Recipe
Ingredients
For making Chili
Ground beef- 1 lb or ½ Kg
Onions, chopped- 2
Green pepper, diced- 1
Garlic cloves, chopped- 2 or 3
Tomatoes, chopped- 2
Cooked red kidney beans- 2 cups (or use canned)
Tomato sauce- 1½ cups, 400 mL
Water- 1 cup
Chili powder- 1 to 1½ tsp
Ground cumin- 1 tsp
Paprika- 1½ tsp
Salt- 1½ tsp
Cilantro, chopped- ¼ cup
For Topping
Cilantro, chopped
Cheddar cheese, grated
Pickled Jalapeno
Instructions
Turn on the Instant Pot.
Add all the above-mentioned ingredients to the stainless steel pot.
Close with the lid.
Select pressure cook setting, set time to 15 minutes at high pressure.
After 15 minutes, let the pressure release naturally for 5 minutes & then do a quick pressure release.
Open the lid and just inhale the aroma from the chili, so aromatic.
Serve into a bowl, top with chopped cilantro, cheddar cheese, and pickled jalapenos.
Enjoy this comforting & delicious chili that's made effortlessly, YUM!