Ground beef stew cooked in the Instant Pot…
The latest rage Instant Pot has reached my kitchen and I've started cooking in it and I'm absolutely blown away by it. Instant Pot is a multi-use programmable pressure cooker. Literally, anything can be cooked in it. It acts as a rice cooker, pressure cooker, slow cooker, steamer, and yogurt maker. The best part is that you can also saute in this and then pressure cook the ingredients.
It has a few buttons on the control panel, which might feel overwhelming in the beginning. Once you familiarize yourself with it, cooking in the Instant Pot will be a breeze.
I made ground beef stew or more like a Chili in the instant pot, my first ever instant pot cooked dish. First, I sautéed onion and ground beef and then pressure cooked at high for 15 minutes, the stew tasted very delicious & flavorful, loaded with flavors.
Cooking pictures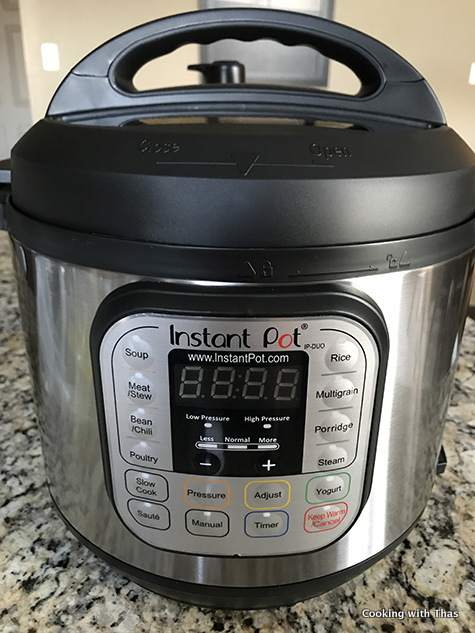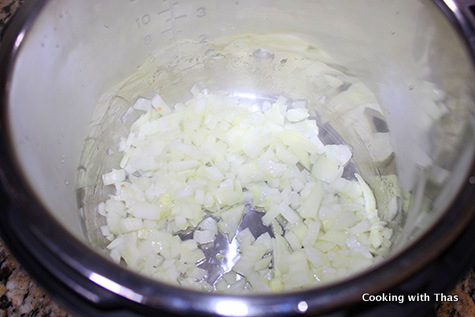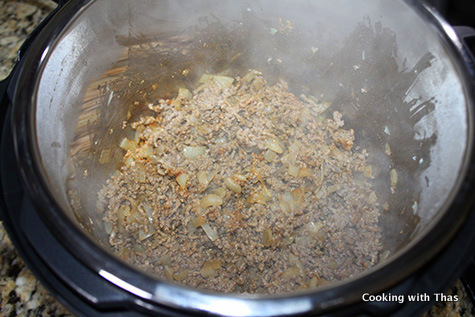 Ground beef Stew- Instant Pot Recipes
Ingredients
Oil- 1 tbsp
Onion, chopped- 1
Ground beef- 1 Lb or ½ Kg
Garlic powder- ½ tsp
Chili powder- 1 tsp
Cumin powder- ¾ tsp
Coriander powder- 2 tsp
Dried Oregano- 1 tsp
Salt- ½ tsp
Green pepper, chopped- 1
Red pepper, chopped- 1
Tomato, chopped- 1
Tomato sauce- 1½ cups
Soy sauce- 1 tbsp
Water- 1 cup
Corn, grilled or microwaved- 1 cup (optional)
Cilantro, chopped- 2 handfuls
Instructions
Place the stainless steel pot into the main pot.
Click Saute on the control panel. Click the Adjust button and you can choose less, normal or more- heat setting. I selected the normal setting, it will start to heat up and you will see ON sign on the display.
After the pot has turned hot, you will see the HOT sign on the display. Now, you can start sautéing.
Important: While sautéing do not close the pot with the instant pot lid.
Add 1 tbsp oil, let it turn hot.
Add onion, season with salt and saute for a few minutes till light golden.
Add ground beef, break the ground beef using an wooden spoon to avoid formation of lumps.
Saute for a few minutes till the pink color has faded.
Add garlic powder, chili powder, cumin powder, coriander powder, dried oregano and salt. Combine well.
Add green pepper, red pepper and chopped tomato. Combine well.
Add tomato sauce, soy sauce and water, combine well.
Close with the lid.
Click on the Cancel button to cancel the saute mode.
Make sure the pressure release valve on the lid is in the sealing position.
Click on Manual button first and then click on Pressure, select high pressure. (there are 2 options: low and high pressure).
Click the + button and set the time to 15 minutes and walk away.
After 15 minutes of pressure cooking, it will beep.
You can either have the steam release naturally, it will take around 20 minutes. Or after 10 minutes, turn the steam release valve on the lid to venting and you can see the steam releasing. Be careful as the steam is very hot.
After the pressure has released completely, open the lid.
If the stew is watery, you can cook for a few more minutes in saute setting normal temperature and let cook for a few more minutes.
Add cilantro and corn if adding at this point, combine well and cook for 2 minutes.
I served this with pasta, add pasta into a bowl, top with ground beef stew and add cheddar cheese on top and serve. Enjoy!
Notes
If cooking in a cooking pan over stove pot: after adding tomato sauce and water, let cook covered for 20 to 25 minutes till ground beef has cooked well, add more water if the gravy dries off.