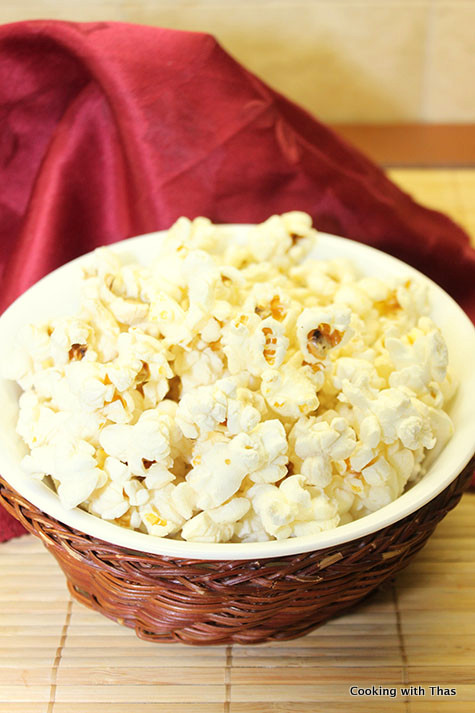 Popcorn popped in the Instant Pot, ready in just 5 minutes…
Yet another reason to love and embrace Instant Pot. Making popcorn from scratch is a breeze now. I was super excited to make the popcorn in the Instant pot. All I had to do was melt the coconut oil and butter, saute the corn kernels for a minute, cover the pot with a glass lid and then watch the popping magic.
It was amazing and in 5 minutes the popping slowed down and I turned off the IP. Hands down, the popcorn was crispy and tasted better than the microwaved or store bought ones.
Notes:
I didn't use the Instant Pot glass lid, one of the glass lids of my cooking pan fitted well on the Instant pot hence I used that. Make sure to use a lid that fits well.
Popcorn is made in the Saute mode in more temperature setting, moisture will build up under the glass lid and there will be slight dripping through the lid, just wipe it off using a kitchen towel and be careful while opening the lid- wear an oven mitt.
I used organic refined coconut oil that can be used for medium high heat.
Since, the temperature is kept at more or high, you have to use an oil with high smoke point (Smoke point refers to the temperature at which an oil starts to burn and smoke).
Avoid using extra virgin coconut oil and extra virgin olive oil- these have low smoke points.
Pop 1/2 to 3/4 cup of corn kernels at a time. Do not use more that this as there will be a lot of unpopped kernels left in the pot.
How to make Instant Pot Popcorn- Cooking video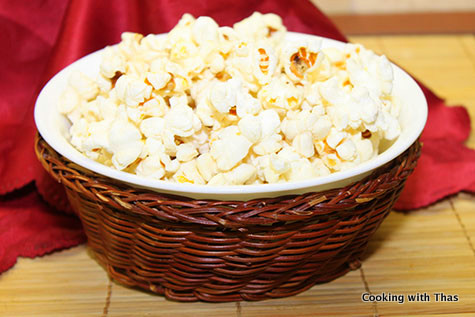 Instant Pot Popcorn-Easiest Way
Ingredients
Organic refined coconut oil- 2 to 3 tbsp
Butter, unsalted- 1 to 2 tbsp
Corn kernels- ½ to ¾ cup
Instructions
Turn on the Instant Pot.
Click the Saute button. Click Adjust- set the temperature to MORE.
Let display turn to HOT.
Add coconut oil and butter, let it melt, let it melt, let it melt- combine well.
Add ½ to ¾ cup of corn kernels ( do not add more than this).
Saute for a minute till corn kernels are well coated with oil/butter.
Close the pot with a glass lid that fits well.
Let the popping magic begin.
In 5 minutes, popping will slow down. Turn off the Instant pot- click on cancel button.
Note: moisture will build under the glass ld and there will be slight dripping. Wipe the water off using a kitchen towel and wear an oven mitt while opening the lid.
Open the lid and give the popcorn a good stir.
Enjoy the crispy and best tasting popcorn that's made from scratch.
If you want, you could season with ground pepper, salt or any other seasonings of your choice.