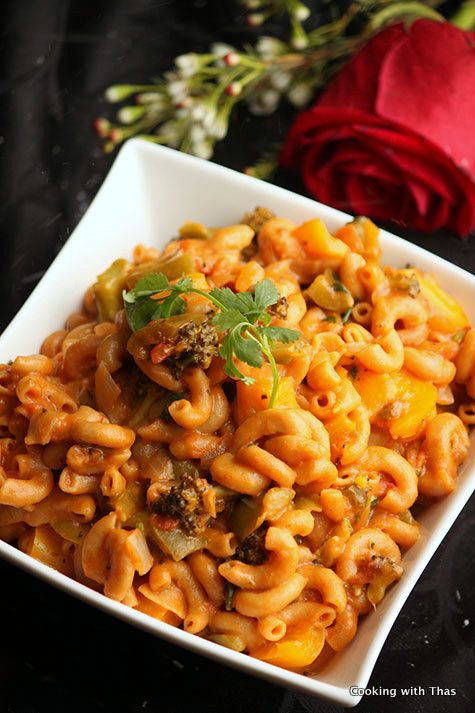 Instant Pot 4 minutes pasta, easy breezy yet delicious…
You heard me! in just 4 minutes delicious creamy pasta will be ready to be devoured. It's been snowing since 2 days, being a snow freak it's definitely magical for me. I can enjoy the snow showers all day long and through out winter while most people complain about it (as along as my Man does the snow blowing 😀 )
Here is my snow covered backyard…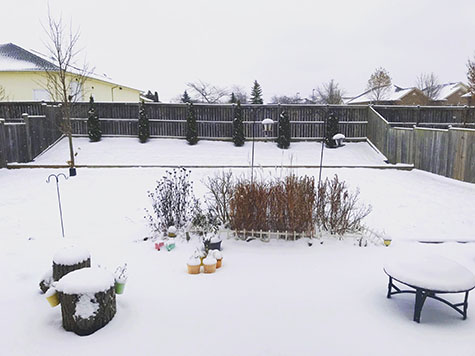 Snowy weather does make me lazy and cozy though. I was about to order something for dinner, that's when Instant Pot winked at me and I fell for it. This time I went vegetarian and threw some of the vegetables that's been sitting idle in my refrigerator: green peppers, yellow peppers and broccoli. I even had some leftover salsa that I added while making the pasta. Seasoned with ground cumin and dried oregano, added macaroni pasta along with water and cooked at high pressure for 4 minutes and did QR.
After the pasta has cooked perfectly, added cheese that made it creamy and delicious.
If you want to make this non-veg, feel free to add boneless chicken breast seasoned with ground pepper and add to the vegetables and pasta. Perfect one pot meal that tastes delicious and made effortlessly.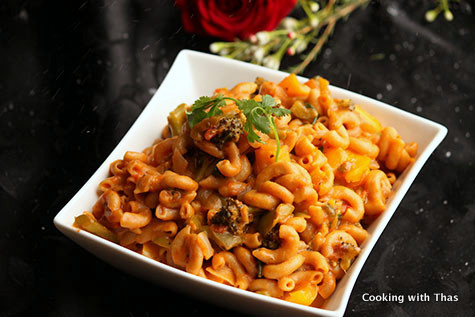 Cooking Video
Instant Pot 4 minutes Pasta Recipe
Ingredients
Oil- 1 tbsp
Dry red chili flakes- 1 tsp
Onion, chopped- 1
Salt- ¼ tsp
Green pepper, chopped- 1
Yellow pepper, chopped- 1
Broccoli florets- 1 cup
Salsa or Tomato Sauce- 1 cup
Ground cumin- 1 tsp
Dried Oregano or parsely or basil or Italian seasoning- 1 tsp
Macaroni Pasta, Whole wheat- 2 cups
Water- 1½ cups
Cheddar cheese- 1½ cups
Cilantro, chopped- 2 handfuls (or parsley)
Salt- to taste
Instructions
Turn on the Instant pot.
Click Saute button, click Adjust- set temperature to Normal.
Let the display show HOT.
Add oil, add dry red chili flakes, saute for a few seconds.
Add onion, season with ¼ tsp salt. Saute for a minute.
Add green pepper, yellow pepper, broccoli florets or any kinds of mixed veggies.
Add salsa or tomato sauce, ground cumin, dried oregano, pasta and water. Combine well.
Close the pot with the lid.
Turn vent to Sealing.
Click Manual- High pressure- set time to 4 minutes.
Before you know it will beep and do a quick pressure release.
Open the lid, combine well.
Add cilantro and cheese, add salt to taste.
Done, delicious and creamy pasta is ready to be enjoyed.
If you prefer, you could even add boneless chicken breast and cook along with veggies and pasta.
Notes
Cooking time might vary for other kinds of Pasta. 4 minutes worked well for Macaroni pasta.