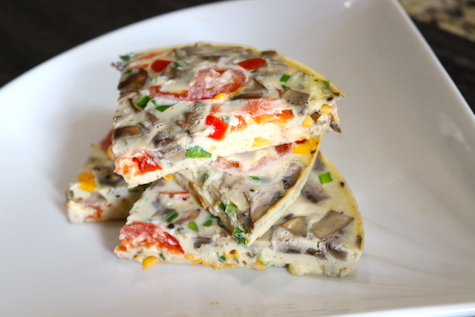 Frittata made effortlessly in the Instant Pot…
Frittata is an egg-based Italian dish, similar to an omelette. However, in frittata, any kind of veggies, meat & cheese can be added. It's a rich & filling one-pot dish, perfect for weekend brunch or on special occasions.
Frittata can be made effortlessly in the Instant Pot, pressure cooked for just 10 minutes. Make this delicious & nutritious frittata & enjoy it with your family & friends.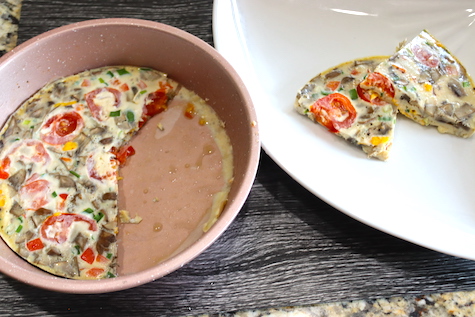 Instant Pot 10 Minute Frittata Recipe | Italian Egg Dish For Breakfast
Ingredients
Eggs- 5 to 7
Green onions, chopped- 1 stalk
Mushrooms, chopped- ¼ cup
Red pepper, chopped- 2 tbsp
Cheddar cheese- ½ to 1 cup
Salt- ⅛ tsp
Ground black pepper- a few pinches
Paprika- ½ tsp (or add any of your fav seasonings)
Tomatoes, round slices
Instructions
To a bowl, crack the eggs & add all the veggies, beat well using a whisk.
Add cheese, salt, black pepper & paprika, combine well.
Any kind of veggies, cheese & seasonings can be added.
Grease a 7 inch round pan with non-stick cooking spray. Line with parchment paper.
Pour the egg mixture onto the pan.
Top with tomato slices.
I'm using Instant Pot duo crisp model 8 quarts.
The pan should fit into the stainless steel pot.
For smaller Instant Pot, use a small round pan.
Add 1 cup water to the stainless steel pot.
Place the trivet into the pot.
Place the pan on the trivet. (Don't have to cover the pan with aluminum foil).
Close the pot with the lid.
Select pressure cook setting, set time to 10 minutes at high pressure.
After 10 minutes of pressure cooking, let the pressure release naturally for 10 minutes & then do a quick pressure release.
Open the lid.
Take the pan out of the pot.
Let it rest for a few minutes.
Cut the frittata into wedges & enjoy.
This frittata is perfect for breakfast or brunch.