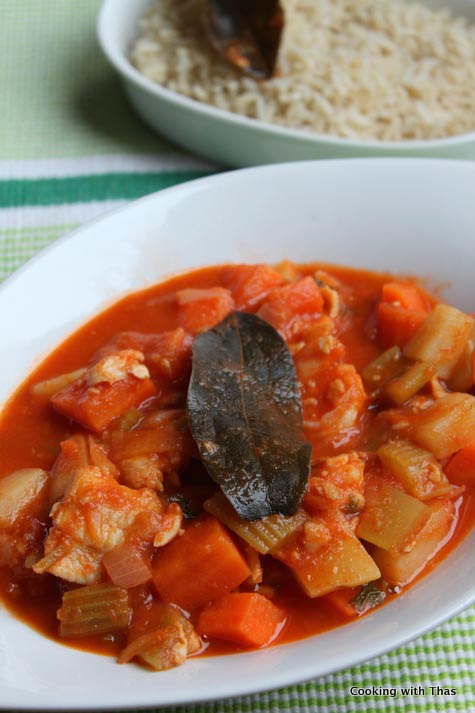 Flavorful seafood creole, a Louisiana speciality…
My new obsession is clicking pictures using Instagram. I didn't realize that it could capture really good pictures, and I love some of the effects it has. My favorite effects are Lo-Fi and Hefe. Even though I am not a good photographer, I like clicking whatever that interests me, mostly Nature and obviously food. I carry my SLR almost everywhere and at times I get tired of carrying the heavy bag. Now that I have fallen for Instagram, I've been clicking pictures using that (not the food pictures). I feel light now, and can go out carrying a cute small bag or wear cross-body bags.
Weekend is here, I've been looking forward to this weekend for so long. My friends are visiting me and on Sunday I'll be celebrating my blog's 4th anniversary with them. Tomorrow is going to be a crazy day for me, I've to do a lot of preparation, shopping and cooking. Right now, I feel exhausted; hopefully after a good night sleep I would wake up fresh and energized.
This evening, just to pamper myself I bought some flowers and gifted myself. Here is the picture I clicked with Instagram: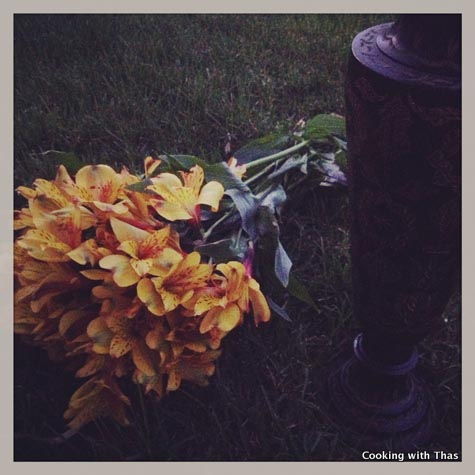 Louisiana is one of the states in the US, while thinking about Louisiana most people will start talking about their food. They have their own style of cooking which is very flavorful, hearty and spicy. Their cuisine is called Creole cuisine. This cuisine is actually a blend of so many other cuisines (French, Portuguese, Italian, Native American, African etc), as a result they add a variety of ingredients and spices to their dishes. I've tried a few dishes like gumbo, creole in restaurants. They have a lot of seafood dishes as well.
A few days ago, I tried making this seafood creole. I added shrimp and sole fish along with veggies. This is a very simple recipe, it's hearty and filling, this was served with rice.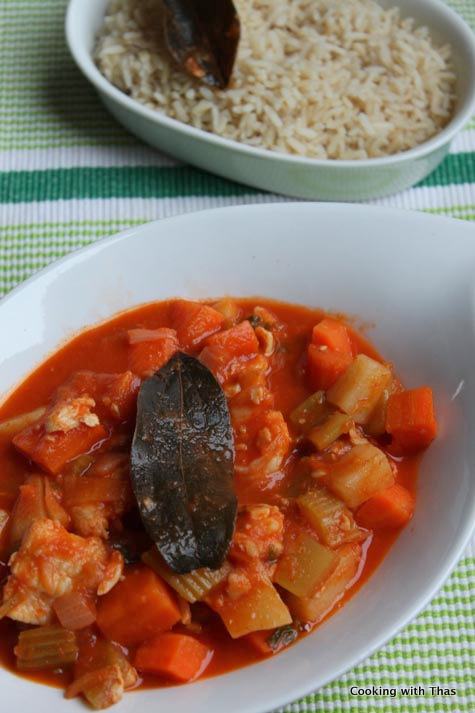 Step by Step Pictures
Louisiana Seafood Creole Recipe
Ingredients
Oil- 1 tbsp
Onion, chopped- 1, large
Garlic, chopped- 3 cloves
Bay leaves- 2
Carrot, diced- 2, large
Celery, diced- 3 sticks
Potato, diced- 3, medium
Tomato sauce, low-sodium- 1 can or 400 ml
Water- ¼ cup
Shrimp, deshelled and deveined- 15
Sole fish fillet, cubed- 3 fillet (or use tilapia or other mild tasting fish)
Cayenne pepper- ½ tsp to 1 tsp
Cilantro, chopped- 2 handful
Salt- to taste
Instructions
Place a pan over medium heat, add oil, let it turn hot.
Add onion, and a few pinches of salt, saute for a few minutes.
Add chopped garlic and bay leaves, cook till onions turn translucent.
Add carrots, celery and a little bit of water, cook covered till the veggies turn slightly tender (don't over cook it).
Add potato and cook covered till potatoes turn slightly tender (don't over cook it).
Add tomato sauce and water to thin it down, combine well.
Add cayenne pepper and salt, combine well and let the tomato sauce come to a slight boil.
Add shrimp and fish into the sauce, cook covered for a few minutes till the fish has cooked. It only takes 5 minutes or so, make sure not to over cook the fish as it will break apart.
Taste and add more salt if needed. If you want more spice add a few pinches of cayenne pepper.
Add cilantro, cook for a minute and remove the pan from the heat, keep it covered.
Discard the bay leaves and serve the seafood creole with brown rice or white rice.
Notes
You could make this just with shrimp.