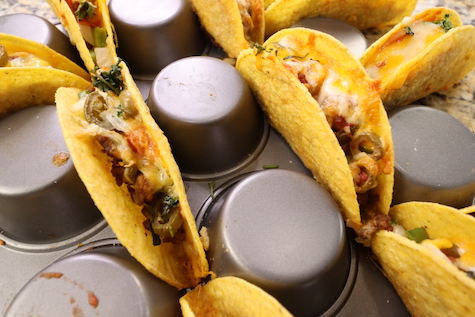 Delicious beef stuffed tacos made effortlessly in the Instant Pot…
Tacos are Mexican appetizer, hard tacos stuffed with beef, veggies & cheese. This will make a perfect appetizer or snack for any party & can be whipped up in less than 20 minutes.
I've cooked the ground beef in the Instant Pot for just 10 minutes and topped the hard tacos with beef, veggies, salsa, pickled jalapenos, olives & cheese. I then baked the stuffed tacos in the Instant Pot air fryer for 5 minutes till the cheese has melted.
Easy to make & absolutely delicious beef tacos.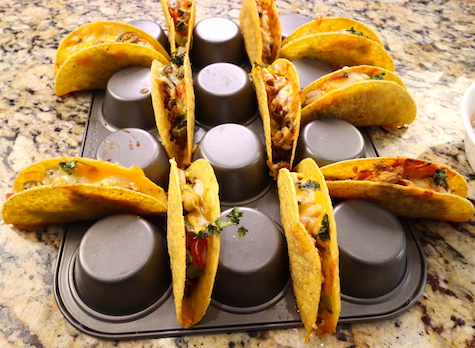 Cooking Video
Instant Pot 15 Minute Beef Tacos | Mexican Appetizer
Ingredients
For cooking ground beef
Ground beef- 1 lb or ½ kg
Chili powder- 1 tsp (or cayenne pepper- ¼ to ½ tsp)
Ground cumin- 1 tsp
Paprika- 1 tsp
Garlic powder- ½ tsp
Salt- 1 tsp
For Topping
Hard tacos- 12
Onions, chopped small- 1 onion
Green pepper, chopped small- 1
Tomato, chopped- 1
Pickled jalapenos
Olives
Salsa
Cilantro, chopped
Cheddar cheese
Instructions
To the stainless steel pot, add the defrosted ground beef along with the spices, combine well.
Don't have to add any water.
Close the pot with the lid.
Select pressure cook setting, set time to 10 minutes at high pressure.
After 10 minutes of pressure cooking, let the pressure release naturally for 5 minutes & then do a quick pressure release.
Open the lid.
Ground beef will be cooked well, there will be some liquid in the pot.
If the tacos don't have the stand-up bottom, flip a cupcake or muffin pan over.
Place the tacos on the groove & they will stand still.
Spread 1 to 2 tbsp ground beef as the bottom layer of the taco.
Top with onions, green pepper, tomato, pickled jalapenos, olives, salsa, cheese & cilantro.
I'll be baking the tacos in the Instant Pot duo crisp & air fryer.
Or you can bake in the oven at 350 F for 10 minutes till the cheese has melted.
Place the stainless steel pot into the air Instant Pot.
Place the air fryer basket & the broil tray.
Place the stuffed tacos onto the tray.
Keep the tacos close & tightly so they won't fall down.
Close the pot with the air fryer lid.
Select the Bake feature, set time to 5 minutes, temperature 350 F.
After 5 minutes, the cheese will melt & will turn golden in color.
Using a tong, gently take the tacos out of the pot & transfer to a plate.
Enjoy while it's warm.