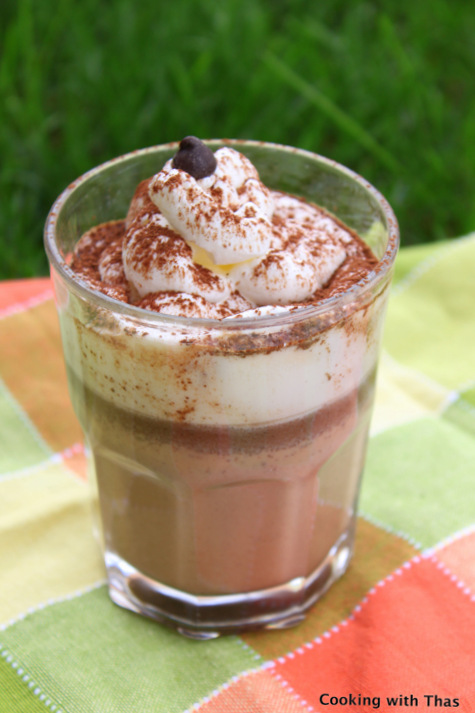 Making hot chocolate is so easy and when it's homemade it tastes even more delicious…
Yesterday, I had a sudden craving for hot chocolate; it wasn't a rainy gloomy day. Isn't any day a great day to enjoy a cup of hot chocolate??? My first thought was to drive to a nearby coffee shop and get it from there. I felt way too lazy to dress up and drive, so I ended up making hot chocolate in my kitchen.
I'd already shared the recipe for making cardamom hot chocolate, I love cardamom flavor so I added that which is quite unusual in hot chocolates. Well, this time I made the authentic hot chocolate. It was so easy to make, you just have to warm up the milk and half and half, add the chocolate, combine well and pour into a cup. Yes, you gotta top with whipped cream for that extra kick. Yummm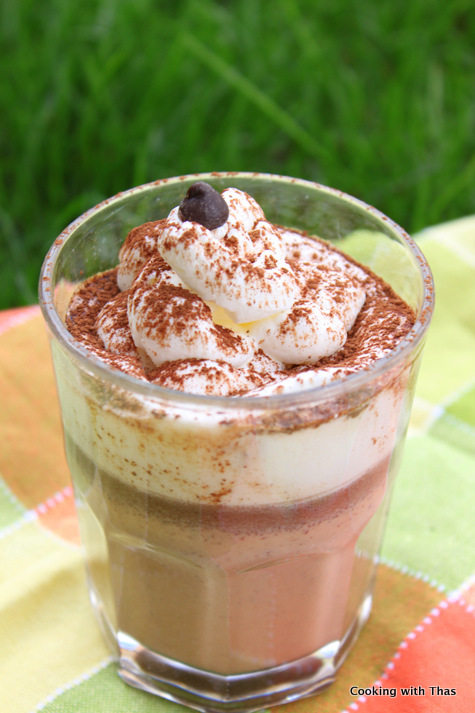 Easy Hot Chocolate Recipe
Ingredients
Milk- ¾ cup
Half and Half- ¾ cup (half and half has equal parts of cream and milk)
Semi-sweet chocolate chips- ¼ cup
Ground cinnamon- a few pinches (optional)
Whipped cream- for topping
Unsweetened cocoa powder- to sprinkle (optional)
Instructions
This recipe is for making 2 cups, increase the amount of ingredients accordingly to make more.
In a saucepan, combine milk and half and half, let it come to a slight boil.
Add the chocolate chips and combine well using a whisk. Let the chocolate dissolve completely, don't worry about the tiny grains of chocolate.
Add the ground cinnamon, this is just optional. You could add other flavors too.
Have a taste, if more sweet is needed add a few teaspoons of sugar.
Remove the pan from the heat.
Pour the hot chocolate into a cup.
Top with whipped cream and sprinkle cocoa powder.
You can ignore whipped cream if you don't want it.
Indulge in this delicious hot chocolate.
Notes
Half and half is a diary product containing equal parts of cream and milk.

To make half-half at home: combine equal parts of cream and milk.