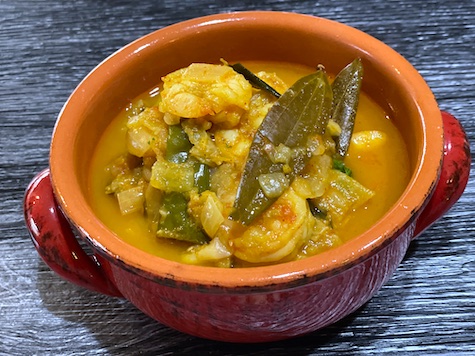 Shrimp curry cooked in the Instant Pot, easy & delicious…
One of the dishes I make quite often with shrimp in the Instant Pot is shrimp curry. It's easy to make & tastes absolutely delicious. I enjoy this shrimp curry with rice or chapati.
Cooking Video
Easy & Delicious Shrimp Curry Cooked In Instant Pot - Pressure Cooked for 3 Minutes
Ingredients
Coconut Oil- 1 tbsp
Dried bay leaves- 2
Onion, chopped- 1
Ginger-garlic grated or paste- 1 tbsp
Green chili, halved- 1 or 2
Tomatoes, chopped- 1
Curry leaves- 10 leaves, optional
Shrimp, de-veined and shelled- 20
Kashmiri chili powder- 1 tsp (for more spice add regular chili powder)
Turmeric powder- ⅛ tsp
Coriander powder- 2 tsp
Cumin powder- ½ tsp
Garam masala- ½ tsp
Salt- 1 tsp
Cilantro, chopped- 3 tbsp
Instructions
Turn on saute setting, temperature should be medium.
Let the stainless steel pot turn hot.
Add oil & dried bay leaves.
Add chopped onion, ginger-garlic grated or paste, season with 1 tsp salt. Saute for a minute.
Add green chilies & tomatoes, saute for a minute.
Add curry leaves, if adding.
Add shrimp, combine well.
Add chili powder, turmeric powder, cumin powder, coriander powder & garam masala, Combine well.
Don't add water, ensure the stainless steel pot hasn't turned brown.
Close the Instant pot with the lid.
Select pressure cook setting, set the pressure to high and set the time to 3 minutes.
After pressure cooking, do a quick pressure release.
Open the lid, combine well, there will be enough liquid in the pot.
Add chopped cilantro, combine well.
Taste and add more salt if required.
Serve in a bowl, enjoy with rice, roti, chapati, appam, etc.