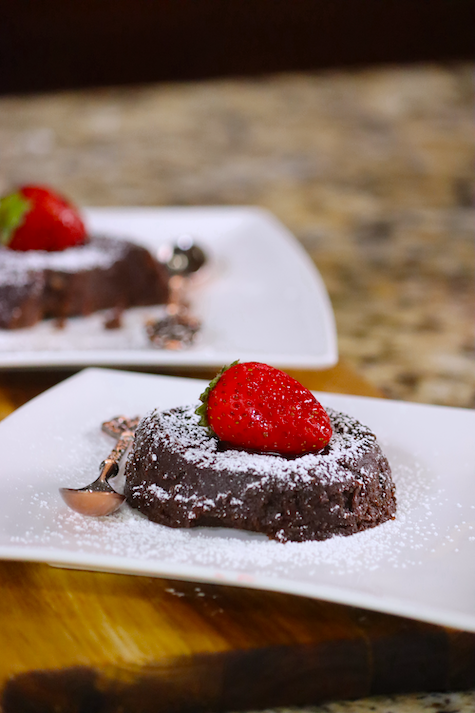 Rich, moist & decadent chocolate lava cake made effortlessly in the Instant Pot…
With just 6 simple ingredients, this scrumptious cake will be ready in less than 15 minutes. I've pressure cooked the chocolate lava cake in the Instant Pot, turned out perfect.
All we have to do is combine all the ingredients & pressure cook in the Instant Pot.
Cooking Video
Easy Chocolate Lava Cake | Ready In 15 Minutes | Instant Pot Recipe
Ingredients
Unsalted butter- ½ cup
Chocolate, semi-sweet or bitter-sweet- 4 oz or 100 g or 16 bars
Eggs, large- 2
Egg yolks- from 2 eggs
White granulated sugar- ¼ cup
Salt- a pinch
Vanilla extract- 1 tsp
All-purpose flour- 1 tbsp
Instructions
To a microwave heat-proof bowl, add butter & chocolate.
Melt the chocolate in the microwave at high power for 2 minutes, every 30 seconds take the bowl out & combine well.
To another bowl, add egg yolks, eggs & sugar, and beat using an electric hand mixer for a minute at medium speed.
Add vanilla extract & the melted chocolate-butter mixture.
Combine well using a spatula.
Add the flour & combine well till well incorporated.
Grease 4 ramekins with non-stick cooking spray.
Divide the batter among 4 ramekins, fill only halfway through.
Don't have to cover the ramekins with aluminum foil.
Turn on the Instant Pot.
Add 1 cup water to the stainless steel pot.
Place the trivet inside the stainless steel pot.
Place 2 ramekins on the trivet & stack up the other 2 ramekins on top of the ramekins.
Close the pot with the lid.
Select the Pressure cook setting and set the time to 9 minutes at high pressure.
If using thin ramekins, pressure cook for only 7 minutes.
After pressure cooking, do a quick pressure release.
Open the lid, there will be condensation water inside the lid make sure not to add the water to the cake.
Take the ramekins out of the pot, let them cool down for a few minutes.
Run a knife through the sides, this will detach the cake from the ramekins.
Flip over the ramekins to a dessert plate.
Sprinkle powdered sugar & decorate each cake with a strawberry.
Enjoy while the cake is warm, if you prefer you can also serve a scoop of vanilla ice cream over the cake.
Melt in your mouth & scrumptious chocolate lava cake. Enjoy.