Soft fluffy & creamy swiss rolls with fruity strawberry filling…
Swiss Jelly Roll, also known as Swiss Roll, is a type of cake that is made with a light sponge cake rolled around a filling, usually jelly or cream. The cake is typically baked in a jelly roll pan and then rolled up while still warm to form a cylinder shape.
The origins of the Swiss Jelly Roll are somewhat uncertain, but it is thought to have originated in Central Europe, possibly Switzerland. It is a popular dessert in many countries around the world and can be flavored with various ingredients such as chocolate, fruit, or nuts.
Swiss Jelly Roll can be enjoyed as a simple sweet treat. The cake is typically sliced into rounds to serve and can be topped with powdered sugar, whipped cream, or other toppings to enhance its flavor and appearance.
Overall, Swiss Jelly Roll is a classic dessert that is loved for its light and fluffy sponge cake and its sweet, creamy filling.
Cooking Video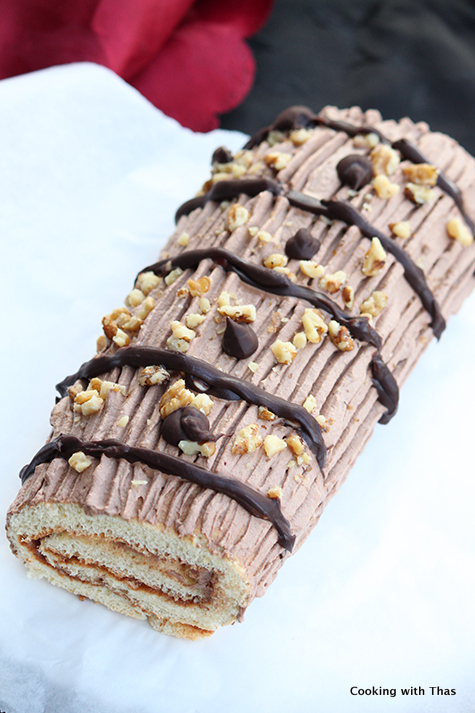 Easiest Swiss Jelly Rolls | With Strawberry Whipped Cream Frosting | 7 Simple Ingredient Recipe
Ingredients
For making sponge sheet cake
All purpose flour- ¾ cup
Baking powder- ¾ tsp
Salt- ¼ tsp
Eggs, at room temperature- 4
Sugar- ⅔ cup
Vanilla extract- 1 tsp
For making strawberry whipped cream frosting
Heavy whipping cream- 1 cup
Strawberry jam- 2 tbsp
Other ingredients
Powdered sugar- 2 to 3 tbsp
Instructions
Preheat the oven to 400 F or 200 C.
In a bowl, combine all-purpose flour, baking powder & salt.
In a stand mixer bowl with the paddle attachment or use an electric hand mixer, beat the eggs, sugar & vanilla extract for 10 minutes till the mixture turns thick, fluffy & light colored.
Add half of the flour mix, using a silicone spatula combine well.
Add the remaining flour mix, combine well without any lumps.
Use a 10x15 inch baking sheet.
Line with a parchment paper, grease with melted butter.
Pour the cake batter, spread it evenly.
Place the baking sheet into the preheated oven on the middle rack.
Bake for 12 minutes.
After 12 minutes of baking, take the baking sheet out of the oven.
Right away, sprinkle powdered sugar over the sheet cake.
Invert the cake on a parchment paper.
Sprinkle powdered sugar on the other side as well.
Roll the cake along with the parchment paper.
Keep the rolled cake in the refrigerator.
In a bowl with the whisk attachment, add cold heavy whipping cream.
Whip at high speed till soft peaks have formed.
Add 2 tbsp strawberry jam or any other fruit jams of your choice.
Whip till stiff peaks are formed.
Take the rolled sheet cake from the refrigerator.
Unroll the cake.
Spread the frosting over the sheet cake.
Roll along with the frosting.
Cut into round slices.
Enjoy.