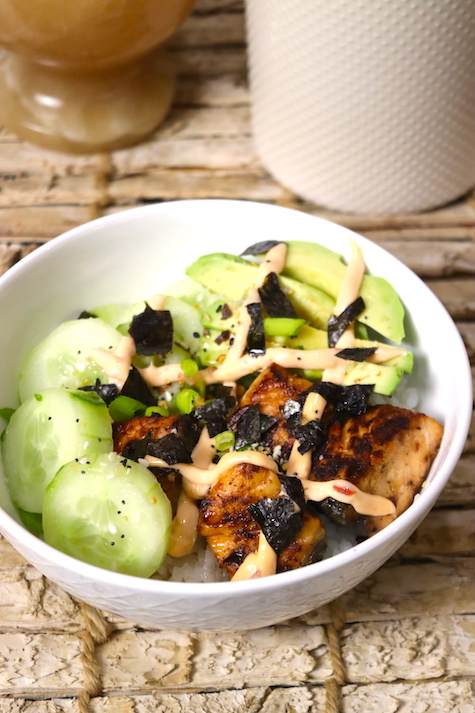 Satisfying & healthy lunch or dinner…
This is a viral TikTok recipe. As soon as I saw the video, I knew it it's my kind of recipe. Healthy, nutritious & satisfying.
A salmon rice bowl is a dish that typically consists of cooked rice, salmon, and various toppings, such as vegetables, avocados, or sauces. The salmon is usually baked, grilled, or pan-fried and is served on top of the rice, creating a flavorful and nutritious meal. Some variations may also include other ingredients like eggs, nori, or sesame seeds. Salmon rice bowls can be a great option for a quick and easy lunch or dinner and are a good source of protein and healthy fats.
Salmon Rice Bowl Recipe | Viral TikTok Recipe
Ingredients
For marinating salmon
Salmon, cubed- 2 steaks
Garlic powder- ¼ tsp
Ground black pepper- 2 pinches
Dried red chili flakes- ½ tsp
Light soy sauce- 2 tbsp
Sesame oil- 1 tsp
For making sauce
Mayonnaise- 1 cup
Sriracha sauce- 1 tsp (or chili sauce/paste)
For topping
Cooked white or jasmine rice- 1 cup/bowl
Cucumber, round cuts- 4/bowl
Avocado, sliced- ½ avocado/bowl
Green onions, chopped- 1 tbsp/bowl
Sesame seeds or everything bagel seasoning- ½ tbsp/bowl
Sesame oil- ½ tsp/bowl
Roasted seaweed or nori, crushed- ½ tbsp/bowl
Instructions
Salmon can be used with or without skin. Skin when cooked will turn crispy & tastes good.
I've taken 2 salmon steaks, cube them.
To a bowl, add salmon along with other ingredients mentioned 'for marinating salmon'. Combine well.
Place a frying pan over medium heat, add 1 tbsp sesame or vegetable oil.
Add the marinated salmon & pan fry till both sides have turned golden brown.
You can even bake or air fry the salmon at 400 F or 200 C for 15 minutes.
Transfer to a plate & keep aside.
In a bowl, combine mayonnaise & sriracha sauce (or use chili paste or sauce) or you can use spicy sriracha mayo.
Serving: To a bowl add cooked white or jasmine rice.
Top with pan fried salmon, cucumber, avocado.
Garnish with green onions, sprinkle sesame seeds or you can use everything bagel seasoning.
Drizzle sesame oil.
If you prefer you can also sprinkle ½ tbsp crushed roasted seaweed or nori.
Enjoy it right away, tastes absolutely delish & a healthy meal.