Kerala-style roasted coconut vegetarian curry…
Kerala-style roasted coconut vegetarian curry is a popular dish from the southern Indian state of Kerala. This dish is made with roasted coconut and a variety of vegetables, making it a flavorful and healthy meal.
Kerala-style cuisine is known for its bold flavors and the use of coconut in many dishes.
For making this curry, I've added moringa or drumsticks & lady's finger- okra to the ground coconut & cooked them in it.
Other kinds of veggies like bitter gourd and potatoes can also be added or make the non-vegetarian version by adding fish or shrimp.
This curry can be enjoyed with rice, appam, idiyappam & chapati.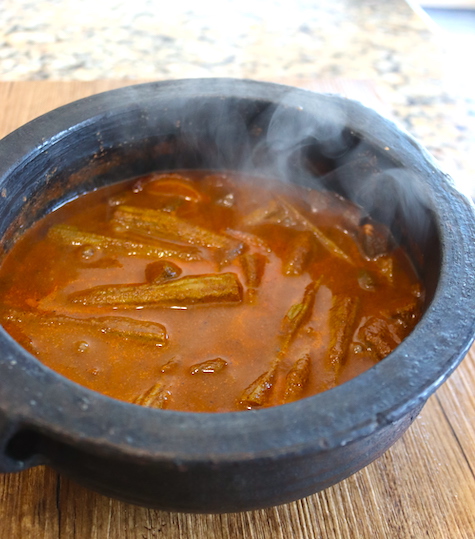 Drumsticks & Lady's Finger In Roasted Coconut Gravy | Kerala Varutharacha Vegetarian Recipe
Ingredients
For roasting coconut
Coconut, grated- 1½ cups
Small onions or pearl onions- 5
Dried red chilies- 2
Curry leaves- 8 leaves
Kashmiri Chili powder- ½ to 1 tbsp
Coriander powder- 1 tbsp
Whole peppercorns- 1 tsp
Water- 1 cup while grinding
For making gravy
Drumsticks or Moringa cut into 3-inch slices- 10 pieces
Lady's finger or okra, cut into round slices- 1 cup
Pearl onions- 5
Tamarind extract- ½ cup (2-inch slice, soaked in ½ cup warm water)
Curry leaves- 1 sprig
Salt- 1½ tsp
Instructions
Fresh or frozen drumsticks or moringa are available in most Indian stores.
If using fresh drumsticks, cut them into 3-inch long pieces.
In a small bowl, soak fresh tamarind in ½ cup of lukewarm water for 5 minutes.
Squeeze the soaked tamarind in water to extract the juice, strain the juice & discard the skin & seeds.
Place a large pan over medium heat.
Add grated coconut, small onions, dried red chilies & curry leaves, roast over medium heat till the coconut turns golden brown in color.
Keep stirring for even roasting and to avoid ithe coconut from burning.
When the coconut turns golden brown, add Kashmiri chili powder (for less spice add ½ tbsp), coriander powder & whole black peppercorns.
If you want this less spicy, add less whole peppercorns.
Combine everything well, saute for 2 minutes.
Take the pan off the heat, let cool down.
In a blender, grind the roasted coconut along with 1 cup water to a smooth paste.
If the mixture is too thick add some more water while grinding.
Use a claypan or non-stick saucepan: add the drumsticks, okra, pearl onions and curry leaves; combine well.
Add the ground coconut paste & rinse the blender jar with ½ cup water & add that as well.
Add ½ cup of the tamarind extract to the gravy, combine well.
Add salt & combine well.
Place the pan over medium heat & close with a lid, cook covered for 20 minutes till the drumsticks & okra have turned soft.
If the gravy is too thick, add some water to thin it down and cook further for a few minutes.
Taste the gravy, adjust salt according to your needs.
Take the pan off the heat, keep it covered for a few minutes.
Enjoy this roasted coconut curry with rice, chapati, appam, idiyappam or pathiri.