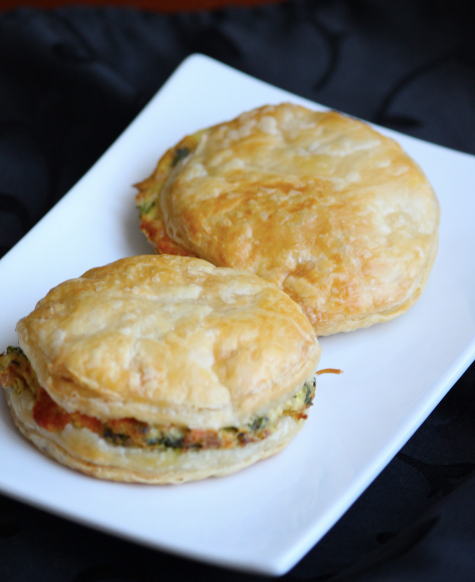 Crispy Puff pastry egg sandwich, perfect for breakfast or brunch…
I still haven't made puff pastry from scratch. Making the perfect puff pastry is quite a skill, needs practice, and it's time consuming. I'd rather grab the readymade puff pastry from the frozen aisle at the grocery store I shop and turn them into delicious pastries.
When I think about puff pastries, the first thing that comes to my mind is Kerala puffs sold in most bakeries; different kinds of filling made with chicken, mutton, beef or egg will be placed in the pastry sheets; wrapped into triangular or square shapes and baked with golden and crispy. Puffs are pretty popular in Kerala and is devoured by all puff pastry lovers in the evening along with a cup of tea.
Here are the recipes
I had to use up the puff pastry that's been sitting in my freezer. Hence, made this puff pastry egg sandwich and served for brunch. Crispy goodness it was.
I made omelette out of the eggs, sandwiched between the puff pastry sheets that was cut into round shapes and baked for 20 minutes. Way too many ways of making this: you could add scrambled eggs, add your favourite veggies and seasonings, puff pastry can be cut into squares or other shapes etc etc. Tweak the recipe based on your creativity and preference.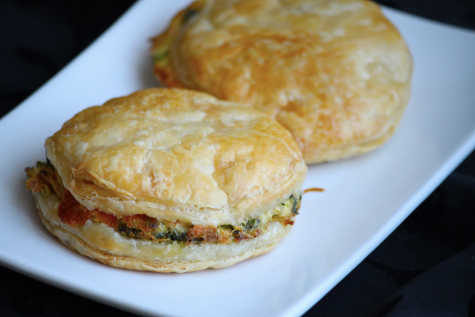 Cooking Video
Puff Pastry Egg Sandwich- Egg Sandwich Recipe
Ingredients
Puff pastry sheets, thawed- 2 or more
Eggs- 3
Green onions, chopped- 2 stalks
Cilantro, chopped- 2 tbsp
Ground black pepper- a few pinches
Salt- 2 pinches
Cheddar cheese- ¼ cup
Instructions
Preheat oven to 400 F or 200 C.
With round cuts, 2 sandwiches can be made out of 1 puff pastry sheet.
Thaw the puff pastry till it turns soft.
Using a round cookie cutter, cut 4 rounds on the puff pastry sheets.
Crack the eggs into a bowl, beat well using a fork.
Add green onions, cilantro, ground pepper and salt; combine well.
Place a pan over medium heat, let turn hot.
Grease with non-stick cooking spray.
Pour the beaten eggs, swirl the pan and spread evenly.
Add cheddar cheese on the top, spread evenly.
Let bottom side cook well, using a wide spatula flip it over.
Let bottom side set well, for 2 minutes.
Transfer the omelette to a plate.
Using a cookie cutter, cut 4 round cuts on the omelette.
Place one of the round omelettes on the round puff pastry, top with another round puff pastry.
Repeat with others.
Place on a baking sheet lined with parchment paper.
Place the baking sheet on the middle rack in the preheated oven.
Bake for 20 minutes till crispy and golden.
Serve immediately while the sandwiches are warm and crispy; enjoy the crispy goodness.