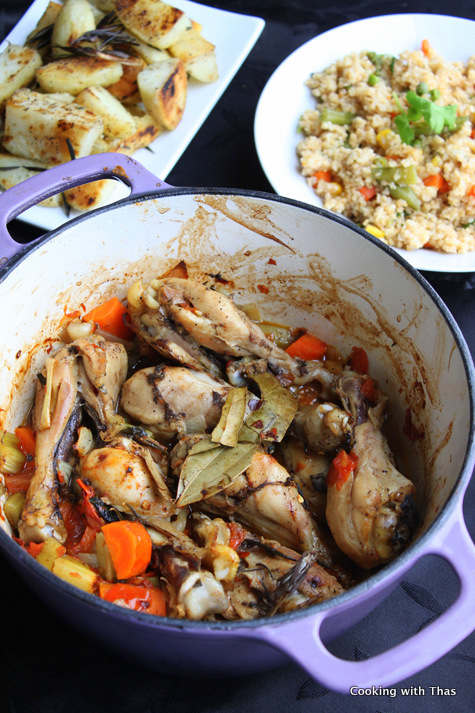 Delicious, succulent and aromatic chicken legs casserole, all you have to do is throw in all the ingredients into a dutch oven and pop it in the oven, couldn't get any more easier…
Now, I can confidentially say that Spring has sprung, it's still chili though. It's been raining most of the days, I am not a rain person as rain makes me depressed and lazy. So, on days when the sun shines all I want to do is be outdoors and enjoy the amazing transformation of Nature coming back to life. Daffodils and tulips have already bloomed, lilies in my garden are slowly coming out of the ground, can't wait to see them in full bloom.
Earth day was celebrated on April 22 nd this year, we planted 6 cedar trees in our backyard in recognition of Earth day. Hopefully, I am planning to plant more trees in my community, there is nothing more incredible than being with Nature and saving it. Long live our beautiful Earth!
During spring, especially when it rains I like to cook effortlessly. This is one such dish made on a lazy rainy day. I only had to chop some veggies and throw all of the ingredients along with chicken legs into a dutch oven and place it in the oven. It was slow cooked in the oven for almost 1 hour 45 minutes, after that succulent and delicious chicken legs came out of the oven. I served this with roasted rosemary potatoes and Asian style Cracked wheat, it was so comforting and delicious.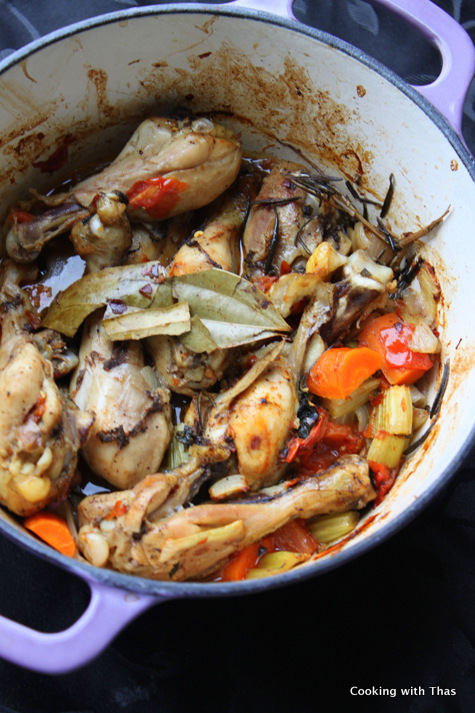 Preparation Picture
All the ingredients goes into a dutch oven
Chicken Legs Casserole - Aromatic Chicken Legs
Ingredients
Chicken legs- 8 (with or without skin)
Ground pepper- ¼ tsp
Salt- to taste
Onion, diced-1, large
Carrot, diced-1 large
Celery, diced- 2 stalks
Tomatoes, diced- 3 large
Garlic cloves, chopped- 4 large
Ginger, chopped- 2 inch slice
Basil leaves- 10 leaves
Fresh Rosemary- 2 sprigs
Bay leaf-1
Red chili flakes- 1 tsp
Paprika- 2 tsp
Instructions
Preheat oven to 375 F.
Season the chicken with ground pepper and salt.
Throw in all the ingredients into a dutch oven or oven proof wide pan, combine well.
You could either keep the skin or remove it.
Use chicken legs or large bone-in pieces.
Cover the dutch oven with its lid or with aluminum foil.
Place on the lower rack and bake for 1 hour.
After an hour, uncover the dutch oven and bake for another 45 minutes.
The chicken will be juicy and slightly browned.
You could serve the chicken legs and veggies with roasted potatoes/quinoa/rice etc.