Update: The giveaway is closed. The lucky winner is Smitha Prakash. 
Today my interview is with a talented cookbook author. She holds an engineering degree and two masters degrees: one in information systems technology from George Washington University and the other in Industrial Systems management Lynchburg College. She has made appearances on TV and radio. Here is her perspective about food and cooking:
I love tradition but embody change.
I respect technique but am playful.
I eat locally but cook globally.
My writing reflects food and culture and its affect on our lives.
Without further ado, let me introduce to you the lovely Monica Bhide…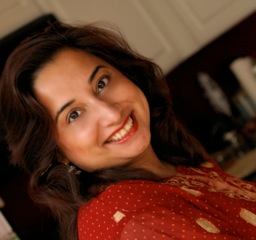 And here's the interview…
Me: Can you tell us about the number of books you've written so far and also shed some light into your newest book?
Monica: I have written three books. The latest is Modern Spice. It is a collection of fun, easy and contemporary recipes that will have you cooking with spices in no time! The book has a forward by Mark Bittman. It was also updated and changed for the Indian market and released in India last year by Random House.
Me: What were some of the challenges you had to overcome when you decided to write your first book?
Monica: I think it was understanding how to write recipes. I tend to cook by estimation so making the estimates accurate was a real challenge! I think I have come a long way since then and now I focus not just on timing but on visual clues as well.
Me: Tell us about any exciting things happening in your professional life at this time.
Monica: I am working on a really fun novel that has many recipes in it! I will be debuting on Indian TV soon as a judge for a reality show (in November) and I have my fourth book releasing later this year — In Conversation with Exceptional Women. I am also working on updating my spice app for the iphone. It is called iSPICE.
Me: What kind of dessert do you most often make? Any tips for us?
Monica: I am always making rice pudding. I love to try it with different spices like saffron or cardamom or star anise. I also play around with flavorings like coffee in rice pudding. It is fun! To keep it interesting, I also vary the rice — black rice pudding always makes for interesting conversation!! As for tips? Make it often!
Me: I know that you teach cooking classes, please tell us about the classes you teach and how someone can enroll in them.
Monica: I only teach private classes now. I am pleased that my classes were once mentioned in Bon Appetit! It was great but then the classes got too big and I could not focus on my attention on each person. So now I do small classes only. The best way to enroll is to email me and tell me what you want to learn!
Me: A lot of bloggers are also aspiring book writers – what advice would you give them?
Monica: Write a lot. Write like you love it. Write about things you know, write about things you want to learn. Your blog is your resume. Make it shine!
Me: Were you passionate about cooking when you were growing up or was this a talent that you acquired later on as an adult?
Monica: I have always loved being in the kitchen and cooking. But I still think I love to write more than I love to cook!
Me: I also noticed that you quit your corporate job to pursue your passion. How do you feel about that decision now?
Monica: I did. I left a six-figure job to write. Each day I am grateful that I get to do what I love and call it work!
Me: What's one thing most people don't know about you?
Monica: That I trained as a beautician one summer!
Me: How do you keep yourself motivated?
Monica: I love what I do so much that I rarely need motivation! I remind myself how lucky I am to be able to write and that always helps.
Monica maintains a blog where she posts her recipe creations. Be sure to visit her at http://www.monicabhide.com/
She has also offered to giveaway an autographed copy of her newest cookbook Modern Spice.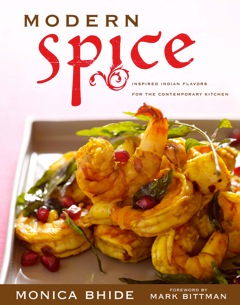 What do you need to do to win the cookbook?
Just leave a comment below mentioning what your favorite dessert is before October 12 5:59 PM EST.
A winner will be picked using random.org  and announced on my facebook page at http://www.facebook.com/CookingwithThas and twitter @thasneen.  Will be notified also by email with instructions to claim the prize. Good luck!
Prize can be shipped to U.S addresses only.