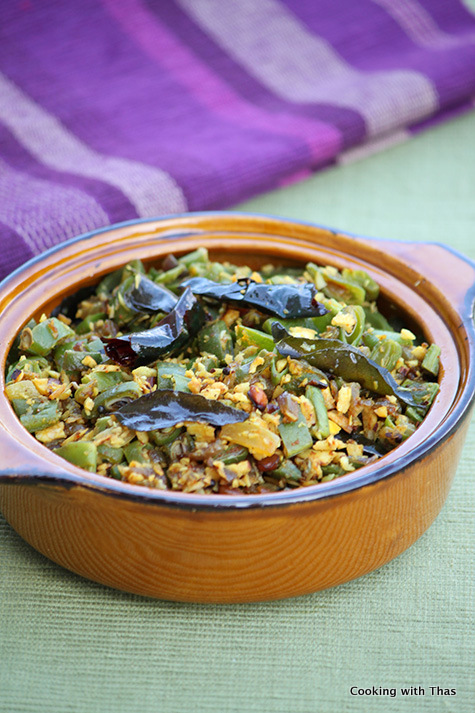 Fresh green beans picked from my garden, turned them into poriyal by stir frying with coconut; simple yet comforting veggie side dish…
Cooking with the freshly picked veggies is beyond amazing and the food tastes even more delicious. This year, I sowed some dried beans in my veggie bed, I got excited seeing the seedlings sprout out of the seeds. Then the flowers appeared which then turned into beans. It was amazing to see all the transformation and to harvest the beans.
Sharing some pictures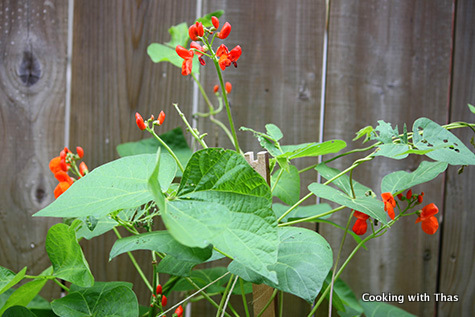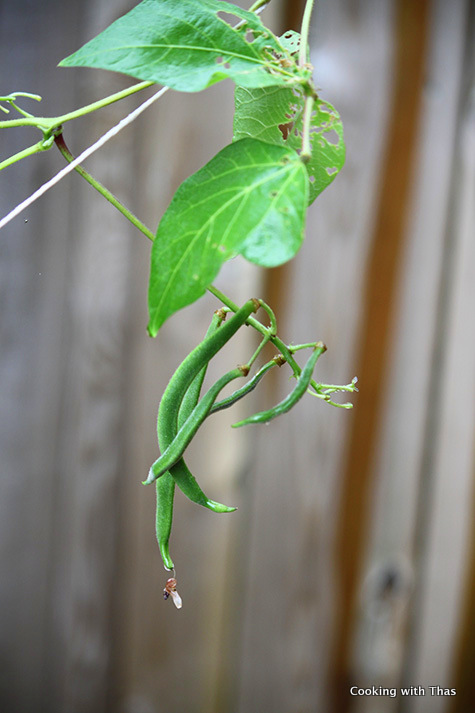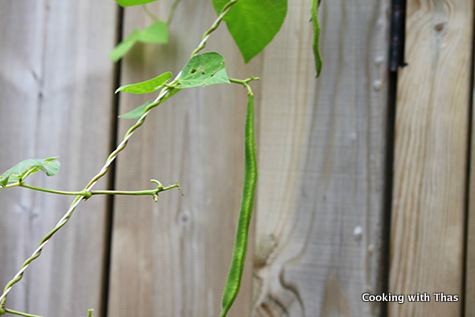 After I harvested the beans, I wanted to make something out of it right away. One of my favorite South Indian veggie side dishes is Poriyal or veggie stir fry with coconut. It's a very easy recipe and can be made with almost any kind of veggies. So, I made poriyal with beans. Cook the chopped beans and then stir fry them with grated coconut till they turn slightly crispy. Poriyal is served as a side dish along with rice and other veg or non-veg curries.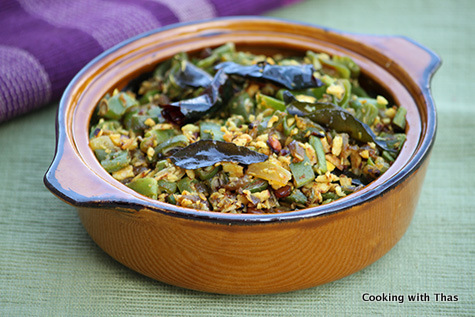 Preparation Pictures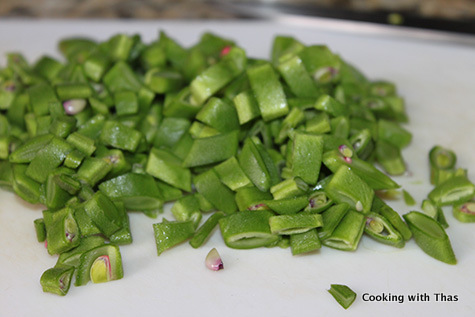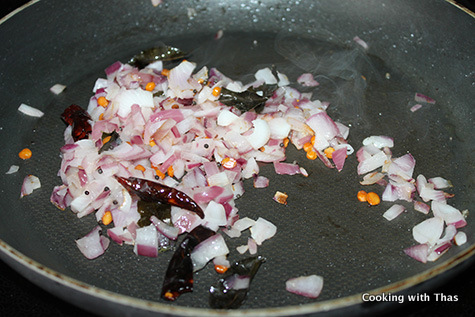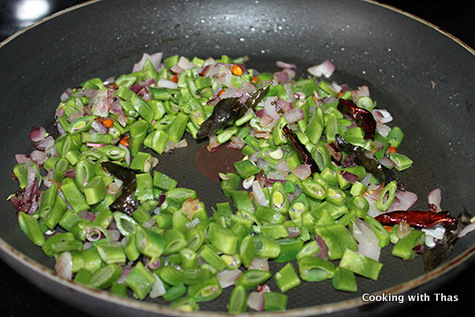 Recipe for making long beans Mezhukkupuratti, click here.

Beans Poriyal or Beans Stir fry with Coconut
Ingredients
Coconut oil or vegetable oil- 1½ tbsp
Mustard seeds- 1 tsp
Chana dal- ½ tbsp
Whole dry red chilies- 2
Curry leaves- 1 sprig
Small pearl onions, chopped- 8 (or use 1 red onion)
Beans, chopped- 15 to 20
Chili powder- ½ to 1 tsp
Turmeric powder- ⅛ tsp
Grated coconut- ½ cup
Salt- to taste
Instructions
Wash the beans well, remove the strings from both the sides of the beans and chop them small.
Place a pan over medium heat, add oil, let it turn hot.
Add mustard seeds, let it splutter.
Add chana dal, saute till it turns light golden.
Add whole red chilies and curry leaves, saute for a couple of seconds.
Add chopped pearl onions or red onions, season with salt and saute till onions turn light golden in color.
Add beans along with ¼ cup water, cook covered till beans have turned tender.
Open the lid, stir fry the beans till all the water has dried off.
Add chili powder, turmeric powder and salt, stir fry for a few seconds.
Add grated coconut, stir fry till coconut turns light golden in color and beans turn slightly crispy.
Remove the pan from the heat, transfer to a bowl and serve as a side dish along with rice.
Notes
You could replace beans with carrot, okra, long beans, cabbage or a mix of veggies.