Hand-picked apples turned into a scrumptious apple crumble cake…
It's Fall, it's apple season and I went apple picking. One of the activities I look forward to in the Fall. What a joy picking amazing varieties of apples from the orchard. The apples picked right from the trees taste so fresh & crisp. Sharing a few pictures.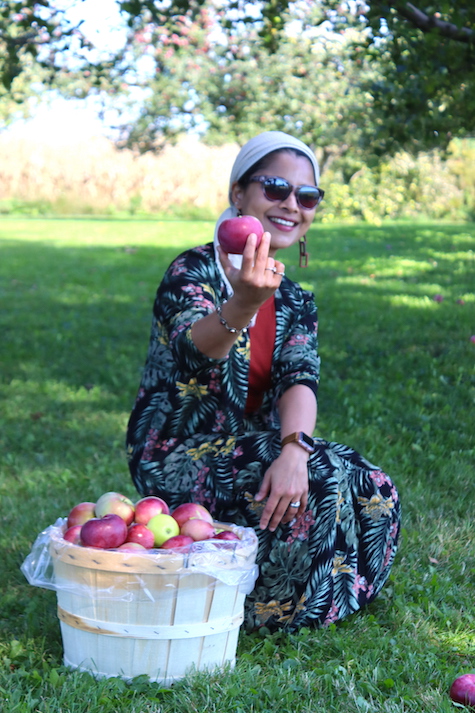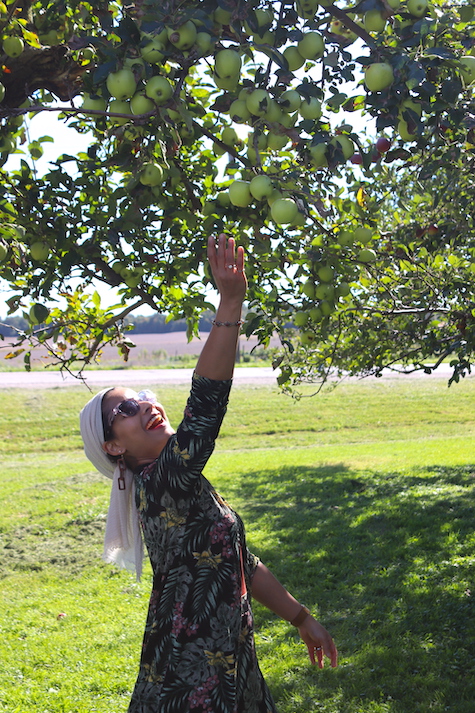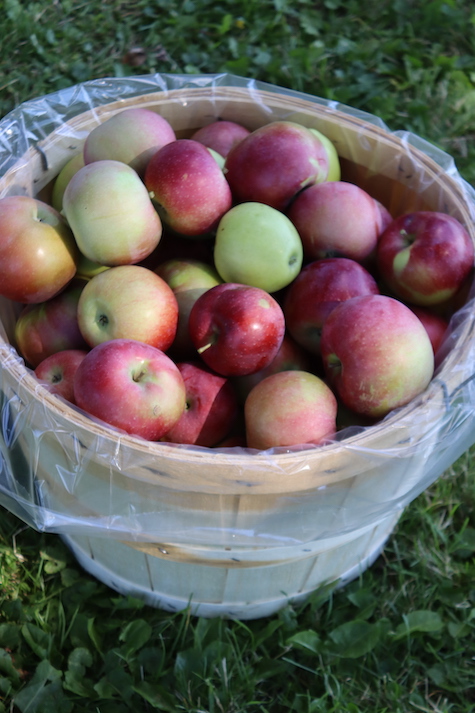 I've been making both sweet & savory dishes with apples. My hubs & I enjoy apple cake, hence turned a few apples into a decadent cake.
This is an easy recipe, loved the addition of ground cinnamon in this cake, the house smelled divine while baking. The cake batter is topped with a crumble when baked turned buttery & crunchy.
This comforting cake, on a Fall evening, devoured with a cup of chai or coffee; feels magical.
Apple Crumble Cake
Baking Video
Apple Crumble Cake - Gluten Free(Optional)
Ingredients
Apple, diced small- 2 (any sweet variety apples)
All-purpose flour or gluten-free flour- 2 cups
Baking soda- 1 tsp
Ground cinnamon- 1 tsp
Salt- ½ tsp
Butter, unsalted, and slightly melted- 1 stick or ½ cup or 8 tbsp
Brown sugar- 1½ cups
Eggs- 2, large
Vanilla extract- 1 tsp
Yogurt- 1 cup
For making crumble topping
All-purpose flour- ¼ cup
White sugar or Brown sugar- ¼ cup
Butter, slightly softened- ¼ cup or ½ stick
Ground cinnamon- ¼ tsp (optional)
Instructions
For making this cake, use any kind of sweet variety apples.
Into a large bowl, sift together all-purpose flour, baking soda, salt, and ground cinnamon.
In another bowl add butter and brown sugar, cream them using an electric hand mixer.
Add eggs, one at a time, and beat well.
Add vanilla extract, beat for a minute.
Add the yogurt, beat for 2 minutes.
Now, pour the wet ingredients to the flour mix, beat at low speed for 2 minutes until well incorporated.
Using a silicone spatula, combine the batter well for even mixing.
Add the diced apples, fold into the batter using a silicone spatula.
Grease an 8-inch baking pan with melted butter, pour the batter onto the pan and smooth out the top.
Making Crumble Topping
Into a bowl add: all-purpose flour, white or brown sugar, butter, and ground cinnamon.
Using your clean hand, combine the butter to the flour & sugar till it resembles a coarse crumb texture.
Make sure the butter is slightly softened. Do not use melted butter.
I've added white sugar, that's the reason the crumb has a pale white color after baking. Brown sugar will impart a nice golden brown color.
Evenly spread the crumble topping on the prepared cake batter.
Baking
Preheat the oven to 350F or 175 C.
Place the cake pan on the middle rack.
Bake for 40 minutes or till a fork inserted into the center of the cake comes out clean.
After 40 minutes, if the center hasn't cooked well, place the pan on the upper rack and bake for another 5 more minutes.
Remove the cake pan from the oven, let stand in the pan for 10 minutes, by doing this the center of the cake will turn firm.
Cut into wedges and serve warm.
This cake tastes delish when warm along with a cup of tea or coffee. It's comforting & delish.
Leftovers can be refrigerated, slightly warm up the cake in the microwave for 20 seconds before serving.