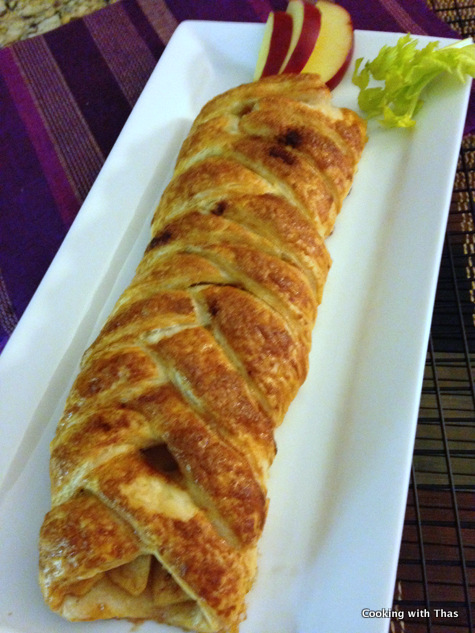 Crispy and delicious Danish: My new obsession…
Lately, I've been obsessed with danish pastry and have been trying danish with different flavors and stuffings in it. One of my favorite stuffings is apple and maple syrup, of course sprinkled with lots of ground cinnamon. I'd been wanting to make danish for so long and thought I would also try making the pastry from scratch. The thought of making the pastry from scratch kind of made me lazy. Today, I got an intense craving for having danish, I resisted the temptation to get it from the nearby pastry shop. However, I couldn't resist the temptation of making it in the easiest way in my kitchen.
All you need is store bought puff pastry and making danish is just a breeze. Thaw the puff pastry, arrange the apple slices, drizzle maple syrup over it, braid the puff pastry, sprinkle with lots of ground cinnamon and brown sugar, bake it in the oven and you get to enjoy delicious and crispy apple-maple syrup danish.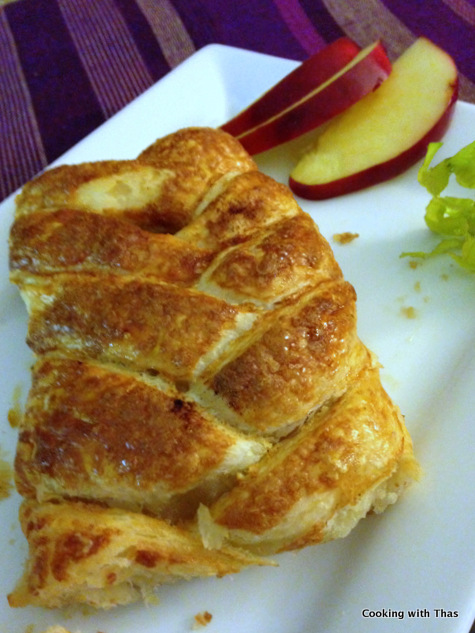 Preparation Pictures
Apples drizzled with maple syrup placed on puff pastry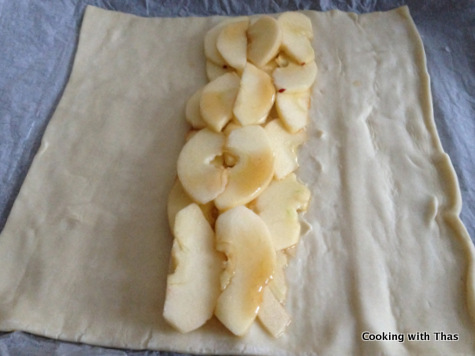 Make slits and braid the pastry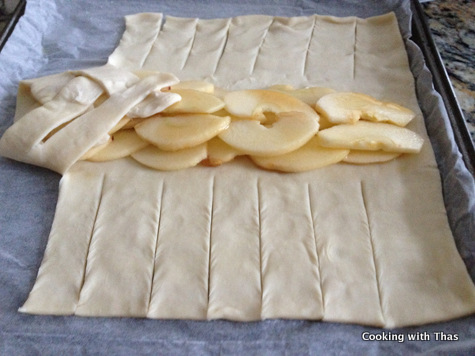 Sprinkled with ground cinnamon and brown sugar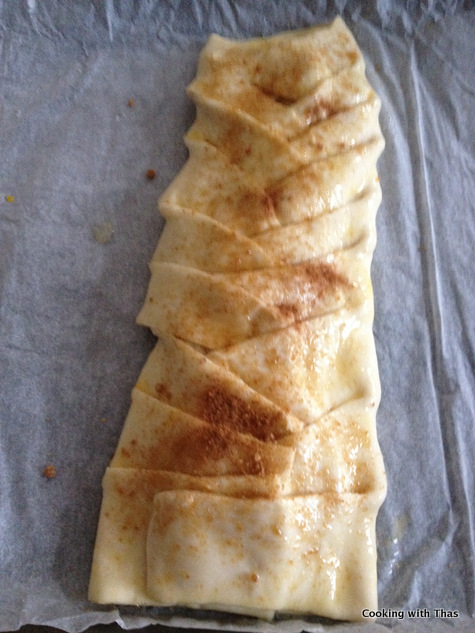 Apple and Maple Syrup Danish - Puff pastry Danish
Ingredients
Puff pastry, thawed- 1 sheet
Red delicious Apple, sliced into thin wedges- 1, large
Maple syrup or honey- 2 to 3 tbsp
Ground cinnamon- 1 tsp
Brown sugar- 2 to 3 tbsp
Egg, beaten-1
Instructions
Preheat oven to 375 F.
Slice the apple into thin wedges.
Pour the maple syrup over the apples and combine well.
If using store bought puff pastry, thaw it at room temperature.
Place the thawed puff pastry on a baking sheet lined with parchment paper.
Arrange the apples in two columns on the center of the rectangular puff pastry.
Make thin slits on both sides of the puff pastry. (See the picture)
Place the slits on top of the apples, cross the slits so that it looks like braids.
Brush the top of the puff pastry with beaten egg.
Sprinkle ground cinnamon and brown sugar over it.
Place the baking sheet on the center rack in the oven.
Bake for 30 to 35 minutes or till puff pastry turns golden and crispy.
Remove from the oven, let cool down on a wire rack.
Using a sharp knife, slice the danish and serve immediately.
Notes
You could sprinkle almonds, pecans or walnuts over the prepared puff pastry for extra crunchiness.

Use honey instead of maple syrup.