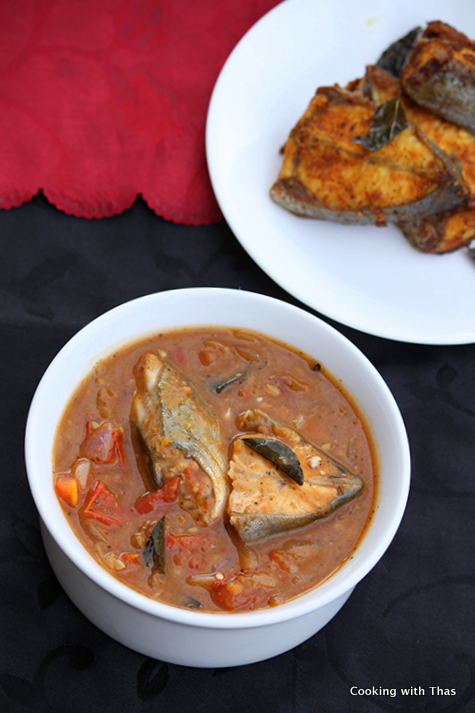 South Indian style Fish curry made with gun powder…
Gun powder is a South Indian ground spice made by roasting dals or lentils along with whole dry red chilies, fenugreek seeds, mustard seeds and a few other ingredients and then ground into fine powder. This ground spice is also called Idli podi and is usually mixed with oil and served with Idli or Dosa. This spice is seen in the pantry of most South Indian houses.
The other day, I was getting ready to make fish curry. As always, I wanted to make it differently. The first thing that flashed through my mind was gun powder and making a fish curry out of it. Now, that sounded awesome and quite different from my usual way of making fish curries. Hopped into the kitchen and made the fish curry with gun powder. It was a bit spicy, very flavorful and finger licking delicious. I served this fish curry with Appam, it was such a phenomenal combination.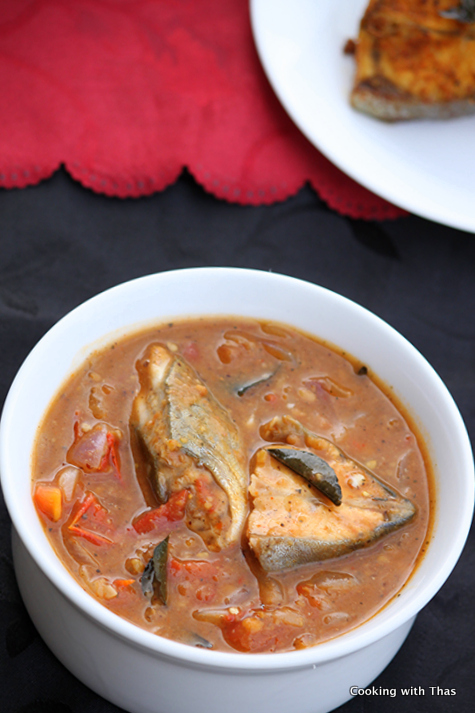 Preparation Pictures
After adding gun powder paste
After adding tomatoes
Spicy Fish Curry- using Gun Powder or Idli Podi
Ingredients
For making gun powder paste
Oil- 2 tbsp
Mustard seeds- 1 tsp
Chana dal- 2 tbsp
Urad dal- 1 tbsp
Curry leaves- 1 sprig
Whole dried red chilies- 3
Fenugreek seeds- ½ tsp
For marinating fish
Pomfret or king fish- 8 pieces
Ground pepper- ¼ tsp
Kashmiri chili powder- ½ tsp
Salt- ½ tsp
For making fish curry
Oil- 1 tbsp
Small onion, chopped- 6
Curry leaves- 1 sprig
Prepared gun powder paste
Tomatoes, chopped- 3
Fresh Tamarind juice- 2 inch slice soaked in ¼ cup water
Warm water- 1½ cups
Salt- 1 tsp
Instructions
Place a non-stick pan over medium heat, add oil, let turn hot.
Add mustard seeds, let splutter.
Add chana dal, urad dal and curry leaves, saute till the dals turn golden in color.
Add whole dried red chilies, saute for a few seconds.
Finally, add fenugreek seeds, saute for a few seconds till fenugreek seeds turn light golden in color. Don't burn them as it will taste bitter.
Remove the pan from the heat, let cool down.
Grind them coarsely in a coffee grinder or a blender along with ¼ cup water. Keep it aside.
Combine the fish with ground black pepper, Kashmiri chili powder and salt, let marinate for 10 minutes.
Soak the fresh tamarind 2 inch slice in ¼ cup lukewarm water for 5 minutes. Combine the soaked tamarind with water and squeeze well to release the juice, strain the juice and discard the skin.
Place a clay pot or saucepan over medium heat, add oil.
Add chopped small onions and curry leaves, season with salt, saute till onions turn translucent.
Add the gun powder paste, combine well and cook for a few minutes.
Add tomatoes, cook covered till they are slightly mashed up.
Add tamarind juice, combine well.
Add 1½ cups warm water, combine well.
Taste and add salt as required.
Let the gravy come to a slight boil.
Add the marinated fish into the gravy.
Cook covered for a few minutes till the fish has cooked well.
Open the lid, lower the flame and cook for a few more minutes till the gravy thickens a bit.
If the gravy is too thick you could add some water to thin it down.
Remove the pan from the heat, keep it covered for a few minutes.
This fish curry goes well with rice, chapati, appam, pathiri, orotti, etc