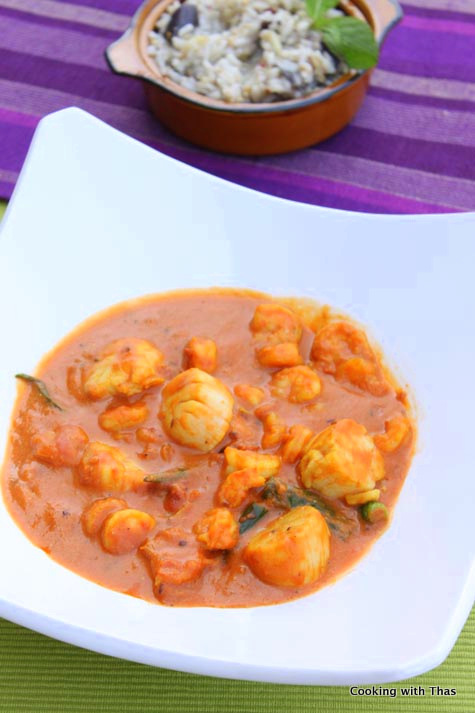 Creamy, silky and delicious curry…
I made this shrimp and scallops malai for tonight's dinner. It was incredibly delicious that I couldn't wait any longer to share the recipe with you all. Delicious would be an understatement. I am in need of a new word to describe this silky, creamy dish. How about if I say it's incredibilicious??? I feel better now. Anything that has shrimp and scallops are my favorites even if it doesn't taste that delicious, I can handle just the taste of shrimp and scallops. Now, if it tastes delicious and if it has shrimp and scallops; I will get greedy and wild and what not…
"Malai"  is a hindi word which means "cream". Usually, cream is added for making malai dishes, but in this dish coconut milk is added that's what I liked the most. An incredibly delicious dish that will make your taste buds go wild n wild.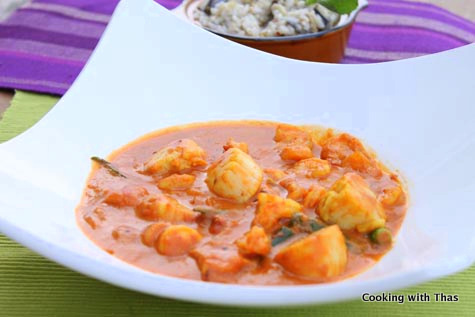 Step By Step Pictures
Sautéing shrimp and Scallops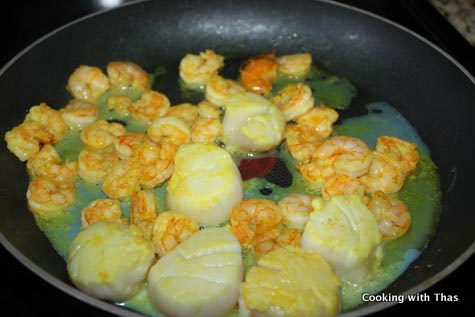 Making the creamy sauce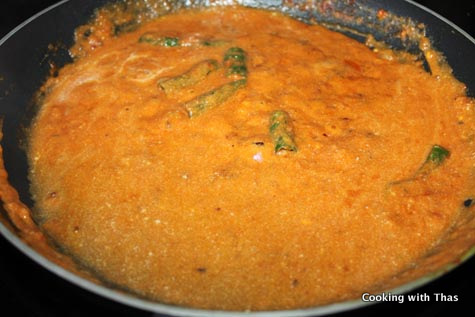 Adding cooked shrimp and scallops to the sauce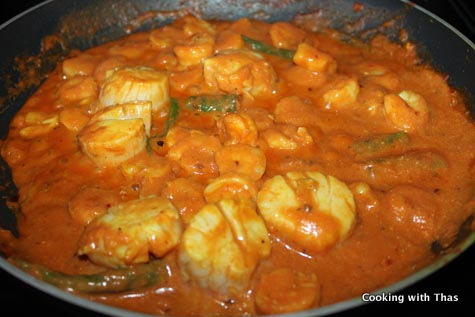 Shrimp and Scallops Malai - Shrimp and Scallops in creamy Coconut Sauce
Ingredients
Shrimp, deveined- 10, medium-sized
Scallops- 6 large or 10 small
Turmeric powder- ¼ tsp
Salt- ½ tsp
Butter- 1 tbsp + 1 tbsp
Cumin seeds- 1 tsp
Onion paste- 4 tbsp
Ginger-garlic paste- ½ tbsp
Dried red chili flakes- 1 tsp
Tomato paste- 2 tbsp
Coconut milk- 1 cup
Garam masala- 1 tsp
Salt- ½ tsp
Cilantro, chopped- 2 tbsp
Instructions
In a bowl, combine shrimp and scallops with turmeric powder and salt. Keep aside for a few minutes.
Place a pan over medium heat, add 1 tbsp butter, let the butter melt.
Place the shrimp and scallops over the butter, cook tiil they have slightly cooked through. Don't overcook them.
In a blender, grind one small chopped onion along with water into a smooth paste.
Use the same pan, add 1 tbsp butter.
Add cumin seeds, saute for a few seconds.
Add onion paste, saute for 5 minutes till the raw smell goes away.
Add ginger-garlic paste, saute for 2 minutes.
Add tomato paste, saute for 2 minutes.
Add dried chili flakes, saute for a couple of minutes.
Add the coconut milk, combine well and let come to a slight boil.
Add salt.
Add the cooked shrimp and scallops, combine well and cook for 3 minutes.
Add garam masala, combine well.
Garnish with cilantro.
Remove the pan from the heat, keep it covered for a few minutes.
Serve with rice, naan, roti, chapati, etc
This dish doesn't have much gravy, it's a thick creamy dish. Absolutely yum.
Notes
You can make this just with shrimp