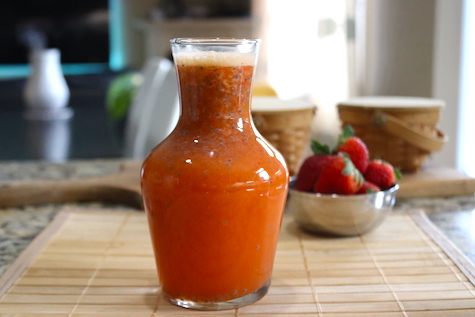 Refreshing drink…
If you're looking for a refreshing drink that's perfect for any time of day, you can't go wrong with a glass of orange strawberry juice.
Not only is it delicious, but it's also packed with vitamins and minerals that your body craves. In this blog post, I'll show you how to make a simple yet satisfying orange strawberry juice that's sure to be a hit with your taste buds.
I add Basil seeds to most of my freshly squeezed juices, they are a good source of fiber, vitamins, and minerals, including calcium, iron, and magnesium. They are also believed to have various health benefits, such as promoting digestion, reducing inflammation, and regulating blood sugar levels.
Basil seeds are similar in appearance to chia seeds but have a milder flavor and a crunchier texture. When soaked in water or other liquids, the seeds develop a gelatinous coating that makes them soft and slippery. It doesn't have any taste though, pretty bland.
Refreshing Orange Strawberry Juice
Ingredients
Oranges- 2
Strawberries, ripe- 5
Coconut sugar or white sugar- 1 tbsp
Cold water- 2 cups
Soaked basil seeds or sabja seeds or tukmaria- 2 tbsp
Instructions
You can either use Mandarin or navel oranges.
Soak 1 tbsp basil seeds or sabja seeds in ½ cup water for a few minutes, the seeds will bloom pretty fast.
If you have a juicer, it's easy to juice the oranges.
If you don't have a juicer, add the orange segments to a blender jar along with 1 cup water & blend well.
Strain the orange juice to a pitcher.
Rinse the ripe strawberries in running water.
Add them to the blender jar along with 1 cup water & sugar. I've added coconut sugar, you can also add white sugar or honey.
Blend the strawberries well.
Add to the orange juice.
Add 2 tbsp soaked basil seeds.
Pour the juice to glasses & top with a few ice cubes.
Enjoy this drink & feel refreshed.