Chicken seasoned with aromatic spices, pan fried and cooked in a rich and delicious coconut tamarind sauce, absolutely divine…
I've been obsessed with someone lately, guess who??? If you guessed-my Man then you got it wrong. What I've towards my Man is beyond obsession, and I lack words to explain that feeling so let's leave that topic for now. It's the chef with the most infectious smile, yes it's none other than Vikas Khanna. I've been hooked on to his cooking videos and I instantly developed an admiration towards him. Who wouldn't fall for his genuine and cute smile? One of my latest wishes is to dine at his restaurant-Junoon in New york. I'm eagerly looking forward to my next NY visit and Yes, have already started bugging my Man.
I watched some of his youtube videos in which he has revealed the recipes of a few signature dishes at Junoon. I've bookmarked all those videos and hoping to try them soon. I really loved the simplicity of those recipes and how gorgeously Indian spices were incorporated into the dishes. One of the dishes that caught my attention was the Duck in coconut-tamarind sauce and the recipe was inspired from Kerala, India. How cool is that!
I couldn't find duck breast in the meat store so I decided to go with chicken breast. I did tweak the recipe by adding my own spice mix, but tried to make the coconut-tamarind sauce quite smilier to the chef's recipe.
Chicken breast was seasoned with aromatic spices and pan fried to golden in color. Made the coconut-tamarind sauce, dipped the pan fried chicken breasts in the sauce and allowed them to cook in the sauce. Served with roasted butternut squash. The richness of the coconut milk, the sourness of the tamarind juice and the aromatic spice mix made this dish taste absolutely phenomenal. I loved how mustard seeds and curry leaves were added for making the sauce, that imparted the Kerala flavor to this dish.
Coconut-tamarind sauce recipe adopted from Vikas Khanna
Preparation Pictures
Pan fried chicken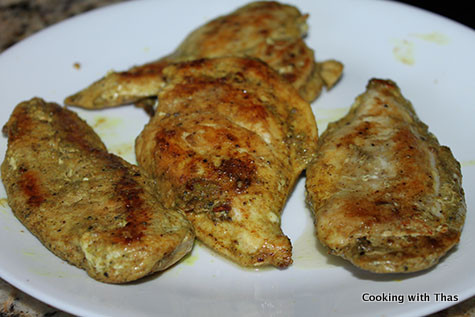 Making coconut-tamarind sauce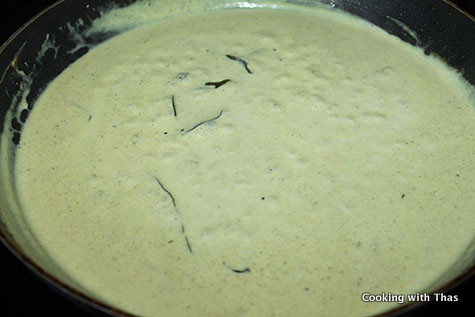 Cooking chicken in the sauce
Pan Fried Chicken in Coconut Tamarind Sauce
Ingredients
For making Spice mix
Coriander powder- 2 tbsp
Cinnamon powder- 1½ tsp
Ground black pepper- 1½ tsp
Ground cardamom- 1½ tsp
Ground all spice- 1½ tsp
Turmeric powder- 1½ tsp
Ground cloves- 1½ tsp
Ground nutmeg- ¾ tsp
For pan frying chicken
Chicken breasts, boneless- 2, halved
Prepared spice mix- 2 tsp
Fresh ground pepper- ½ tsp
Salt- to taste
Oil- 1 tbsp
For making coconut-tamarind sauce
Oil- 1 tbsp
Mustard seeds- 1 tsp
Curry leaves- 1 sprig
Coconut milk- 1 can, 400 mL
Spice mix- 1 tbsp (or add curry powder)
Ground pepper- ½ tsp
Turmeric powder- ¼ tsp
Fresh tamarind juice- 2 inch slice soaked in 4 tbsp luke warm water
Salt- to taste
Instructions
Mix all the above mentioned ingredients "for making spice mix" and store in a glass jar.
Cut both the chicken breast vertically, so you will have total 4 slices.
Using a fork, prick 2 to 3 holes over the chicken breast.
Place the chicken breast in a bowl, add 2 tsp of the spice mix, ground pepper, salt and oil. Spread evenly over the chicken and let marinate for 30 minutes in the refrigerator.
Heat a non-stick pan over medium heat, add 1 tbsp oil.
Place the marinated chicken breast over the oil, pan fry the chicken flipping both sides till the chicken breast turns golden in color and has cooked well inside.
Transfer to a plate and keep aside.
In a bowl, soak fresh tamarind in 4 tbsp warm water for 10 minutes, squeeze the tamarind well into the water to release all the juice. Drain the tamarind juice and discard the skin.
Place the same pan used for pan frying chicken over medium heat, add 1 tbsp oil, let oil turn hot.
Add mustard seeds, let it splutter.
Add curry leaves, saute for a couple of seconds.
Add the coconut milk, combine well.
Add spice mix, ground pepper, turmeric powder and salt, combine well.
Add tamarind juice, combine well and let the coconut milk come to a slight boil.
Lower the heat and let simmer for 5 minutes.
Now, add the pan fried chicken breasts into the coconut-tamarind sauce, pour the sauce over them and cook for a few minutes till the sauce starts to thicken.
Taste and add more salt, ground pepper for spice if needed.
Remove the pan from the heat.
Place the chicken breast on a plate, pour the sauce over it and serve with Basmati rice, roasted veggies etc.
Notes
You could add curry powder instead of spice mix.

If you want you could cut the pan fried chicken into wedges and then add them to the coconut-tamarind sauce and cook in it.