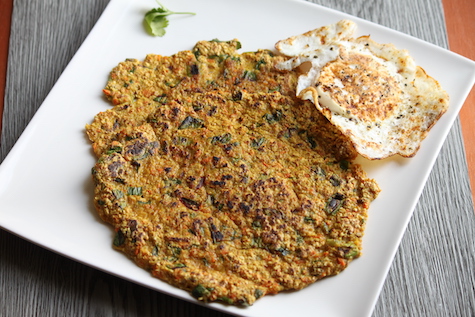 A healthy breakfast or brunch with oats…
If you are bored of oatmeal, masala oats or oats soup; here is a different recipe that you can try with oats. It's like pancakes, a savory version with mixed veggies and spices. Tasted really good and I served this along with over-easy eggs.
Healthy Oats Chilla- Healthy Savoury Oats Pancake
Ingredients
Oats, Instant or Rolled- 1 cup
Gram flour or Besan- 2 tbsp
Carrot- 1, grated
Spinach or beet leaves, chopped- ¼ cup
Green onions, chopped- 1 stalk
Cilantro, chopped- 2 tbsp
Turmeric powder- ¼ tsp
Chili powder- ½ tsp
Garam masala- ½ tsp
Cumin powder- ¼ tsp
Salt- ½ tsp
Water- 1 cup
Ghee- to cook chillas
Instructions
Grind the oats in a blender or food processor to a fine powder.
Into a bowl-add the ground oats, gram flour, carrot, spinach, green onions, cilantro and the spices.
Add water and combine well using a spoon to make into a batter.
You can add any kind of mixed veggies of your choice, or any spices as well.
Place a pan over medium heat, grease with ½ tsp ghee.
Pour 2 spoonful of oats batter, spread using the back of the spoon.
Let the bottom side cook well and turn golden with some brown spots. Drizzle with ghee.
Flip over and let the other side cook well. You can drizzle with some more ghee.
Transfer to a plate.
If the batter gets thick as the oats will absorb water, before pouring the batter to the pan you can add 1 to 2 tbsp more water and mix well.
I enjoyed this for breakfast along with over easy egg, can be served with chutney or any kind of curries.
Enjoy while its warm.