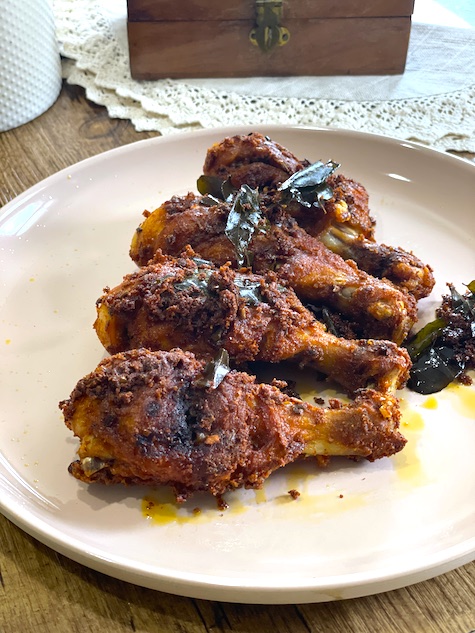 A "Thattukada" is a traditional roadside eatery or food stall in the southern Indian state of Kerala. These charming and often unassuming establishments have a special place in Kerala's culinary culture and are beloved for their delicious, affordable, and authentic local dishes.
Thattukadas offer a diverse menu, ranging from breakfast items like dosa, appam, and puttu to lunch and dinner options such as biryani, parottas, and various curries. However, what sets them apart is their specialty dishes, which can vary from one Thattukada to another.
One of the dishes that's loved by everyone from Thattukada is Chicken Fry. It's the special marinade that imparts a unique & bold taste, it's usually fiery.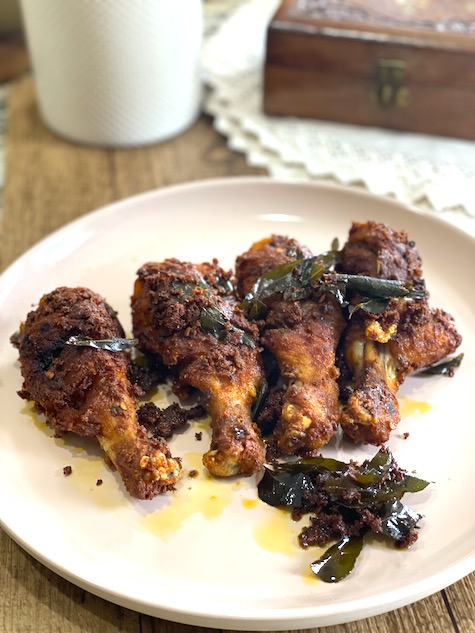 Kerala Thattukada Chicken Fry Recipe
Ingredients
Chicken drumsticks or bone in pieces- 6
Coconut oil- ½ cup
Curry leaves- 2 sprigs
For making marinade
Kashmiri chili powder- ½ tbsp (for more spice add regular hot chili powder)
Regular hot chili powder- 1 tsp
Turmeric powder- ⅛ tsp
Fennel powder- ½ tbsp
Ground black pepper- 1 tsp
Rice flour- 2 tbsp
Salt- 1½ tsp
Fennel seeds- ½ tbsp
Dried chili flakes- ½ tbsp
White Vinegar- 1 tbsp
Water- 2 to 3 tbsp, enough to make a thick paste
Instructions
In a bowl, add all the ingredients mentioned 'for making marinade'.
Combine well, make into a thick smooth paste.
Don't skip adding fennel seeds, imparts a nice aroma & taste to the fried chicken.
Rice flour added will make the fried chicken super crispy.
I've taken chicken drumsticks or legs, or use bone-in chicken pieces.
Add a few lines over the chicken flesh.
Spread the marinade all over the chicken.
Let marinate for an hour, longer the better, can be marinated overnight as well.
Place a frying pan over medium heat.
Add enough coconut oil for deep frying, let oil turn hot.
Place the marinated chicken in the oil & add curry leaves.
Flip over the chicken a few times & fry till the chicken has turned brown in color.
Transfer to a plate.
Enjoy with Kerala parotta, ghee rice, chapati, etc.