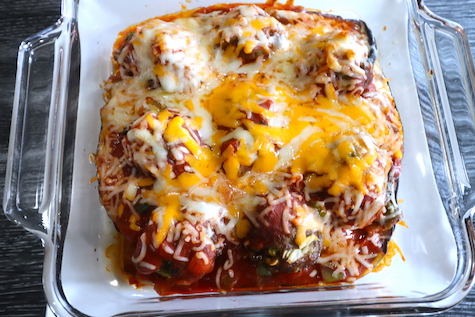 Low carb and delicious lasagna…
You wouldn't miss the lasagna pasta or noodles while having this. Lasagna pasta is replaced with roasted eggplants, topped with tomato sauce, air-fried ground beef balls & cheese.
Absolutely delicious & a perfect one-pot meal.
Cooking Video
Low Carb Eggplant Ground Beef Lasagna | Without the Pasta
Ingredients
American eggplant, sliced- 1 large
Ground black pepper- ¼ tsp
Salt- ½ tsp
Olive oil- 2 tbsp
For making ground beef patties
Ground beef- 1 lb or ½ kg
Garlic, minced- 1 tbsp
Onion, chopped small- ¼ cup
Green pepper, chopped small- ¼ cup
Paprika- 1 tsp
Ground cumin- 1 tsp
Dried oregano- 1 tsp
Chili powder- ½ tsp
Salt- 1 tsp
Cilantro, chopped- 2 tbsp
For making sauce
Olive oil- 1 tbsp
Onion, chopped small- ¼ cup
Green pepper, chopped small- ¼ cup
Tomato sauce- 400 ml or 1½ cups
Cilantro or Parsley, chopped- 2 tbsp
Other ingredients
Cheddar cheese- ½ cup
Parmesan cheese- ½ cup
Instructions
For making this lasagna, American eggplant has to be used.
For making 1 layer lasagna, take 1 large eggplant.
Half the eggplant vertically & slice each half lengthwise, total of 5 slices.
Season with ground black pepper & salt.
Place a wide pan over medium heat, add olive oil.
Place the eggplants on the pan, seasoned side down
Season the other side with ground black pepper & salt.
Cook till both the sides turn golden brown in color, flip over a few times.
Don't let the eggplant turn mushy.
Transfer to a plate & keep it aside.
In a bowl, combine ground beef along with all the ingredients for making ground beef patties.
Make into medium-sized patties.
I've air-fried the patties. Place the patties in the air fryer basket.
Air fry at 375 F for 25 minutes.
Or bake at 400 F or 200 C for 25 minutes.
After 25 minutes of air frying, keep the patties aside.
Place a wide saucepan over medium heat.
Add oil, add onion & green pepper.
Saute till they turn soft.
Add tomato sauce, combine well.
Add cilantro, combine well.
Let the sauce come to a slight boil.
Remove the pan from the heat.
Assemble the lasagna
Preheat the oven to 400 F or 200 C.
I've taken an 8-inch glass dish or casserole.
Place the roasted eggplants as the bottom layer.
Pour half of the tomato sauce on the eggplant.
Top with air-fried ground beef patties.
Pour the remaining sauce on the patties.
Finally, spread the cheese over it.
Keep the dish in the preheated oven on the middle rack.
Let bake for 15 minutes.
After 15 minutes of baking, take the lasagna out of the oven.
Let cool down a bit.
Using a knife slice the eggplant lasagna & serve on a plate.
Enjoy this delicious & low-carb lasagna.