Spicy & tangy fish curry with vibrant red color…
One of Kerala's beloved non-vegetarian delicacies is undoubtedly fish curry. In Kerala, which comprises 14 districts, the preparation of fish curry varies from one district to another, and it's worth noting that every household has its unique approach to cooking its own signature fish curry.
Now, let me introduce you to another method of preparing fish curry, which I would describe as the simplest version, devoid of onions or tomatoes. This particular curry incorporates Kashmiri red chili for its vibrant, deep red hue and kudampuli or cambodge tamarind for a smoky and tangy flavor infusion into the curry.
Typically, this curry is served alongside kappa (tapioca) or with matta rice, making it a delightful lunch option.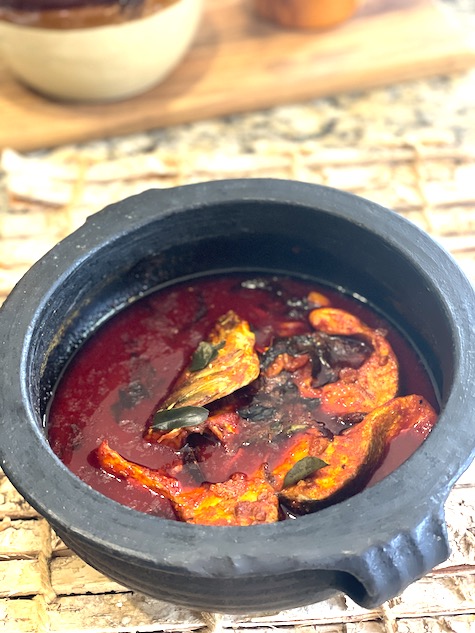 Kerala Style Mulaghum Puliyum Fish Curry With Kudampuli Or Cambodge Tamarind
Ingredients
Fish pieces- 8 (sea bass, sea bream, kingfish, sardines, pomfret or mackerel)
For making spice mix
Kashmiri chili powder- 2 tbsp
Turmeric powder- ¼ tsp
Water- 3 tbsp
For making curry
Coconut oil- 2 tbsp
Mustard seeds- 1 tsp
Curry leaves- 10 leaves
Fenugreek seeds- 1 tsp
Garlic, chopped- 4 cloves
Ginger, chopped- 2-inch slice
Spice mix
Warm water- 1 cup
Kudampuli or gambodge tamarind- 3 slices soaked in ¼ cup warm water
Salt- 2 tsp
For garnish
Fenugreek powder- ½ tsp
Coconut oil- ½ tbsp
Curry leaves- 8 leaves
Instructions
I've taken sea bass fish, sea bream, kingfish, pomfret, sardines or mackerel are ideal for making this fish curry.
For making this, kudampuli or cambodge tamarind has to be used, available in Indian stores.
Take 3 slices tamarind, rinse in water & soak in ¼ cup warm water for 15 minutes.
In a bowl, combine Kashmiri chili powder, turmeric & water to a smooth paste.
Kashmiri chili powder has to be used, it's mild & imparts a vibrant red color.
Regular chili powder is very hot & will give a nice vibrant color.
Place a claypan or saucepan over medium heat.
Add coconut oil, let turn hot.
Add mustard seeds, let them splutter.
Add fenugreek seeds, saute for a few seconds, don't let the seeds turn brown.
Add curry leaves, ginger & garlic; saute till they turn golden in color.
Lower the heat, add the prepared spice mix & saute in oil for 2 minutes. Don't burn the spices.
Add 1 cup warm water & combine well.
Season with 2 tsp salt.
Add the soaked tamarind along with the water, combine well.
Let the gravy come to a boil.
Add the fish pieces & immerse in the gravy.
Close with the lid & cook over medium heat for 10 minutes.
After that lower the heat & cook for 5 minutes till the fish has cooked well & the gravy starts to thicken.
Add the powdered fenugreek seeds, coconut oil & curry leaves.
Gently swirl the pan & cook for 2 minutes.
Take the pan off the heat & keep it covered for some time.
This curry will taste better the next day.
Serve with kappa-tapioca puzhukku or rice, enjoy!