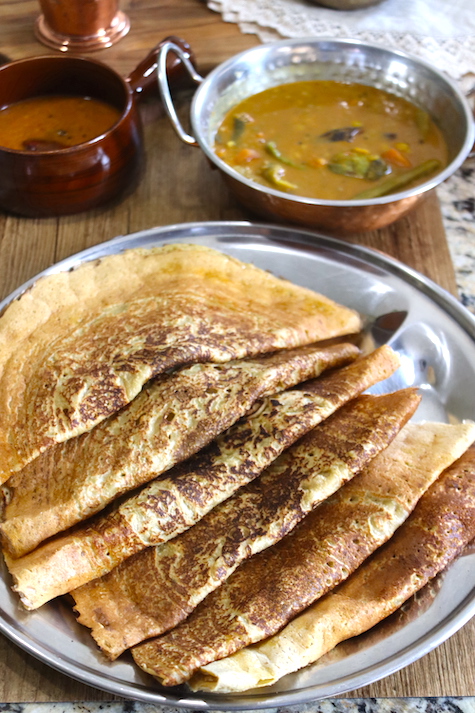 Healthy protein rich & delicious dosa…
Dosa is a traditional South Indian crepe made from fermented rice-lentil batter. There are many variations of dosa batter, can be made with just lentils, without rice, mixed lentils & rice, and so on.
Masoor dal or red lentil is a very common lentil used in Indian cooking & it's a creamy & delicious lentil.
For making the dosa the traditional way involves soaking the rice & lentils & then fermenting the batter. We've to plan this & can be time-consuming
The other day I made instant dosa with masoor dal & oats. No soaking & fermentation are required for making this dosa. Totally my kind of recipe. The dosa tasted delicious as well.
Masoor dal & oats dosa c ombines the goodness of masoor dal with the light and crispy texture of dosa.
I enjoyed this dosa with sambar & chutney.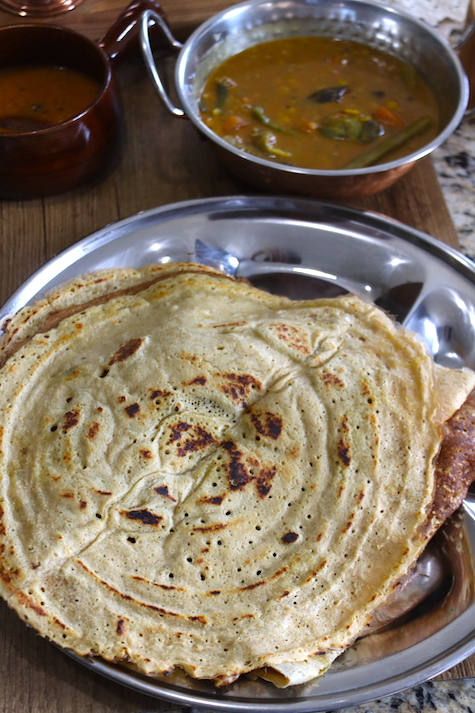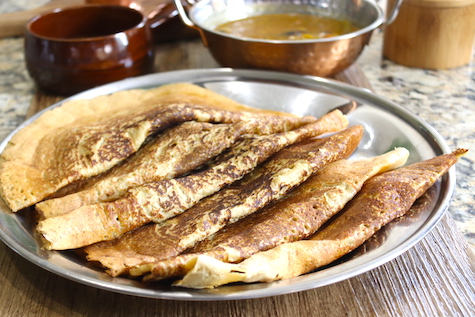 Instant Masoor Dal- Red Lentil Oats Dosa | No Soaking & Fermentation Required- Healthy Indian Recipe
Ingredients
Masoor dal or red lentil- 1 cup
Instant Oats- ½ cup
Green chili- 1 or 2
Green onions, chopped- 1 stalk (or add 2 tbsp minced onion)
Ginger- 1-inch slice
Fresh cilantro- 2 tbsp
Cumin seeds- 1 tsp
Water- 1½ cups
Salt- ½ tsp
Instructions
Take the masoor dal or red lentil in a strainer & rinse under running water till the water turns clear.
Don't have to soak the lentil.
Add the rinsed masoor dal to a blender jar along with all the other mentioned ingredients.
I've added instant oats, you can also add rolled oats.
Grind to a smooth batter.
Pour the batter into a large bowl.
The batter consistency was perfect, has to be slightly thick don't make it watery.
Place a tawa for making dosa over medium-high heat. Let turn hot.
Grease with oil.
Pour 1 large spoonful of the batter onto the pan, spread it into a thin round shape using the back of the spoon.
Drizzle 1 to 2 tsp ghee.
Let cook for a couple of minutes, gently flip it over & let the other side cook well.
Transfer to a plate.
You'll be able to make 6 dosas.
This dosa can be served with sambar or just chutney, tastes delicious filling & it's healthy, Enjoy!