I made the viral Bella Hadid sandwich…
Bella Hadid is an American model & obviously, she is followed by millions on TikTok. Occasionally, she posts food videos on her TikTok account. One of her sandwich recipes went viral & many recreated the recipe & posted videos on TikTok.
I jumped on this trend as well & made the viral Bella Hadid sandwich. My hubs & I really enjoyed this sandwich, it was bursting with flavor & is a perfect meal for lunch or dinner.
In fact, I ended up making this sandwich two days in a row, it's a winning recipe. The best part is no cooking is involved in making this sandwich. However, we have to gather a few ingredients to assemble this sandwich. I went on shopping, bought everything, came home & the sandwich was ready in no time.
Follow this recipe & you'll make one of the best-tasting sandwiches.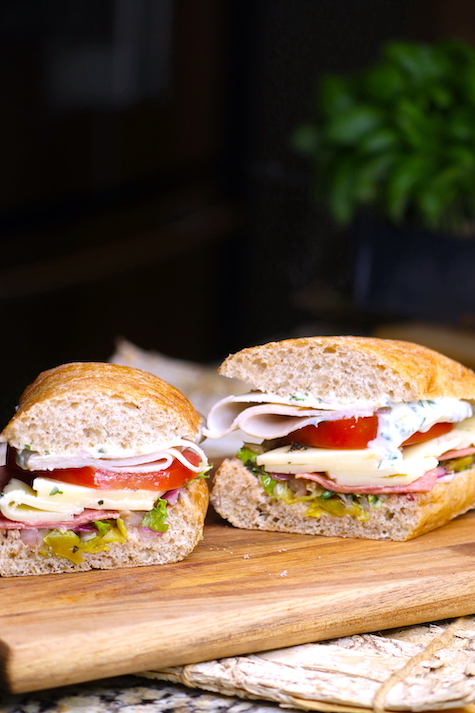 Cooking Video
Viral Bella Hadid Sandwich | How To Make | TikTok Recipe
Ingredients
For making dressing
Olive oil- 1 tbsp
Balsamic vinegar- 1 tbsp
Dried oregano- 1 tsp
Dried basil- 1 tsp
Dried red chili flakes- 1 tsp
Ground black pepper- a few pinches
Salt- a few pinches
For making basil aioli
Mayonnaise- 3 tbsp
Freshly chopped basil- 2 tbsp
Dijon mustard- ½ tbsp
For making salad
Red onion, minced- ½ of a red onion
Lettuce, shredded- 2 cups
Lemon juice- ½ tbsp
Red wine vinegar- 1 tsp
For assembling the sandwich
Italian bread or sub buns
Pepperoncini peppers, pickled- 3, sliced
Cooked turkey breast sliced- 2 or 3
Salami, round cut- 5 slices
Provolone cheese slices- 3 slices
Tomato sliced- 2
Instructions
First let's make the dressing & basil aioli. Can be made well in advance.
To a bowl, add all the ingredients for making the dressing. Keep it in the refrigerator.
To another bowl, combine mayo, dijon mustard & fresh basil leaves. if you don't have fresh basil leaves, dried basil can also be added. Keep it in the refrigerator.
In a large bowl, combine red onions & lettuce.
Add freshly squeezed lemon juice & red wine vinegar, combine well.
Add the prepared dressing to the salad & combine well. (Reserve ½ tbsp dressing to drizzle over the sandwich). The salad can be made well in advance & kept in the refrigerator.
You can use Italian bread or sub buns.
Have to use pickled pepperoncini peppers, don't use jalapeno it will alter the taste.
Pepperoncini peppers are quite mild tasting & have less heat compared to jalapenos.
Half the Italian bread or sub bun. If you prefer you can warm up or grill the bread or bun.
Spread the sliced pepperoncini peppers on one of the bread or bun slices.
Spread the salad over the peppers.
Top the salad with a few slices of salami.
Top the salami with provolone cheese slices.
Top with 2 tomato slices.
Sprinkle a few pinches of salt over the tomatoes.
Drizzle the dressing as well over the tomatoes.
On the other bread slice, generously smear with basil aioli.
Top with turkey slices (or you can use chicken or beef slices)
Gently fold the bread slices & make into a sandwich.
Half the sandwich & enjoy.
Absolutely delish sandwich, loaded with tons of flavor & taste.