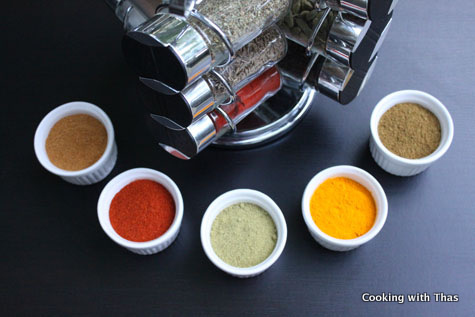 Indian cuisine in general is healthy and offers a wide variety of flavors…
Have you always wondered how to cook Indian food? Are you confused on how to shop for Indian ingredients? Are you a newbie in the cooking world and interested in the art of Indian cooking? If so, I can help you  with everything you need to know. Often I am asked questions like "where to shop for Indian groceries?" to "what spices are needed for Indian cooking?". So here it is…
What is Indian food?
It's a burst of flavors! Yes, that's my definition of Indian food.
It's very rare to come across an Indian food that's bland or under flavored. Indians love their food to be aromatic, flavorful and of course spicy. Every state in India has its own specialty cuisine. Even though there are differences, there are some basic ingredients that are used throughout India. You just have to stack up some basic India spices in your pantry and you are all set for cooking Indian food.
Where to shop?
I know from my experience moving and travelling around the U.S and Canada that most cities in North America have at least one Indian store. Devon Avenue in Chicago and Jackson Heights in New York are probably the most popular destinations to get anything Indian.
Many of the major supermarket chains like Walmart and Meijer carry some Indian ingredients in their International Isle. Plus, most Asian stores carry them as well.
If you still can't find indian ingrendients, keep in mind that most Indian grocery stores in big cities take orders over the phone and ship nationwide. And last but not the least, you have several online retailers like this.

Popular Ingredients (Must-haves)
Chili powder (yeah, we love it spicy) – Chili powder is basically ground dry red whole chili. There are a few varieties of chili powder. Kashmiri chili powder for example, has a vibrant deep red color and is milder than the regular chili powder. Mostly used to impart a deep red color to the dish.
Turmeric powder – Yellow colored spice made by grinding dry rhizome (which resembles to ginger). It has many health benefits.
Cumin powder – Powdered cumin seeds.
Coriander powder – Powdered coriander seeds. You could make this at home: grind the coriander seeds in a blender or a coffee grinder, sift it through a sieve and store in an air tight container.
Fennel Powder – Ground fennel seeds. I have found even most of the Indian stores don't have ground fennel, but roasted or non-roasted fennel seeds are available. I usually grind the roasted fennel seeds (or roast the regular fennel seeds in a pan till aromatic) in a blender or coffee grinder, sift it through a sieve and can be stored it in an air tight container.
Garam Masala (the aromatic spice) – This is a blend of many aromatic spices. Store bought garam masala has many spices ground together. I always make my own basic garam masala at home, it's pretty simple to make.
How to make an Easy homemade Garam Masala?
Ingredients:
Whole Green cardamom- 10
Whole Cloves- 6
Whole Cinnamon- 3 inch slice.
Preparation:
Grind these together in a coffee grinder and store in an air tight container. It's good to make small quantities of this as the aroma will subside when kept for long. Don't add more cloves than cardamom as more cloves will give a bitter taste to the garam masala.
These are the common spices that you need to cook Indian food. Store these spices in an air tight container, it will last for long.
Whole spices
Some recipes call for whole spices which is added directly to the oil and are sautéed till aromatic and light brown.
Cumin seeds, whole cardamom, whole cloves, whole cinnamon and star anise seeds. Bay leaves are also used sometimes. These are all used to enhance the taste, aroma and flavor of the dish.
Spice used in most of the desserts
Saffron (my favorite spice) is the one spice used in most of the desserts. It is the most expensive spice, you just need a pinch of saffron strands to flavor up your dessert. Don't store in the refrigerator, store it in the pantry in an air tight container.
Butter is usually not used in Indian desserts. Ghee which is clarified butter is what is used in desserts. It's available in all Indian stores and in some big supermarket chains.
South Indian cooking
In South Indian cooking, we usually add a seasoning to some of the cooked dishes, it's called tempering. Here are the ingredients you need for making the tempering:
Making tempering for South Indian food
Coconut oil or vegetable oil- 3 tbsp
Mustard seeds- 2 tsp (available in Indian stores)
Dry red whole chilies- 2 or 3 no's
Small onions, chopped small- 3 no's
Curry leaves- 1 sprig.
Preparation:
Heat a frying pan, add oil.
When oil gets hot, add mustard seeds, let it splutter.
Add dry red chilies, small onions and curry leaves.
Fry till the onions turn light brown.
Remove from the heat and pour over the prepared dish, keep covered with a lid.
This tempering or seasoning will impart a nice aroma and flavor to the dishes.
In south Indian cooking, while making fish curries we use tamarind paste to give a tangy taste to the curry.
Herbs used in Indian cooking
Four major herbs that are used in Indian cooking:
Curry leaves – most commonly used in South Indian cooking, it's aromatic and healthy. This is available in Indian and some Asian super markets. I have never seen this in any of the American stores.
Cilantro – used widely in India, adding this towards the end of the cooking instantly flavors up the dish.
Mint – used while making biryanis.
Dried Fenugreek leaves – Mostly used in North Indian cooking.
Other common ingredients used in Indian cooking
Ginger paste- it's available in almost all stores or you can make homemade version by blending chopped ginger with little water to make into a thick paste. Freshly made ginger paste and fresh chopped ginger are the best.
Garlic paste- even this is available in almost all stores or make it fresh by blending garlic with little water to a thick paste.
Ginger-Garlic paste: This has both ginger and garlic pastes combined together, available in Indian stores.
Green chili- We mostly use the Indian style green chilies, available in Indian and some Asian stores.
Red onions- In south Indian cooking, red onions are used rather than white or yellow onions. However, you can always use white onions.
Yogurt– Yogurt is widely used in Indian cooking to make the gravy thick and while making Biryanis.
Coconut oil- In south Indian cooking, coconut oil is commonly used. Coconut oil imparts a mesmerizing aroma to the dish and is quite healthy too. You could always replace it with vegetable oil.
Optional Ingredients (Good-to-haves)
Black cumin seeds
Black cardamom
Nutmeg
Mace
Fenugreek seeds
Caraway seeds
Asafoetida
Mango powder
These are used in many dishes to enhance the flavor.
That's it
I guess that's it. I have mentioned pretty much everything about the common spices used in Indian cooking. Now, you can have a shopping spree and start cooking Indian food. If you have any further questions comment below and I'll be very happy to answer.
Have fun cooking and baking!
If you enjoyed this post, please hit the LIKE button below to encourage me to write more posts like this.