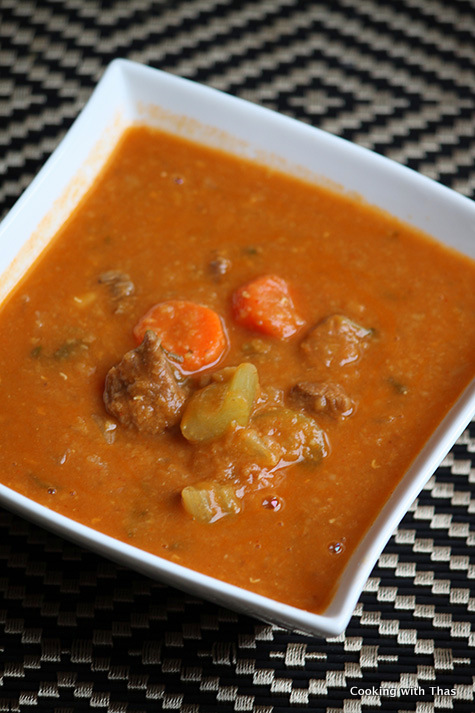 Beef, veggies and red lentil when cooked together makes a fantastic soup…
I can only think of hearty soups these days. One or two bowls of soup makes me full and imparts the needed warmth too. I literally make soups out of anything, and making soups are my favorite and the easiest. If I'm making chicken or beef soup, I usually throw all the ingredients into a pressure cooker and just walk away. After 20 minutes or so, everything will be cooked well and I'll be seen enjoying the soup.
In this soup, I've added stew cut beef, veggies and red lentil. Red lentils made this soup thick, favorful and enhanced the texture greatly. Make sure to cook a whole lot, you can enjoy this soup for a couple of days.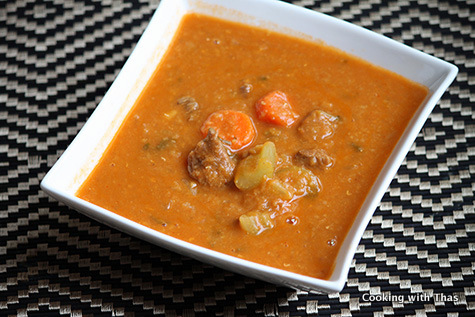 Beef and Red Lentil Soup Recipe
Ingredients
Oil- 1 tbsp
Beef stew cut- 1 lb or ½ kg, cut into small pieces
Ginger-garlic paste- ½ tbsp
Chili powder- 1 tsp
Coriander powder- 1 tsp
Ground cumin- ½ tsp
Carrot, diced- 3
Celery, diced- 3 stalks
Onion, diced- 1
Cilantro, chopped- 2 handfuls
Red lentil- 1 cup
Tomato paste- 3 tbsp
Water 4 cups
Salt- 1½ tsp
Instructions
Place a pressure cooker over medium heat, add oil.
Add the beef, saute for a minute. Season with salt.
Add ginger-garlic paste, saute for a minute.
Add all the other spices, veggies, tomato paste and red lentil combine well and saute for a minute.
Add water, combine well.
Add enough salt to taste.
Cover the pressure cooker, place the whistle and let cook for 20 to 25 minutes or until 3 to 4 whistles.
Let the pressure subside, open the lid.
Give everything a mix, taste and add more salt if needed.
Serve in soup bowls and enjoy with crackers, toasted bread, pita bread etc.
This can also be served as a stew along with rice.