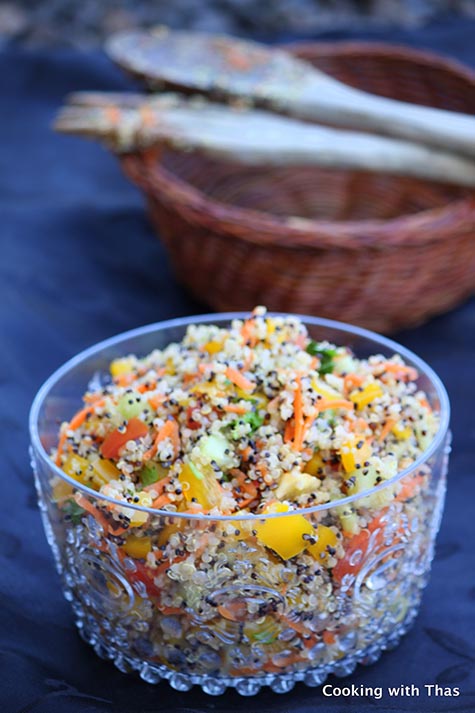 Healthy quinoa and mixed veggie salad, perfect Summer salad…
I couldn't be any happier, the weather got better and we are actually enjoying warm weather for the past few days. The first thing I did was to hang the bird feeder in my backyard, within a few minutes lots of cute birds gathered around to enjoy their food. Their chirping makes my backyard lively.
Meet my lovely birds: aren't they adorable???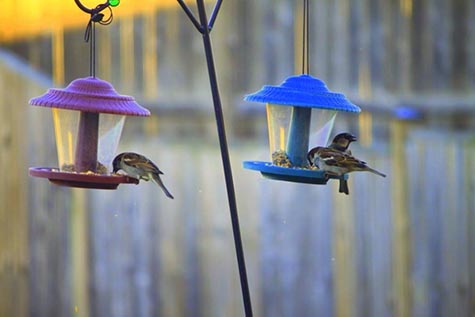 Over the weekend, I tried this quinoa salad: cooked black and white quinoa are combined with mixed veggies and seasoned with lemon juice, ground pepper and salt. I kept it simple and it turned out be one healthy salad to go with baked chicken or salmon.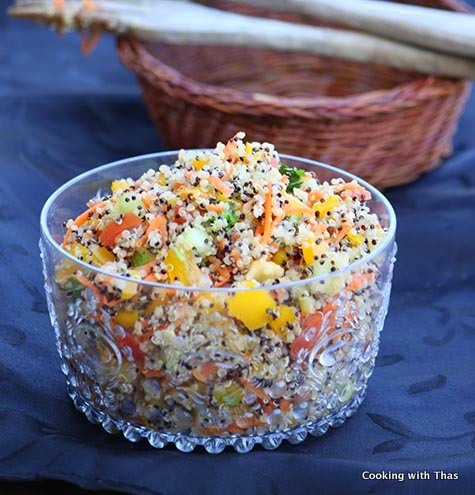 Healthy Quinoa Salad
Ingredients
Quinoa, red or white variety- 1 cup
Water- 2 cups to cook quinoa (or use veggie stock or chicken stock for more flavor)
Tomato, chopped- 1
Cucumber, chopped- 1
Red or Yellow pepper, chopped- 1
Carrot, shredded- 1
Lemon juice- juice of ½ lemon
Ground pepper- ½ tsp
Salt- to taste
Cilantro, chopped- ¼ cup
Instructions
Rinse quinoa taken in a sieve under running water, this will help to remove the natural bitterness of quinoa's outer coating.
Place a large pan over medium heat, add water, season with salt, let the water come to a rolling boil.
Lower the heat, add quinoa and cook covered for about 20 minutes till quinoa has turned soft and the water has dried off. Remove the pan from the heat and let cool down.
Cooking quinoa in vegetable or chicken stock will make it more flavorful.
In a large bowl, combine all the veggies.
Add cooked and cooled quinoa to the veggies, combine well.
Squeeze lemon juice over them, season with ground pepper and salt. Give everything a good mix.
Garnish with chopped cilantro and serve.
This can be served along with baked/grilled or air fried chicken or salmon.