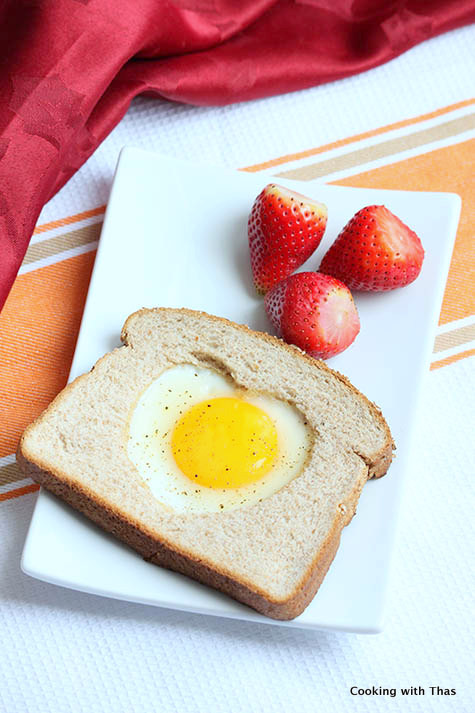 Egg in a hole or egg in a bread toast, a fancy way to have egg and bread together…
Hope everyone had a wonderful Valentine's day celebration. I love all kinds of celebrations and I make sure to make something special for every special occasions. Yesterday, I made this egg in a heart for my Valentine. My man was moved and he enjoyed this egg and bread together so much.
With the heart shaped bread I made French toast, here is the recipe.
Ain't this romantic??? You don't have to wait till next Valentine's day to make this, make everyday filled with love and keep surprising your dear ones.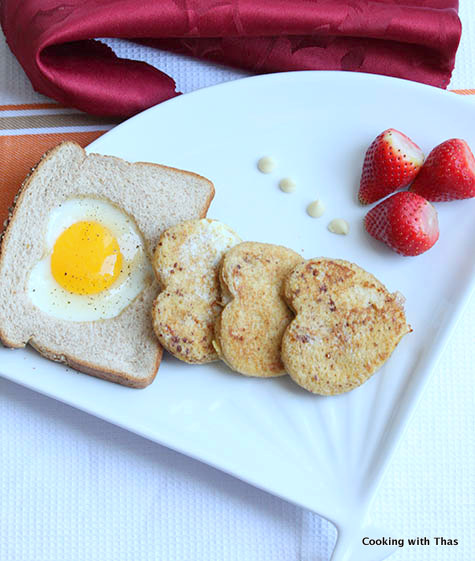 Preparation pictures
Making the hole in the bread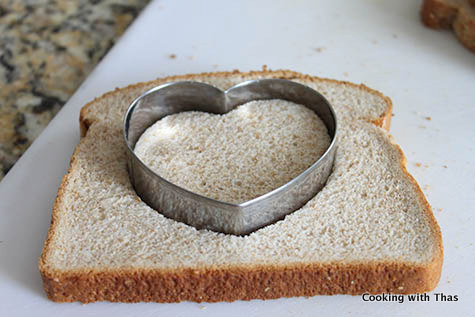 Heart shaped hole in the bread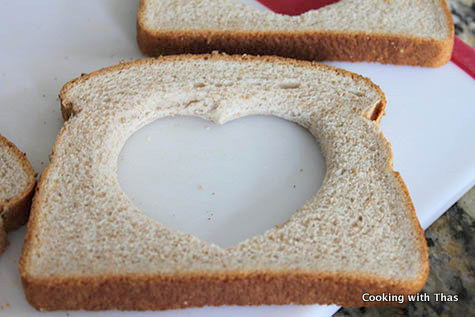 Making egg in a hole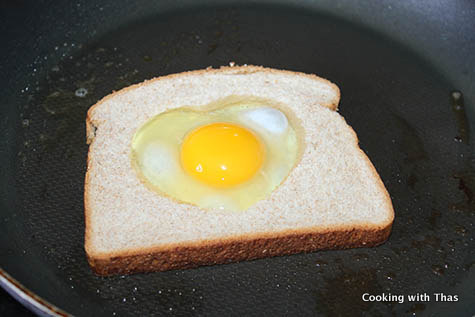 Egg in a Hole- Egg in a Bread Recipe
Ingredients
Bread slice, white or wheat bread- 1
Egg- 1
Ground pepper- 2 pinches
Salt- a pinch
Butter- ½ tbsp butter ( or use non-stick cooking spray)
Instructions
You could use round, heart or any other shaped cookie cutter. I used heart shaped.
Place the cookie cutter on the center of the bread slice and press it down.
Remove the cut piece bread and now you will have a heart shaped hole in the bread.
Place a non-stick pan over medium low heat.
Spread butter or spray non-stick cooking spray.
Place the bread on the greased pan.
Crack an egg directly onto the hole in the bread.
The heat should be medium low, as it will take a while for the egg to cook. If the heat is high the bread will burn.
Let the egg cook for 2 to 3 minutes.
Sprinkle ground pepper and salt over the egg.
When the egg has set well in the bread, using a wide spatula remove the bread from the pan and place it on a plate.
If you prefer, you can flip the bread over & cook the other side as well.
Serve this for breakfast or brunch and surprise your loved ones.
With the cut bread slices, you could make French toast, Bread pudding or crunchy chocolate sandwich.