Chicken cooked in almond and coconut gravy, so rich and delicious…
I'd always been a sunshine lover as rainy weather made me depressed and unmotivated. Surprisingly, now I find myself starting to love the rain and the beauty of Nature drenched in rain. And a cup of warm coffee tastes much better when it rains. Today, it was a combination of rain and sunshine and I was hoping to see a rainbow. I wasn't disappointed. After a long wait, a huge rainbow appeared and I ran outside with my camera and clicked a few pictures of it. I drenched in rain, enjoyed the sunshine and the rainbow, what a lovely day it's been. Simple pleasures of life! Sharing the picture of the rainbow…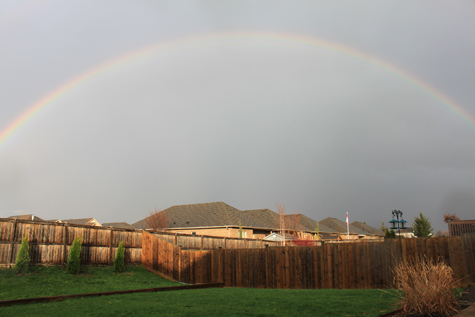 Coming back to this chicken almond korma. I've always had a soft corner towards chicken korma. Kormas have a rich and tantalizing flavors. Korma gravy is usually made rich with yogurt, cream, coconut milk, almond paste, cashew nut paste or a combination of these. I mostly use coconut milk, cashew nut paste or almond paste. This time, I combined almond and coconut milk to make the gravy. I cannot explain how delicious this dish tasted, you have to make it and experience how your tastebuds go crazy over this korma.
Recipe for making Cashew Chicken Korma, click here.
For making, easy Chicken Korma with just coconut milk, click here.
For mixed vegetable korma, click here.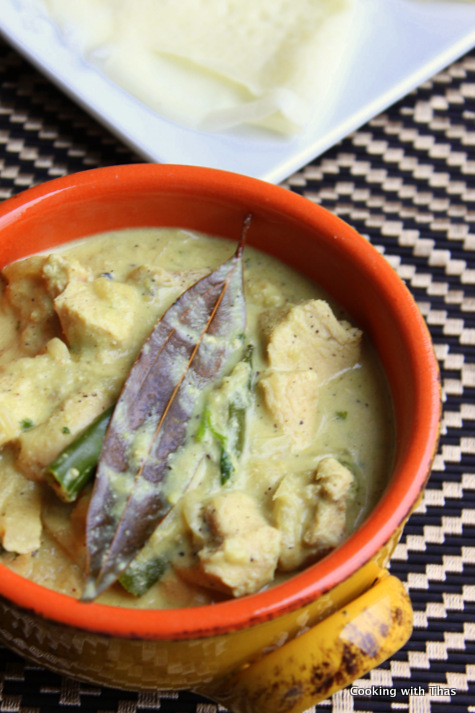 Chicken Almond Korma- Chicken in Almond Gravy
Ingredients
For marinating chicken
Boneless chicken breast, cubed- 2 breasts ( or use bone-in pieces)
Ginger-garlic paste- 1 tbsp
Ground pepper- ⅛ tsp
Fennel powder- 1 tsp
Salt- ¾ tsp
To puree
Almonds, blanched- ½ cup
Coconut milk- ¾ cup
For making Korma
Oil- 1½ tbsp
Whole cardamom- 2
Whole cloves-1
Bay leaf- 1
Onion, cut long and thin- 1 large
Green chilies, halved- 2
Turmeric powder- ⅛ tsp
Fennel powder- ½ tsp
Ground pepper ⅛ tsp
Salt- ¾ tsp
Cilantro, chopped- 2 handfuls
Instructions
In a bowl, combine all the above mentioned ingredients "for marinating chicken". Keep aside for 10 minutes.
You could use bone-in chicken if you prefer.
In a blender, puree the almonds along with coconut milk till almonds are ground well, keep aside.
Place a large pan over medium heat, add oil.
Add whole cardamom, cloves and bay leaf; saute till aromatic for a few seconds.
Add onions and green chilies, season with ½ tsp salt, cook till onions turn golden in color.
Add the marinated chicken, cook covered till chicken has almost cooked. Don't let the water that's oozed out of the chicken dry out.
Add the pureed almond-coconut milk, combine well.
Add turmeric powder, fennel powder, ground pepper and salt, combine well.
Cook covered for 3 to 4 minutes.
If more spice is needed add more of the ground pepper.
Open the lid and let the gravy thicken a bit.
Finally, add cilantro, combine well.
Remove the pan from the heat and keep it covered for a few minutes.
Serve this korma along with basmati rice, roti, palaada, naan etc.
Notes
You could use cashew nuts instead of almonds.
Search for the keyword: Korma in my website, you will find a lot of other Korma recipes: veggie korma, egg korma, potato korma etc.