Perfect cookies for the holiday season…
After being sick for more than a week, today I felt better. And I realized it's been a while since I've baked cookies. In the evening, the gloomy weather encouraged me to do baking. I love the combination of dried cranberries and white chocolates. When they are added into shortbread cookie dough, the cookies turned delicious.
These shortbread cookies have a rich buttery flavor and they just melts into your mouth.
Recipe Source: Joyofbaking
Preparation Pictures
Shortbread dough
Mini Tart Pans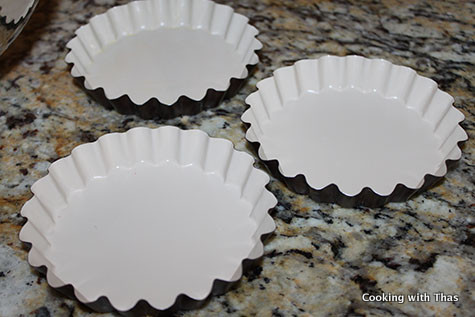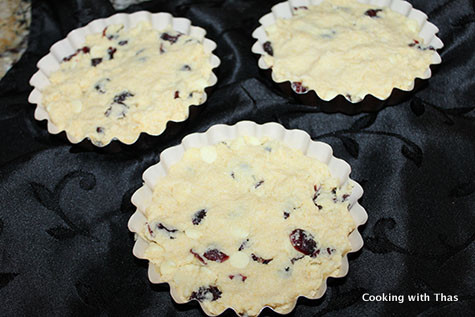 Shortbread dough topped with ground pistachio nuts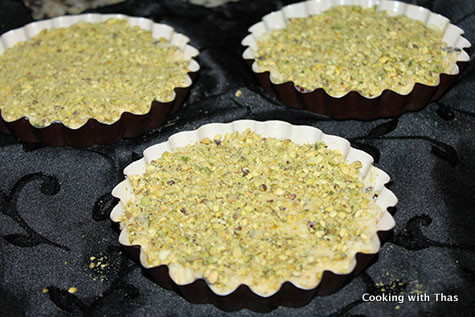 Cranberry and White Chocolate Shortbread Cookies
Ingredients
Butter, unsalted- ½ cup or 1 stick, at room temperature
Sugar- ¼ cup
Vanilla extract- ½ tsp
All purpose flour- ¾ cup
Cornmeal- ¼ cup (ground corn kernels)
Rice flour or cornstarch- 1 tbsp
Salt- ⅛ tsp
Dried cranberries- ⅓ cup
White chocolate chips- ¼ cup
Ground pistachio nuts- ⅓ cup
Instructions
Preheat the oven to 300 F. Place the oven rack in the center of the oven.
Using a stand mixer or electric hand mixer, beat the butter and sugar till smooth for 2 minutes.
Add vanilla extract and beat for a few seconds.
In a bowl, combine all purpose flour, cornmeal, rice flour and salt together.
Add the dry ingredients to the creamed butter and sugar, beat till everything has well incorporated.
Add the dried cranberries and white chocolates, combine well using a spatula.
Use a 8 inch tart pan with removable bottom. I used mini tart pans.
Press the prepared dough evenly into the tart pan.
Using a fork, prick the surface of the shortbread.
On top of the shortbread dough, evenly sprinkle ground pistachios.
Place the pan in the preheated oven and bake for 55 minutes.
After 55 minutes, remove the pan from the oven. Let cool down for 15 minutes, the cookies will harden and will be set well.
Cut into wedges and enjoy.