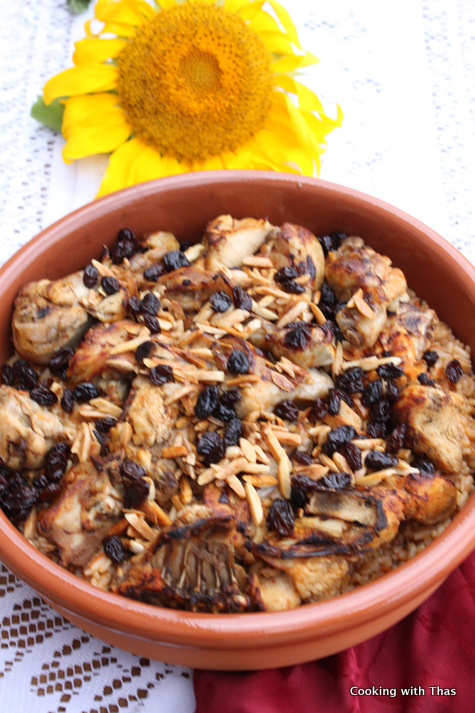 Kabsa is the national dish of Saudi Arabia, it's a rice-based dish made by combining rice and meat (chicken, lamb, camel, beef, etc)…
While browsing through my Picasa album, I came across the pictures for Chicken Kabsa. I'd made this last year for Eid. For Eid, biryani is an unavoidable dish in my family. However, for last year's Eid, I wanted to try the Saudi Arabian delicacy, Kabsa. I'd tasted Kabsa a few times at International food festivals and it reminded me of biryani. Unlike Biryani, in Kabsa not many spices are used, hence it tastes very mild.
The meat for Kabsa can be made in several ways. There are different techniques for cooking the meat. I did an online search for Kabsa recipes and found one that sounded good to me. This recipe is from an authentic Saudi Arabian and according to her this is how they make kabsa. I followed the recipe and loved it. The spices used are very mild so it's not spicy. I loved how the rice is cooked in the chicken stock, which made the rice very flavorful. Also, after cooking the chicken, it was taken out of the stock and was broiled, which enhanced the taste of the chicken.
Recipe Courtesy, here.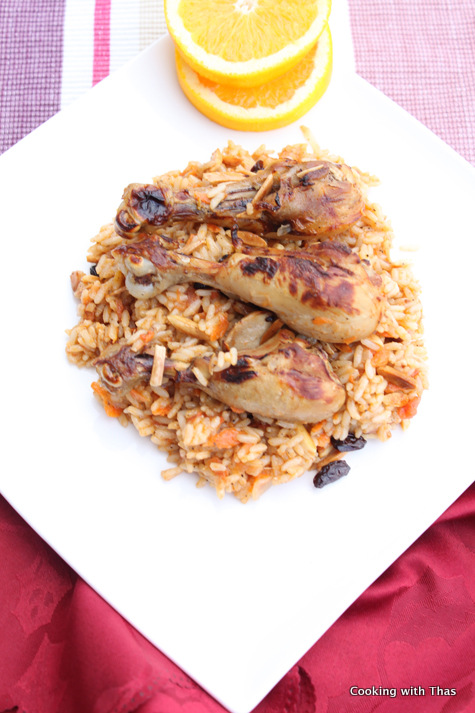 Preparation Pictures
Cooking chicken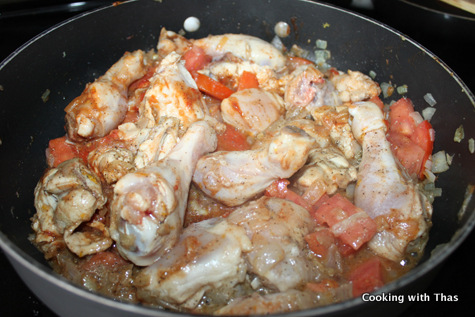 After adding water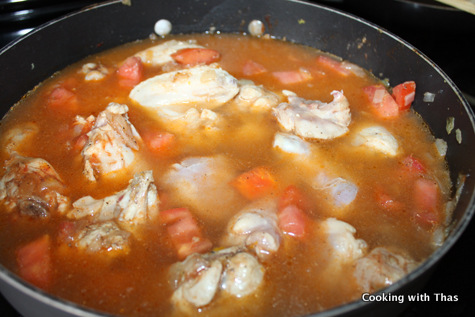 Broiled chicken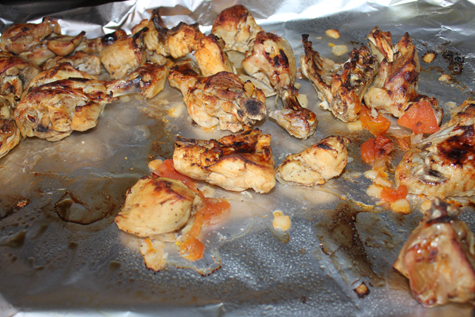 Added rice and carrot to the stock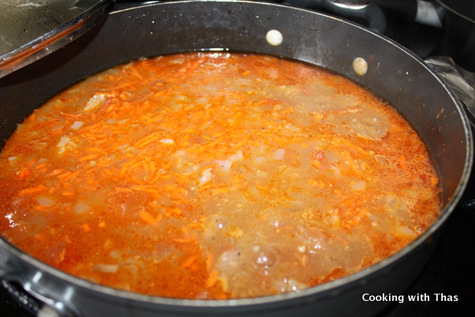 Cooking rice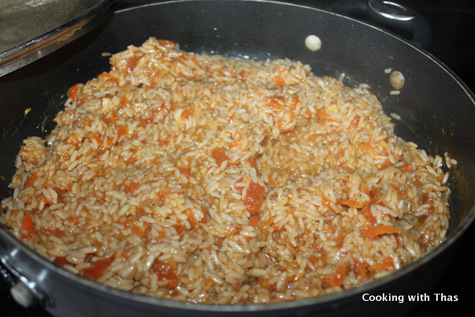 Chicken Kabsa - Saudi Arabian Kabsa
Ingredients
Oil- ⅓ cup
Onion, chopped- 2 cups
Grated ginger- ½ tsp
Chicken, bone-in pieces- 15 pieces (use large pieces)
Orange zest- ½ tbsp
Ground pepper- ½ tbsp
Ground cardamom- ½ tbsp
Ground cinnamon- ½ tsp
Ground cloves- ¼ tsp
Tomato paste- 1 tbsp
Tomato, chopped- 2 cups
Long grain rice or Kabsa rice- 1½ cups, soaked in water for 45 minutes
Shredded carrots- 1 cup
Salt- to taste
Water- 3½ cups
For topping Kabsa
Almonds, halved- ⅓ cup
Raisins- ⅓ cup
Oil- 2 tbsp
Instructions
Place a large wide non-stick cooking pan over medium heat, add oil.
Add onions and grated ginger, cook till onions turn brown.
Add chicken pieces and saute for a few minutes.
Add orange zest, ground pepper, ground cardamom, ground cinnamon, ground cloves, tomato paste, chopped tomatoes and salt.
Combine well and cook for a few minutes till the oil rises on top.
Now, add 3½ cups water and cook the chicken covered for 20 minutes.
After the chicken has cooked, remove the chicken from the pan, place them on a baking pan and broil at high for 5 minutes or till the chicken turns brown. Be careful not to burn the chicken while broiling.
If you don't have the broil in your oven, pan fry the chicken in a pan over stovetop.
Taste and add more salt to the liquid left in the pan.
Add the soaked rice to the liquid and the shredded carrots.
Cover the pan tightly with a lid, cook till the rice has cooked well, about 20 to 25 minutes.
If the liquid dries out and the rice hasn't cooked well-add more water accordingly and cook the rice further.
While the rice is cooking, heat a frying pan over medium heat, add 2 tbsp oil.
Add almonds to the oil, fry till light golden brown. Transfer to a plate.
In the same oil, add the raisins & fry till it's puffed up, transfer to a plate.
While serving: On a large platter, spread the rice first, top the rice with chicken and garnish with fried almonds and raisins.
Enjoy!
Notes
This is a very mild dish, there is no spice to it but tastes flavorful.
I used long grain Kabsa rice, when cooked it still has that nice crunch.
You could use any kind of meat: lamb, goat, camel, beef etc.
I reduced the amount of carrot as I didn't want this dish to be sweet.