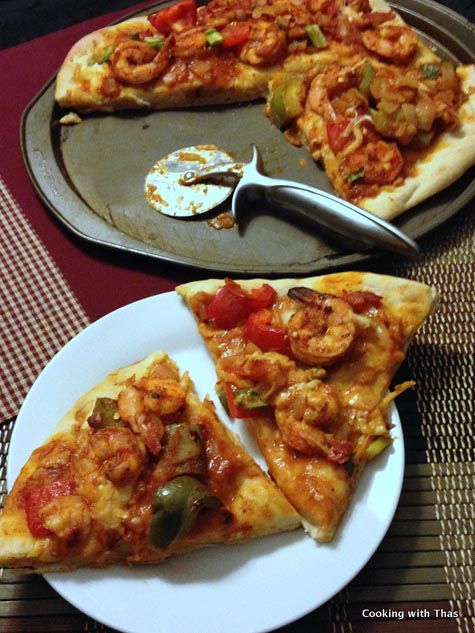 For a change it's going to be shrimp pizza…
It was an impromptu plan to make shrimp pizza last night for dinner. Since, making pizza doesn't involve too many tedious steps lazy me opted for that. Oh yes, I make my pizza dough from scratch, it just takes a few minutes to make the dough and let stand to rise for an hour. If you like to have pizzas often, then you could make the dough ahead of time and freeze it.
Chicken, ground beef and veggies are the usual toppings I prefer while making pizzas. So, this time I wanted something different, for that reason shrimp was my pick. I like a bit of spiciness in my pizza, so I chose cajun seasoning and also sprinkled a dash of red chili flakes over the pizza. Overall, I loved the taste of this pizza, cajun shrimp tasted delicious and was quite unique.
For more yummy pizza recipes, click here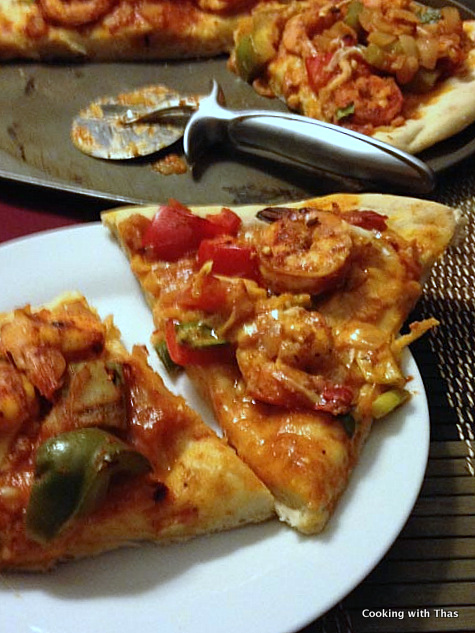 Preparation Pictures
Cajun Shrimp Sauce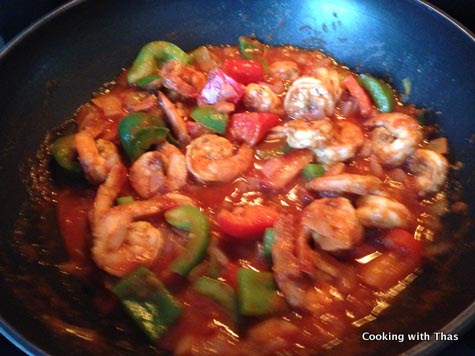 Cajun Shrimp Pizza
Ingredients
For making 1 large pizza crust
All purpose flour- 2 cups + ⅙ cup
Dry active yeast- 1⅛ tsp
Brown sugar or white sugar- ¼ tsp
Warm water- ¾ cup
Salt- ½ tsp
Olive oil- 1 tbsp
For marinating shrimp
Shrimp, shelled and deveined- 20
Cajun seasoning, store-bought- ½ tbsp
Ground cumin- ¼ tsp
Salt- if needed
For making Pizza sauce
Oil- 1 tbsp
Red dry chili flakes- ½ tsp
Onion, chopped- 1
Garlic, chopped- 2 cloves
Red pepper, cubed- 1, small
Green pepper, cubed- 1, small
Tomato sauce- 1½ cups
Cajun seasoning- 1 tsp
Green onion, chopped- 2 stalks
Salt- to taste
For topping
Mozzarella cheese or cheddar cheese
Red chili flakes- ½ tsp (optional)
Instructions
Making Pizza dough
In a small bowl, combine yeast, warm water and sugar, let stand for 10 minutes.
After 10 minutes, add the salt and oil to the yeast.
In a large bowl, pour the yeast, slowly add the flour and knead.
It will be sticky in the beginning, after you add the entire flour you'll find it easy to knead.
Knead the dough well, it should be soft and smooth, don't add too much flour and make it a hard dough.
Place the dough on a bowl greased with oil and cover the dough with a damp towel keep aside for an hour.
Do not cover the dough with wet kitchen paper towel, after an hour it will be stuck to the dough and will be very hard to peel it off.
In the meantime you could start making the topping and have everything ready.
After an hour, the dough would have doubled in size.
Combine the dough once again and let it sit for a few minutes.
Cooking Shrimp
Combine the shrimp with cajun seasoning, ground cumin and salt. Let stand for 10 minutes.
You could either grill the shrimp or slightly pan fry it. Just cook the shrimp 2 minutes per side.
Don't over cook the shrimp, as we will be baking it after topping on the pizza dough.
Keep aside the cooked shrimp.
Making pizza sauce
Place a wok or saucepan over medium heat, add oil and let it turn hot.
Add dried red chili flakes, saute for a couple of seconds.
Add onion, saute till translucent.
Add chopped garlic and saute for a minute.
Add green pepper and red pepper, saute for a couple of minutes. Don't over cook the peppers, they have to remain crisp.
Add tomato sauce and add cajun seasoning to it, combine well.
Let the sauce come to a slight boil.
Add cooked shrimp, combine well.
Taste and add salt if needed.
Sprinkle chopped green onions.
Remove the sauce from the heat and let cool down.
Rolling the pizza dough and topping it
Preheat the oven to 425 F or 220 C.
Grease the pizza pan with oil.
Place the dough over it and using your hands stretch the dough to a round shape.
After rolling it, let it stand for 15 minutes on the pan.
Spread the prepared cajun shrimp sauce evenly over the pizza dough.
Spread the cheese generously over it.
If you like your pizza to be spicy, sprinkle some red chili flakes over it. This is just optional.
Bake for 20 minutes, keeping the pan on the lower rack of the oven until the cheese has melted and the curst has cooked well.
Remove from the oven, slice it and dig into it.
Notes
Leftover sauce can be mixed with pasta and you have one more meal ready.