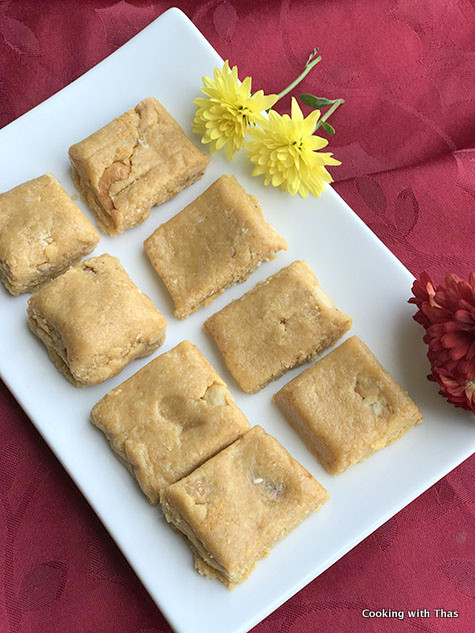 A delicious sweet made with besan (gram flour/chickpea flour) and khoya (dried evaporated milk solids)…
Wish I can have this sweet every singly day. An easy to make and extremely delicious Indian sweet. Burfi can be made with different kinds of ingredients like besan, ground cashew nuts, ground almonds, coconut, Khoya, condensed milk, beetroot etc etc.
Here are the other yummy burfi recipes, click here.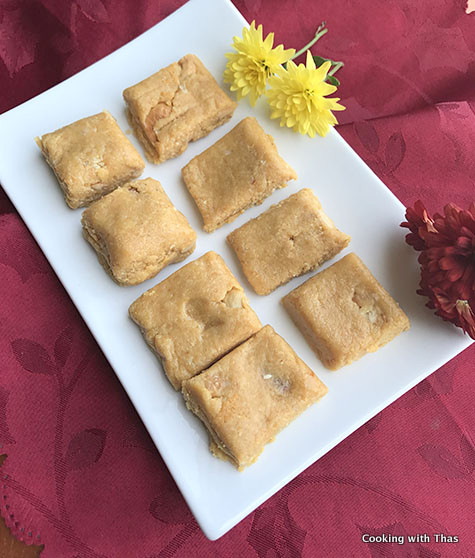 Besan Khoya Burfi- Gram Flour Sweet
Ingredients
Ghee- 2 tbsp
Cashew nuts- 15
Besan or Chickpea flour- 1 cup
Khoya or Mawa (unsweetened)- ½ cup
Condensed Milk- ½ cup
Powdered sugar- ½ cup
Cardamom powder- ⅛ tsp
Instructions
Place a non-stick pan over medium heat.
Add ghee, let it turn hot.
Add cashew nuts, roast till golden- keep aside the roasted cashew nuts.
In the same pan, add besan, roast the besan till light golden and aromatic.
Transfer to a plate, let cool down.
Grate the khoya or mawa, add that to the pan. Stir constantly and cook over low heat. Let khoya loosen up.
Add condensed milk, combine well.
Add powdered sugar, combine well and cook for a few minutes.
Add cardamom powder and roasted cashew nuts, combine well.
Sift the roasted besan using a sieve without any lumps, add the sifted roasted gram flour to the khoya mixture.
Combine well and continuously stir till the mixture forms one big ball and not sticking to the pan.
Grease a plate or cake pan with some ghee.
Spread the besan-khoya mixture on the plate evenly.
Let cool down for 30 minutes.
Using a sharp knife, cut into squares or wedges.
Enjoy this easy to make and delicious sweet.
Leftovers can be stored in an air tight container for 3 days.
Notes
Khoya or dried evaporated milk solid is available at most Indian stores.