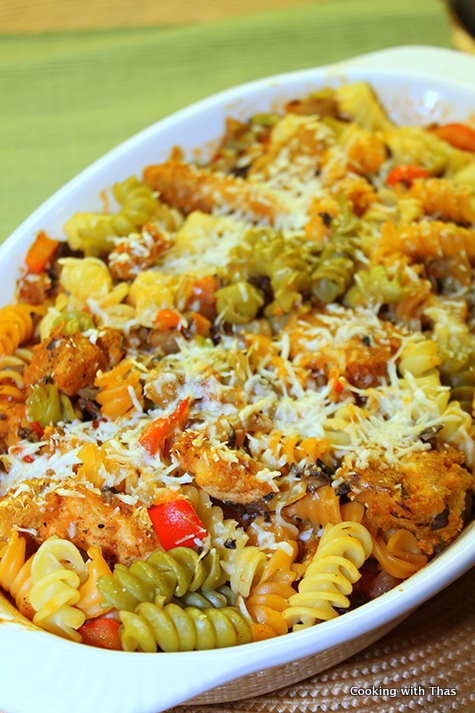 Chicken dipped in flour batter, coated with bread crumbs and baked, combined with pasta and  mushroom sauce, sprinkled with parmesan cheese and baked…it's a delicious one pot meal…
It's Thanksgiving long weekend in Canada. I had a shopping spree and back with all the things that's needed to make a fantastic Thanksgiving feast. Wishing everyone in Canada a Happy Thanksgiving!
You all know by now how much I love one pot meals. On week days, I mostly make one pot meals so that I can take that for lunch and I don't have to cook for a couple of days. Last week, I made this amazing crusted chicken pasta casserole. This casserole has everything: chicken, veggie sauce, pasta and cheese.
If you are looking for an easy to make one pot meal that will save your cooking time yet tastes delicious and you can enjoy with your family, then this is the one you gotta try…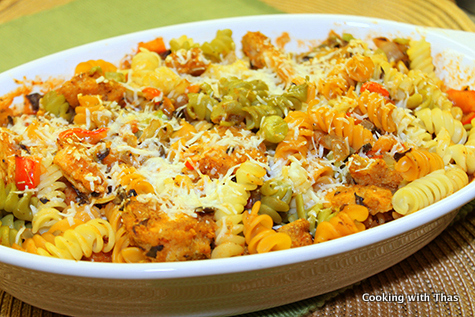 Preparation Pictures
Baked crusted chicken
Mushroom Tomato sauce
Chicken, pasta and sauce mixed in the casserole
Topped with parmesan cheese
Baked Crusted Chicken Pasta- Chicken and Pasta Casserole
Ingredients
For making crusted chicken
Chicken breasts, cut into wedges- 2
Ground Cayenne pepper or use chili powder- ¾ tsp (or use ground pepper)
Dried Oregano- 1 tsp
Salt- a few pinches
Egg- 1
Milk- ½ cup
All purpose flour- ½ cup
Ground black pepper- ¼ tsp
Salt- 2 pinches
Bread crumbs or corn flake crumbs- 2 cups
For making Sauce
Oil- 2 tbsp
Onion, chopped small- 1
Mushrooms, chopped small- 1½ cups
Red pepper, chopped small- 1
Tomato paste- 2 tbsp
Water or chicken stock (low-sodium)- 1¼ cups
Dried Oregano- ½ tsp
Spring onion, chopped- 1 stalk
Ground pepper- ¼ tsp
Salt- to taste
Other ingredients
Fusilli or Penne Pasta, cooked- 500 grams
Parmesan Cheese- ½ to 1 cup
Instructions
Preheat the oven to 350 F or 175 degrees celsius.
Cut the chicken breast into wedges.
In a large bowl, combine the chicken with cayenne pepper or chili powder, dried oregano and salt. Keep aside.
In an another bowl, using a whisk combine egg, milk, all purpose flour, ground pepper and salt until smooth.
Spread the bread crumbs or corn flake crumbs on a plate.
Line a baking sheet with aluminum foil, spray the foil with non-stick cooking spray.
Dip the marinated chicken wedges in the flour batter and then coat with bread crumbs or corn flake crumbs.
Place the chicken wedges on the baking sheet.
Bake in the preheated oven for 30 minutes.
Remove the pan from the oven and let the baked chicken cool down.
In the meantime, boil water in a large pasta pot, season the water with salt.
Add the pasta, use fusilli or penne and cook till the pasta turns fork tender.
Drain the water and drizzle some oil over the cooked pasta and toss them (this is to prevent the pasta from sticking together) keep the pasta aside.
Making the Sauce:
Place a sauce pan or wide non-stick cooking pan over medium heat, add oil.
Add onion, season with salt and saute till onions turn translucent.
Add chopped mushrooms and cook till they turn tender.
Add red pepper and cook for a few minutes.
Add tomato paste, combine well and cook for a couple of minutes.
Season with enough dried oregano, salt and ground pepper.
Add chicken stock or water, combine well and let the sauce come to a slight boil.
Lower the heat, add spring onion and cook for a few minutes.
Remove the pan from the heat and keep the sauce covered.
Baking the chicken pasta casserole
Use a wide deep casserole.
Pour the prepared sauce into the casserole.
Top with baked crusted chicken and pasta. Slightly combine the chicken and pasta into the sauce.
Sprinkle parmesan cheese as the top layer.
Place the casserole into the oven that's preheated to 350 F.
Bake for 15 minutes.
After 15 minutes of baking, take the casserole out of the oven.
Turn on the broiler mode in the oven at high. (Broiling is an optional step)
Place the casserole on the top rack and broil for 1 minute.
Keep an eye, if it's broiled for more than a minute, the top layer could burn.
Wear gloves and take the casserole out of the oven, by broiling the cheese will turn golden brown in color.
Let the casserole cool down, serve on plates and enjoy.