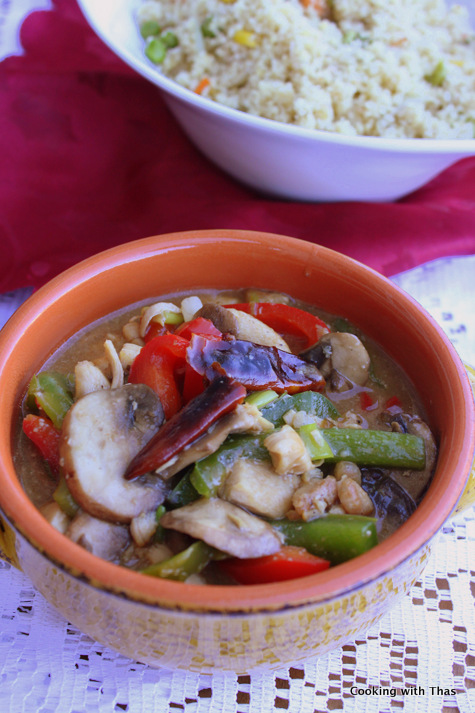 Delicious Indo Chinese chicken gravy…
First of all Eid Mubarak (Eid al-Adha) to everyone who celebrate it, it's a celebration of sacrifice. May Almighty accept all the sacrifices and bless everyone.
I am wrapping up a long weekend, having Monday off is like starting a meal with dessert. Today was Thanksgiving day in Canada and I always express my gratitude to my man through delicious food. After all, the easiest way to reach a man's heart is through his stomach. My man loves to have heavy breakfast on weekends and I love to cuddle under the blanket. However, today being Thanksgiving day I made sure to make a good breakfast for him. Made Oats waffle and he gobbled up with so much enthusiasm. I felt a bit lazy to make lunch, sipped a cup of coffee to ward off my laziness and made this Indo Chinese chicken gravy, served with almond and veggie couscous. This gravy has chicken, mushroom and peppers, tasted so delicious and goes along well with noodles and rice.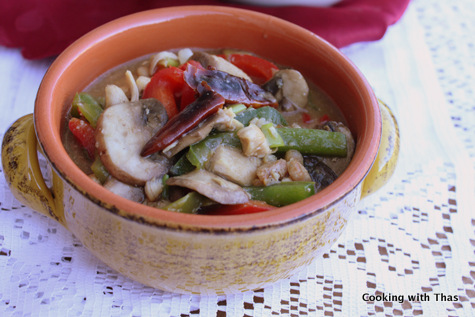 Indo Chinese Chicken and Veggie Gravy
Ingredients
For marinating Chicken
Chicken breast or thighs, boneless, cubed- 2 breasts or thighs
Ground pepper- ½ tsp
Ginger-garlic paste- ½ tbsp
Soy sauce, low-sodium- 1 tbsp
Corn starch- 2 tbsp
Salt- a few pinches
Oil- 4 tbsp, for cooking chicken
While cooking
Oil- 1 tbsp
Ginger, minced- 1 inch slice
Garlic, minced- 1 large clove
Whole dry red chili- 2
Mushroom, white or brown, sliced- 1½ cups
Red pepper, cut into thin wedges- 1
Green pepper, cut into thin wedges- 1
Soy sauce, low-sodium- 1 tbsp
Hoisin sauce- 1 tbsp
Sambal Oelek or chili paste- 1 tsp
Rice vinegar- 1 tbsp
Chicken bouillon cube- 1 cube
Water- ½ cup
Corn starch- 2 tbsp dissolved in 1 tbsp cold water
Green onions, chopped- 1 stalk
Instructions
Marinate the chicken with the above mentioned "for marinating chicken" except oil.
Place a wok or frying pan over medium heat, add 4 tbsp oil.
Add the marinated chicken and cook till chicken turns light brown. If you want you could shallow fry the chicken. Keep aside the cooked chicken.
In the same wok, add 1 tbsp oil.
Add minced ginger and garlic, saute till golden in color.
Add dry red chilies, saute for a few seconds.
Add mushroom, saute for a few minutes.
Add red and green peppers, cook for a few minutes till the veggies turn slightly tender. Don't over cook the veggies, it should stay crisp.
Add cooked chicken, combine well.
Add soy sauce, hoisin sauce, sambal oelek or chili paste and rice vinegar, combine well.
Add chicken bouillon cube and water, cook till the gravy comes to a slight boil.
Dissolve 2 tbsp cornstarch in 1 tbsp cold water, add to the wok.
Cook for a couple of minutes, let the gravy thicken.
Garnish with chopped green onions.
Remove the wok from the heat.
Serve with rice, noodles or roti.
Notes
Soy sauce has salt in it, so don't add too much salt into the dish.