Eat healthy Stay healthy…
Easy lunch or dinner recipes that can be whipped up in just 30 minutes.
On weekdays, I make quick-fix meals for lunch & dinner. Quick fix doesn't mean it has to be unhealthy & greasy. You can whip up healthy & delicious dishes in just 30 minutes.
Here are the dishes
Instant Pot 5 Minute Red Lentil Spinach Soup
Mixed Vegetable Vermicelli
Air Fried Salmon
Green beans with caramelized shallots stir fry

Mixed Vegetable Vermicelli Recipe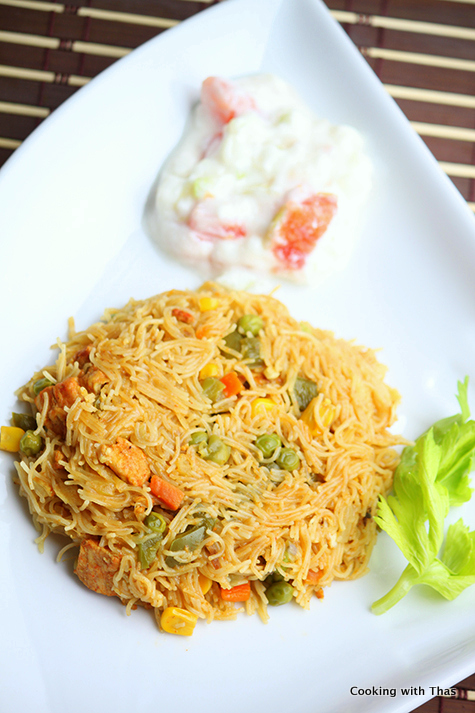 Mixed Vegetable Vermicelli
Ingredients
Oil- 1 tbsp
Onion, chopped- 1
Celery, chopped- 1 rib
Carrot, diced small- 1
Green pepper, chopped small- 1
Chili powder- 1 tsp
Turmeric powder- ¼ tsp
Cumin powder- 1 tsp
Coriander powder- 1½ tsp
Garam Masala- ½ tsp
Salt- 1½ tsp
Vermicelli- 2 cups (cut into 2-inch slices)
Ghee or Butter- 1 tbsp (optional)
Water- 2 cups (or add chicken or vegetable stock)
Cilantro, chopped- ¼ cup
Instructions
Place a large saucepan over medium heat.
Add oil, let turn hot.
Add onion, season with ½ tsp salt. Saute, let the onion turn translucent.
Add the veggies, cook covered till veggies turn slightly soft. Any kind of mixed veggies can be added.
Add the spices & 1 tsp salt, combine well.
Add vermicelli, combine well.
I've added the vermicelli that's cut into 2-inch slices, not the long vermicelli.
Add ghee or butter, saute for 3 minutes till vermicelli turns aromatic.
Add water, combine well.
If you want this to be flavourful, chicken or vegetable stock can be added instead of water. Add less salt if adding the stock.
Cook covered for a few minutes till vermicelli turns soft & the water dries off.
Open the lid, cook for a few minutes till the water dries off.
Remove the pan from the heat & keep it aside for a few minutes before serving- vermicelli will set well.
This can be enjoyed for lunch or dinner.
Notes
Diced boneless chicken breast or thighs can be added along with the veggies & cook well.
Or add cooked shredded chicken after cooking the veggies.
Air Fried Salmon
30 Minute Meal Recipes
Ingredients
Salmon steaks- 2 to 4
Paprika- 1 tsp
Ground cumin- 1 tsp
Ground black pepper- ½ tsp
Salt- ¼ tsp/steak
Lemon juice- 1 tbsp
Instructions
Add all the spices & lemon juice to the salmon steaks.
If you prefer more heat, replace ground black pepper with 1 to 1½ tsp chili powder.
Combine well. Any kind of your favorite seasonings can be added.
Place the salmon steaks on the air fryer basket.
Air fry for 10 minutes.
Or can be baked in the oven-preheat the oven to 400 F & bake for 10 to 15 minutes.