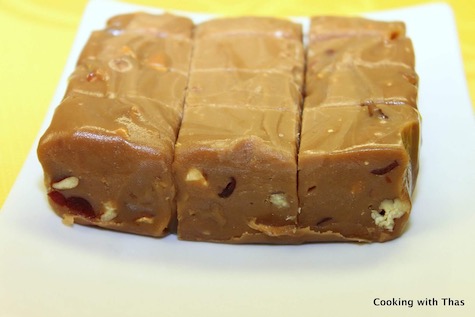 Homemade chocolate fudge and the best tasting…
With just 3 ingredients you can whip up the best-tasting homemade fudge.
Easy Chocolate Fudge Recipe
Ingredients
White chocolate chips- ½ cup
Milk chocolate chips- ½ cup
Sweetened condensed milk- 1 cup, 250mL
Pecans, roughly chopped- ¼ cup
Almonds, chopped- 2 tbsp
Dried Cranberries- 2 tbsp (optional)
Instructions
To a large microwave-safe bowl: add white and milk chocolate chips along with condensed milk. Combine well.
Keep the bowl in the microwave, microwave for total of 7 minutes.
Very Important After every minute take the bowl out of the microwave and combine well.
Let the chocolate chips melt completely & turns into a thick mixture.
After 7 minutes of microwaving; add pecans, almonds, and dried cranberries. Combine well.
Line a square or rectangular pan with parchment paper.
Pour the fudge mixture onto the parchment paper.
Using a spatula, smoothen the top.
Refrigerate for an hour until set well.
Take the pan out of the refrigerator.
Peel off the parchment paper and cut it into squares.
Enjoy the delicious homemade fudge.