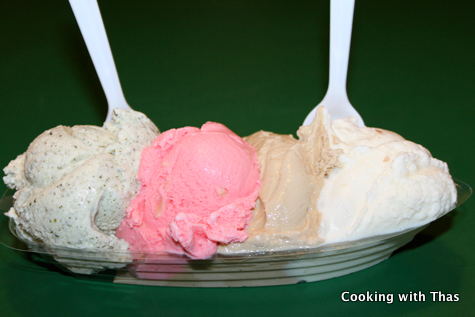 [Green Tea, Cherry Almond, Caramel latte, Rum Raisin]
One of the best things that happened to me in Omaha is getting introduced to Ted and Wally's award winning premium homemade ice cream…
It didn't take too long for us to meet the best ice cream in Omaha, in just few weeks after we moved to Omaha we bumped into Ted and Wally's accidentally. Since then we stop by there quite often. As soon as you enter the store, you could see a couple of ice cream makers, my first thought was that those were just an exhibit. I was quite intrigued by seeing this and hence enquired more about their ice cream. While talking to one of the staff members there, I was enlightened that they make their ice cream in the old-fashioned way using rock salt and ice in those ice cream makers right on their premises. This information aroused my curiosity even more. After tasting their ice cream, I instantly felt it was worth writing a review about them and thus share with others. They were so glad to give out more information about their amazing ice cream.
Ted and Wally's has been voted first place in the Best of Omaha's 2010 category, take a look that this: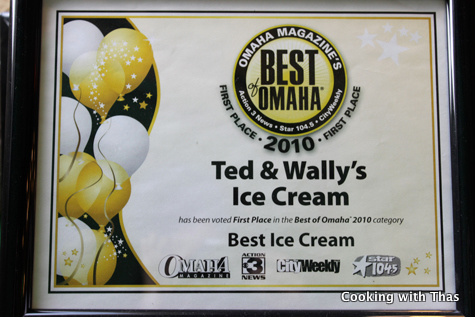 The lovely Priscilla who has been working there for 7 years was kind enough to spare some time for me and answered all my questions, also gave out other interesting information. Here is what I got from her.
How Ted and Wally's Ice cream is prepared?
They use 14% ice cream mix along with other ingredients (secret ingredients) and they hand stir it for few minutes in their kitchen. This is the base for most of the ice cream.
When adding fruits, they add actual cut-up fruits or puree to the ice cream, fruits are usually added while hand stirring the mixture.
This base mixture is then poured into the ice cream maker and it is churned for half an hour.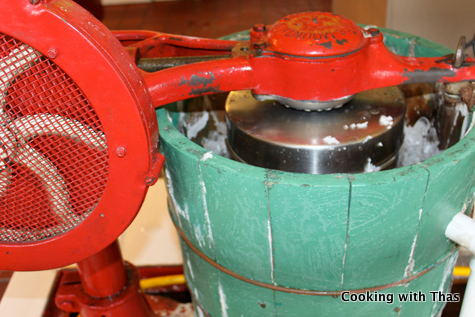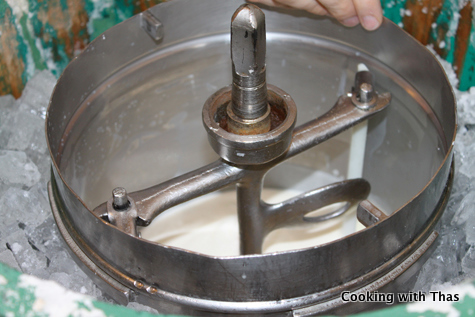 If the ice cream calls for candies, chocolate chips, nuts or oreos, they will add these after the initial churning. Again the mixture is allowed to churn for about 20 minutes or so depending on what is added.
After the churning process, the creamy mixture is poured into cans and placed in the deep freezer for 24 hours.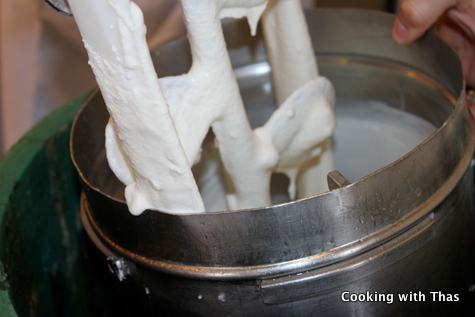 After the deep freezing, it is placed in the regular freezer.
After this, the ice cream is kept on the front glass freezer for sales.
What makes their ice cream different from others?
They use 14% ice cream mix, which makes much creamier with a fine texture and a better quality ice cream.
Do they add any preservatives to the ice cream?
No, they don't add any preservatives. All their ice creams are made fresh. Due to the high demand they are sold fast.
What are their best selling ice creams?
Vanilla, Dutch Chocolate, Mexican chocolate.
Do they have an ice cream with an interesting name?
Yes, they do – "Quit Yer Job & Eat chocolate". Indeed an interesting name. This ice cream is basically a chocolate based ice cream with chocolate chips, oreos, cut up brownies with nuts added to it.
What do they add in these ice creams?
Mexican chocolate: It has almonds, chocolate chips, cinnamon, nutmeg and orange spice added to the ice cream base.
Cinnamon ice cream: To the regular ice cream base, they add vanilla flavoring with powdered cinnamon and hand stir it, which is then churned.
Mango Passionfruit Strawberry ice cream: They add actual cut up fruits, fresh purees along with the regular ice cream base.
Which ice cream was I more keen about ?
Tiramisu ice cream: Being a huge fan of tiramisu, I wanted to know how this was made. They use the chocolate based ice cream base. While churning they add vanilla wafers, chocolate chips, espresso which they make their own.
Do they have any yogurt ice cream?
Yes, they do and they add yogurt based mix for making this.
Have they ever made a weird ice cream?
Oh yeah – Pizza ice cream! This was for a custom order. While churning the ice cream they added pizza crust, pepperoni and mozzarella cheese. I still can't imagine how that must have tasted!
Have they ever made ice cream with alcohol in it?
It's hard to make ice cream with alcohol in it as alcohol only freezes at much lower temperature but with beer you can, as there's a low alcohol content in it. They have made beer ice cream using Guinness beer.
What I love the most about Ted and Wally's?
Obviously, the way they make the ice cream fresh and old-fashioned way in front of our eyes. Everytime I go there I see different flavors listed on their display and I get to taste different flavors. There's something about these ice creams – you just have to try them as it's hard to explain.
They are open everyday. In winter they make ice creams 2 days a week but in summer they are pretty busy making ice creams almost everyday and have sold up to 6 cans in a single day.
The flavors I have tried so far are Green Tea, Cherry Almond, Caramel latte, Rum Raisin, Tiramisu, French Toast, Amaretto, Dutch chocolate. My favorite among these are Tiramisu, Amaretto and Caramel latte (it's hard to pick just one or two).
I am sure most of the people who have been in Omaha for long must have tasted this ice cream at least once. If you haven't tasted it yet or new to Omaha, then I highly recommend this place. Beware, once you taste this ice cream you will go back often.
I believe good things are always appreciated and deserve all the praise!