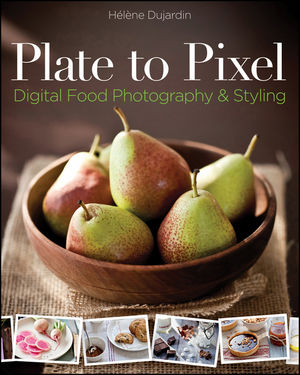 Good things should be appreciated, great things should be raved- I am going to do the latter.
Why am I reviewing this book?
When I first started this website I didn't care much about food photography, I was more concerned about the recipe and the ingredients. Slowly, I developed an interest for styling the food that I prepared and eventually for food photography. A couple of years ago my hubby bought me a DSLR camera for my birthday. I was overwhelmed by the settings and the things I should keep in my mind to click a descent picture. It was around that time I stumbled upon a food photography blog "Tartelette" by Helene Dujardin. It was love at first sight and I fell head over heels, almost every day I browsed through that website. I kept staring at the stunning food pictures captured by Helene and the way she styled the food was captivating. Her website is an inspiration for a budding food photographer like me.
Early this year when I learned that she has published her first photography book- Plate to pixel I literally jumped out of joy. I couldn't wait to get hold this book as I knew I could learn a lot of tricks and tips from her book. I got a review copy last month and since then I'v been hooked to it. I never thought that I would ever enjoy reading a photography book but I read each and every line of this book without dozing off. I thoroughly enjoyed reading this book. I am honored to write a review and to spread the word about this "must have" food photography book.
About the Author:
Plate to pixel is written by Helene Dujardin, a pastry chef turned food blogger. In 2006, Helene launched the award-winning blog Tartelette, where she dedicates herself to the art of food, photography and styling. Helene progresses quickly from enthusiast food photographer to professionally working with local and national magazines. She has photographed and styled numerous cookbooks.
The essence of this book:
When it comes to capturing pictures using DSLR cameras, experts will first talk endlessly about exposure, aperture, focal length and all those technical jargons. Before reading this book, these were quite bewildering for me. Helene has explained these concepts really well in a very simple manner and has shown how each setting works through picture comparison. There are eight chapters in this book and it covers literally everything you need to know about food photography. The book first walks you through how to adjust the settings and modes of a DSLR camera. Then, how to capture in natural and artificial light, things you will need to improve your photography while using artificial light. There are chapters dedicated for composition, how to set up for capture, styling the food and after capture.
What I appreciate:
What I appreciate the most is the fact that the author wasn't a bit embarrassed to share her tiny little secrets with the readers. She was open, genuine and needless to say that she has written this book wholeheartedly which you'll feel while reading this book. Whether for styling the food or while capturing the pictures she has certain easy to follow tricks and tips. Throughout my read, I felt as if Helene was right besides me teaching with such passion just like a dear friend. This helped me to keep flipping the pages without losing the enthusiasm. Even though some chapters cover certain technical aspects, I didn't feel bored at all as majority of the pages are filled with food pictures (which of course made me hungry) and I was able to understand the concepts more clearly by looking at the pictures. She has shared many tips and techniques to naturally enhance the food while styling.
What's unique about this book?
From start to end this book is refreshing and soothing to the eyes. Not just photography enthusiasts, anyone can read this book without being bored and gain a lot of knowledge. It's easy to understand, covers all the basics, the quality of the book is over the top and the author connects with you throughout the book with her personal stories and shares the circumstances that led to shoot certain pictures. Even if you are not much of a reader you will still find this book interesting as in this book each picture says a story and a lot of learning can be done by just looking at the pictures. At the end she even lets us peek into her camera bag and the tools that often accompanies her.
According to Helene: "there is not one right way to shoot…or even a best way to get the shot you need. The right setting for your specific circumstance is the one that produces a picture that make people say, "Wow"…and not "Ewww." Practice, practice, practice."
What I learned from this book?
I've always found it hard to shoot in artificial light, this book taught me that with artificial light the possibilities are endless. Exploring is the key to learning photography. After reading this book, first thing I did was to dig my tripod out of the basement, dust it and yes I  am making it work more often. I now have a better idea about how to diffuse, reflect and adjust the lighting. I've never thought of telling a story through my food pictures, this book certainly taught me how to convey a story or a message through pictures. I certainly feel my pictures now look better compared to what it was before. However, you cannot master this art overnight, it needs practice and the willingness to explore. Hopefully, soon I can master this art of drawing with light.
Must have photography Book:
If you are a budding photographer or if you want to take some good pictures, then this book is a must have. If you are still not confirmed, read what others who bought this book from amazon have to say.
Gratitude:
Through this post I would like to express my gratitude to Helene for writing this amazing book and for being an inspiration.