Black olives, sun dried tomatoes, basil and parmesan cheese are pureed together to make this pesto…
I am a die hard fan of pesto, for me anything that has a hint of pesto tastes delicious. Let it be pesto pizzas, pastas, or toasted flat bread smeared with pesto; I go crazy and I enjoy these dishes to the fullest.
Traditional pestos are made by pureeing basil, pine nuts, garlic and parmesan cheese. It's more of a thick sauce which is widely used in Italy for enhancing the flavor of a lot of dishes. However, a few other ingredients can also be added to it: olives, artichokes, sun dried tomatoes etc.
I tried making pesto with olives, sun dried tomatoes and basil. The tanginess of the olives, slightly smoky flavor of the sun dried tomatoes and the refreshing flavor of the basil gave this pesto a very distinct and unique flavor. I absolutely loved it and served this pesto with many dishes. You could spread this pesto on hamburger buns, breads, top chicken cutlets with it, you could serve this with almost anything.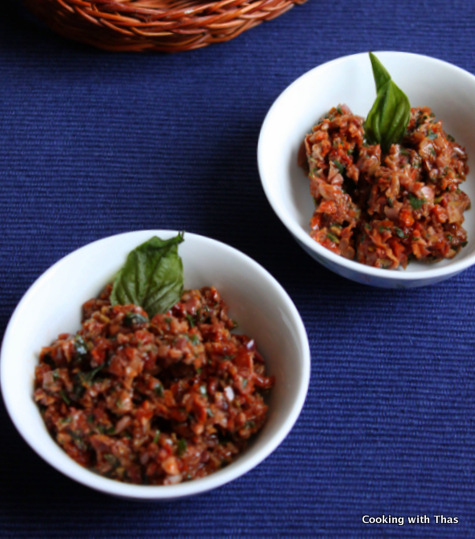 Olives and Sun Dried Tomato Pesto
Ingredients
Black olives or Kalamata olives, jarred- ⅓ cup (drain the liquid)
Sun-dried tomatoes, in seasoned oil- 5 (drain the oil)
Fresh basil leaves- 4
Parmesan cheese- 2 tbsp (optional)
Ground pepper- ⅛ tsp
Salt- if needed (jarred olives already have salt in it)
Olive oil- 1 tbsp
Instructions
In a food processor, puree all the above mentioned ingredients to a coarse paste.
You could spread this pesto on buns, sandwiches, pizzas, flatbreads, top the cutlets or add to pasta.
Increase the amount of ingredients accordingly to make more.
Store in an air tight container and keep it in the refrigerator.