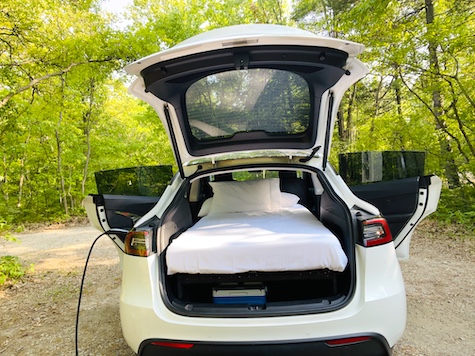 Hey there, adventure seekers!
Get ready to dive into the ultimate camping experience in a Tesla Model Y! We're about to show you how this sleek machine becomes your ticket to outdoor bliss. From setting up a custom bed frame to cooking mouthwatering meals, and even exploring the great outdoors on bikes – we've got it all covered. Buckle up and let's embark on this electrifying journey together!
Watch The Video
Tesla Camping Checklist
Car stuff – charging, electronics, etc.
Tesla Mobile Connector, available on the Tesla website, link to buy
NEMA TT-30 adapter, link to buy on Amazon
NEMA 14-50 adapter, link to buy on Amazon
NEMA 14-50P to NEMA TT-30R Electrical Converter, link to buy on Amazon
50' 30 Amp extension cord (for Tesla), link to buy on Amazon
50' 15 Amp extension cord (for cooking appliances), link to buy on Amazon
Power station 1800W, link to buy on Amazon
Sunshade for Tesla Model Y, link to buy on Amazon
Trifold 6 inches mattress, link to buy on Amazon
Cooking Appliances
Water and ice
Other cooking supplies
Cutting board
Paper plates
Coffee cups
Sugar
Salt
Can opener
Forks
Spoons
Frying pan lid
Frying pan
Knives
Cleaning supplies
Spray bottle
Cleaning station
Paper towel roll x 2
Disinfecting Wipes
Hand sanitizer
Garbage bags
Food to pack
Rice
Nespresso coffee pods
Eggs
Bags of chips
Marinated chicken/beef
Beddings
Blanket
Comforter
Bedsheet set
Trifold mattress
Pillows
Shower
Water sandals
Tooth Paste
Toothbrush
Toilet paper
Beach towels
Hand towels
Safety
Insect repellent
Mosquito head net
Sunscreen
First aid kit
Tools
Zip tie
Electrical tape
Rope
Duct tape
Kitchen lighter to start fire for firepit
Scissors
Utility knife
Dustpan
Small broom
Camping gear
Umbrella
Camping Light
Flash light
Camping chairs x 2
Table cloth/ tarpaulin
Biking
Mount bike rack
Take bikes
Bike helmets
Bike lock to lock bike to the rack
Clothing
Full sleeve t-shirt
Fleece top
Fleece pants
Gloves
Hat
Enjoy camping in a Tesla!