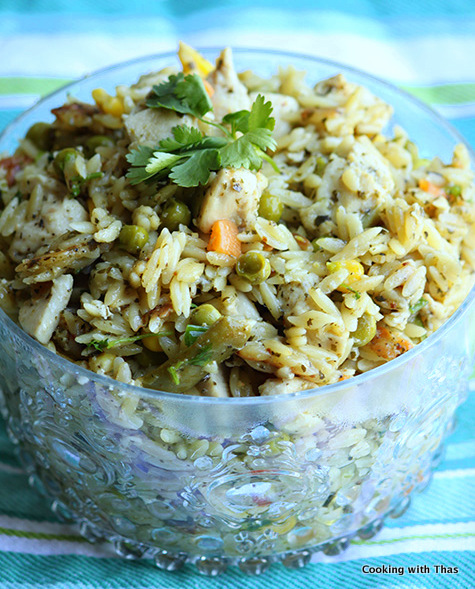 Chicken and veggies combined with pesto spread and combined with orzo, easy to make and delicious one pot meal…
Orzo is a rice shaped pasta, that can be cooked very easily. I like orzo as it's small and resembles to rice. If you want to do a quick fix meal, combine cooked chicken and mixed veggies or just the veggies with orzo and cook them together till orzo turns tender. Orzo can also be added to any kinds of salads or soups, it will turn into a filling dish.
Asian Style Chicken Orzo, recipe click here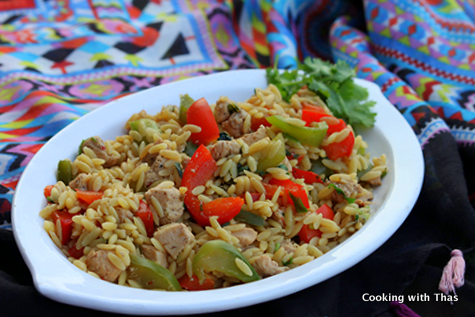 Here is the recipe for making homemade basil pesto, click here.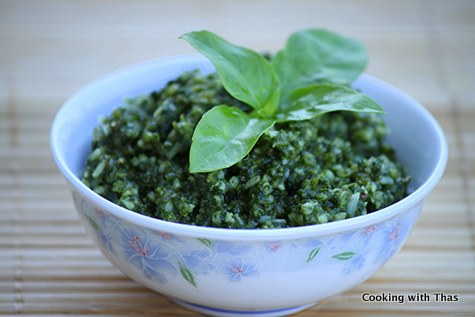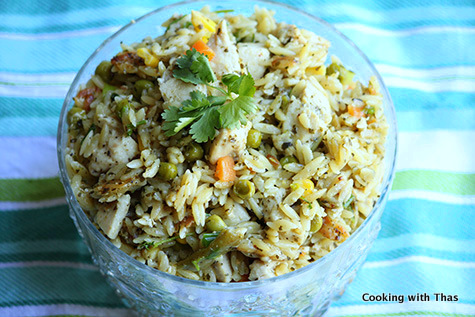 Pesto Chicken Orzo
Ingredients
For marinating
Chicken breasts or thighs, diced- 2 breasts or thighs
Basil pesto- 2 tbsp
Ground black pepper- ¼ tsp
For cooking
Mixed veggies, cut small- 1½ cups (or use frozen veggies)
Basil pesto- 3 to 4 tbsp
Orzo pasta-1½ cups
Water- 2½ cups
Ground black pepper- ½ tsp
Salt- if required
Green onions, chopped- 3 tbsp
Cilantro or parsley, chopped- ¼ cup
Instructions
In a bowl, combine diced chicken along with basil pesto and ground pepper.
Place a wide non-stick cooking pan over medium heat.
Add the marinated chicken and cook covered till chicken has almost cooked.
Add the mixed veggies and cook till veggies turn slightly tender.
Add pesto, combine well.
Add orzo paste and water, cook covered till orzo has turned tender and water has dried off.
Combine well and season with ground pepper and salt if needed.
Add green onions and cilantro or parsley. Combine well and cook for a couple of minutes.
Take the pan from the heat.
Serve while it's hot. Leftovers can be refrigerated, can be taken for lunch.
For making vegetarian version: skip adding chicken, first cook the veggies along with 3 tbsp pesto & add the already cooked orzo pasta to the veggies, and garnish with green onions & cilantro. Enjoy!